Women's field hockey became an Olympic event in the 1980 Moscow Olympics. After 41 long years, the Indian Women's field hockey team has qualified for the semi-finals of the Olympics for the first time in history. A feat that seemed impossible after the group stages were carried out quite extraordinarily by the players showing great grit and character. Qualifying as the 4th team in the pool, it was a brilliant team effort in the quarter-final to beat the pool B leaders Australia 1-0. Meet the super squad of women's hockey players of India which made the entire nation proud at Tokyo Olympics 2020.
Women hockey players of India
| | |
| --- | --- |
| S.N | Women Hockey Players Of India |
| 1 | Rani Rampal   |
| 2 | Savita Punia |
| 3 | Neha Goyal |
| 4 | Sushila Chanu |
| 5 | Nikki Pradhan |
| 6 | Vandana Katariya |
| 7 | Udita Duhan |
| 8 | Nisha Warsi |
| 9 | Deep Grace Ekka |
| 10 | Salima Tete |
| 11 | Monika Malik |
| 12 | Sharmila Devi |
| 13 | Navjot Kaur |
| 14 | Gurjit Kaur |
| 15 | Navneet Kaur |
| 16 | Lalremsiami |
Hockey players of India: Rani Rampal
What if I say the captain of the India women's national field hockey team is a 26-year-old with 12 years of experience playing for the national side? Yes, the prolific Rani Rampal was just 14 years old when she made her international debut. Coming from a poor family, she started playing hockey with broken sticks. In the Junior World Cup, she played a crucial role in winning the bronze medal for India. She has also won Asian Games medals twice and was pivotal for the national side in qualifying for the Olympic Games in successive editions for the first time.
Hockey players of India: Savita Punia
India's first-choice goalkeeper, Savita Punia was motivated to play hockey after her grandfather's words. She didn't invest much on a professional hockey career as it seemed like a burden for her to carry all the heavy keeper equipment and traveling her way to the Sports Authority of India, Hisar. But when her father bought her a new hockey kit, it inspired her to take a big leap and guarded India's goal post at the 2014 and 2018 Asian Games and the Asia Cup triumph in 2017.
Hockey players of India: Neha Goyal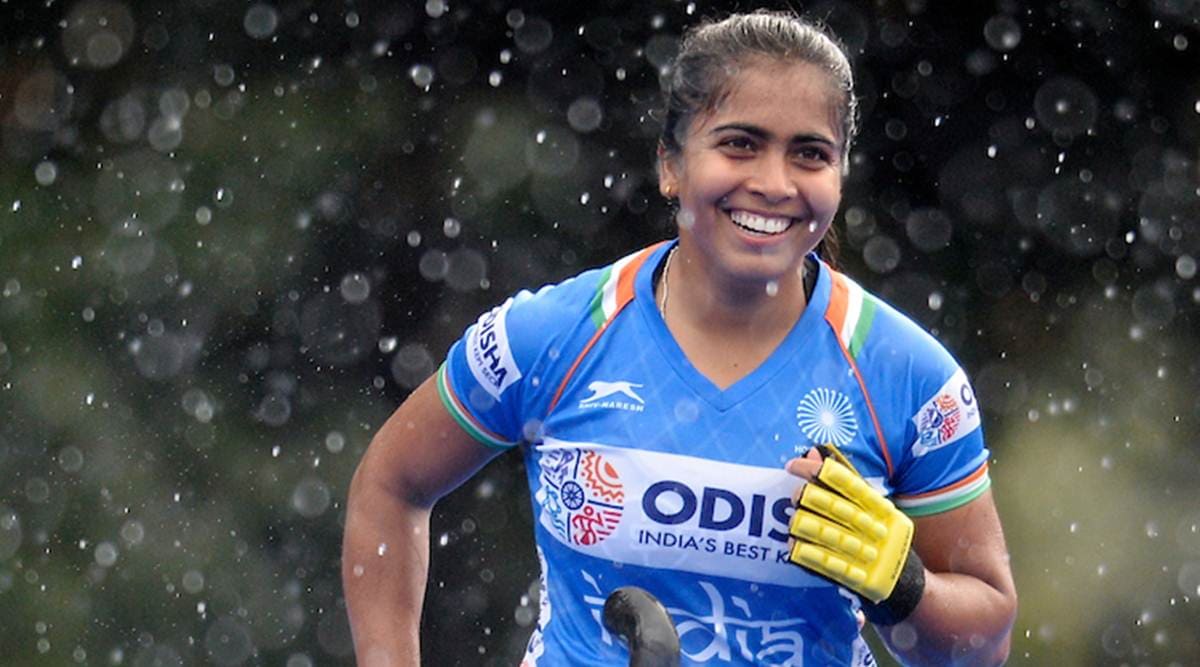 The midfielder of India women's national field hockey team had a miserable childhood as her alcoholic father used to constantly abuse her mother whom she and her sisters work with within a cycle factory. She joined the hockey academy to stay away from home but fortunately, her talent took her a long way. She found her spot in the Junior World Cup squad of 2011 and at the age of 18, made her senior national team debut. An Asian Games silver medal and Hockey India Midfielder of the Year award, Neha Goyal has already proved her worth in the Indian Women's hockey team.
Hockey players of India: Sushila Chanu
Sushila Chanu was the skipper of the Indian side in the Rio Olympics 2016. Being one of the senior players in the current squad, her experience and knack of positioning troubled the Australians to score a goal in the quarter-finals of Tokyo 2020. A severe knee injury kept her out of the Indian squad in the Asian Games and Champions Trophy of 2018 but returned in fine fashion this year to make history.  
Hockey players of India: Nikki Pradhan
The story of Nikki Pradhan is truly inspiring. Her family was struggling with financial struggles and her passion for the sport stemmed when her elder sister bought a hockey stick using her labor money. Though she only got her personal hockey kit after joining the academy in 2006, she practiced hockey by playing with her sister. It's not easy to hail from a Naxal stronghold like Hesal and represent the Indian national team in any sport but her relentless ambition resulted in being the first player from Jharkhand to perform at the Olympics.
Vandana Katariya
Women Hockey players of India: It was the match against South Africa and India needed a win to ensure a quarter-final berth. Just when you needed that big-match player, Vandana Katariya broke in and scored a splendid hat trick to win it. She became the only Indian woman to clinch a hattrick in an Olympic match. Three months prior to the Olympic Games, Vandana lost her father who supported her to pursue a career in hockey when everyone else was discouraged. She couldn't attend his funeral so this historic achievement would be her tribute to him.  
Udita Duhan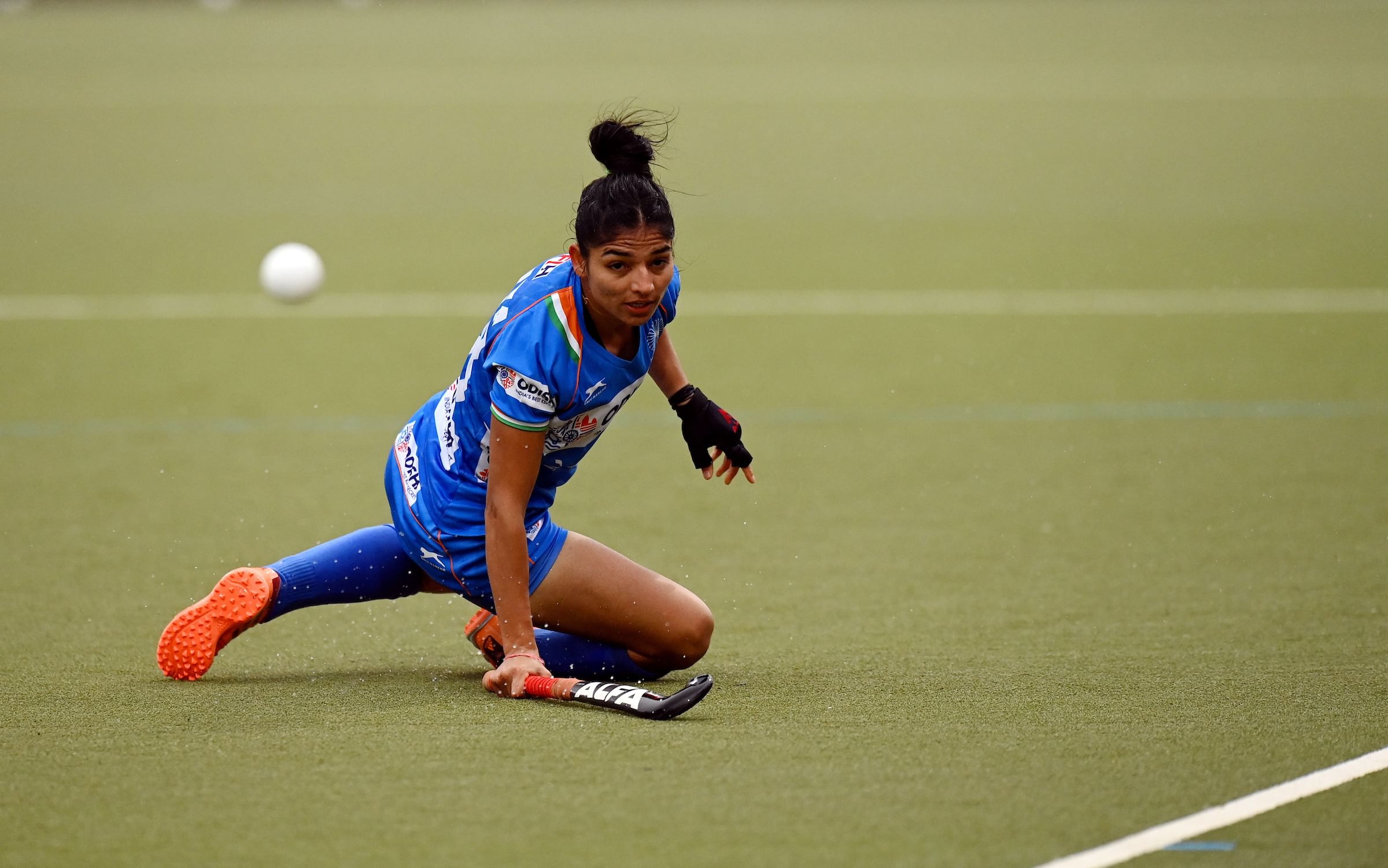 Women Hockey players of India: Started as a handball player like her father, Udita Duhan from Haryana only turned to hockey because her handball coach stopped training at the school. Her mother suggested she try hockey and when she did, everyone was amazed by her speed. In 2016, she won the bronze medal in the U-18 Asian Cup captaining the side, and the following year, she entered the senior national team. She is one of the finest players in Indian women's national field hockey team.
Nisha Warsi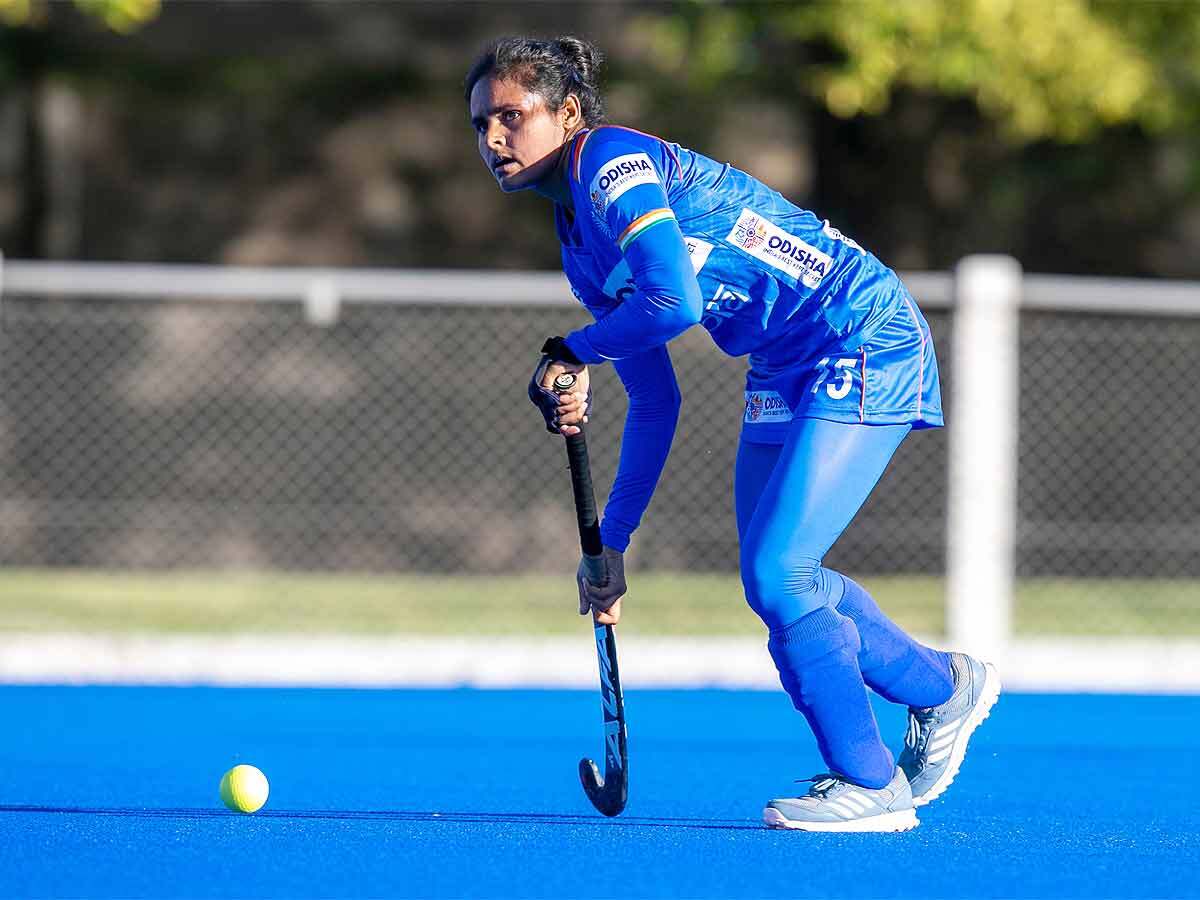 Women Hockey players of India: Coming from Sonipat Haryana, Nisha Warsi's family was led by her father who worked as a tailor. Although he wasn't financially stable enough to afford high-quality equipment and travel charges, he always encouraged her to become a hockey player. But sadly, he came across a paralytic attack in 2015 which forced her mother to work in a foam manufacturing company. Through all these hardships, Nisha was determined to play for the Indian hockey side and she did it in 2018.
-- Advertisement --
Deep Grace Ekka
 
Women Hockey players of India: There wasn't much pressure from the family than from the society in the case of Deep Grace Ekka. As her brother and uncle were hockey goalkeepers, she also practiced goalkeeping at the age of 12. But both her brother and uncle asked her to be a defender and she trained for that the rest of her life. The residents of Lulkidihi, her hometown, blamed her for focusing more on sports than daily household chores. Nothing stopped her determination and eventually, she made it to the Indian women's hockey team which won the 2017 Asian Cup and Asian Games medal twice.  
Salima Tete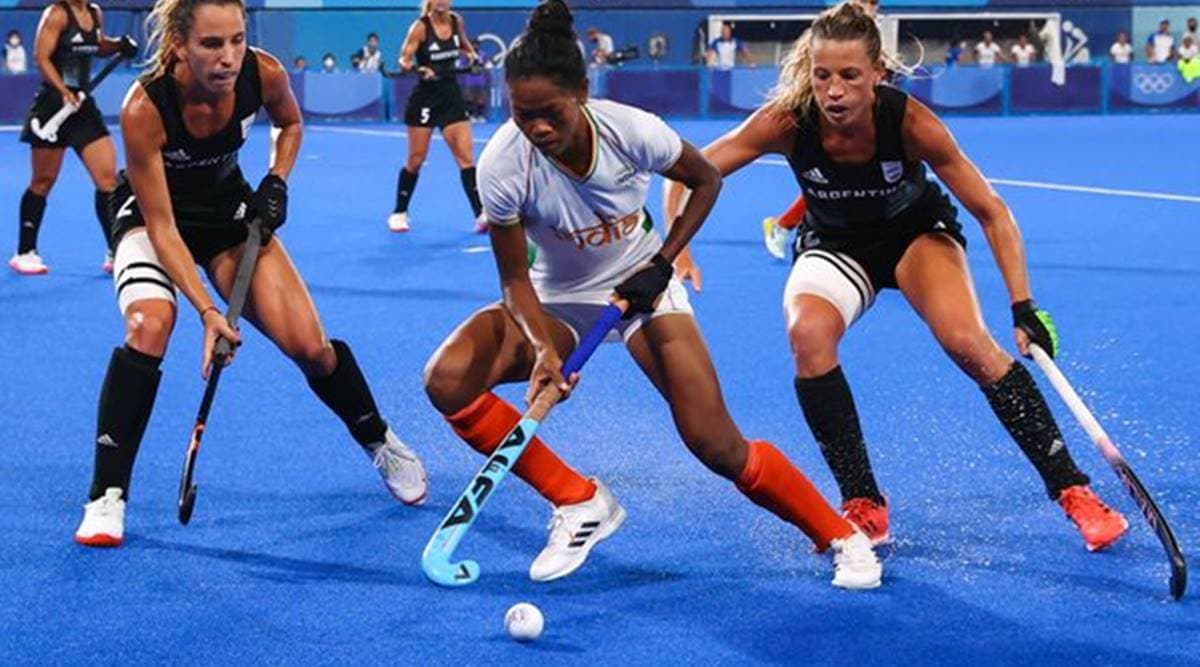 Women Hockey players of India: Salima Tete was once lauded as the next big thing in Indian hockey. Another hockey player hailing from a Naxalite stronghold in Jharkhand, she began her journey from the maidans of Badkichapar village. Her father was a farmer who was interested in the game of hockey and pushed her daughter to follow the sport. She used to play using wooden sticks before earning herself a brand-new hockey stick by working at the farm. Salima is known for her tough playing style and defensive methods.  
Monika Malik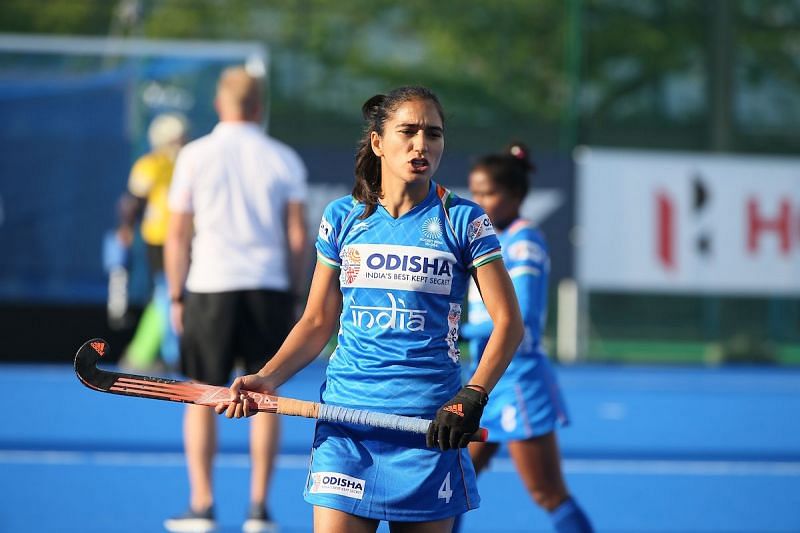 Women Hockey players of India: When the team needs some creativity, Monika Malik steps in. The midfielder has been instrumental in the FIH Olympic Qualifiers where they beat the USA to carry themselves to Tokyo 2020. Monika's father is an ASI at Chandigarh. Though his interests lie in wrestling, he never forced her to take up any sport. The defense to attack link-up play has always been organized by Monika in the Asia Cup of 2018 and the two Asian games in 2014 and 2018. 
Sharmila Devi
Women Hockey players of India: After pondering over football, volleyball, and hockey, Sharmila Devi chose hockey, the sport in which her grandfather excelled in the national level. She was a pure talent groomed from the local grounds and eventually made her international debut at the Olympic Test Event in Tokyo in 2019.  
Navjot Kaur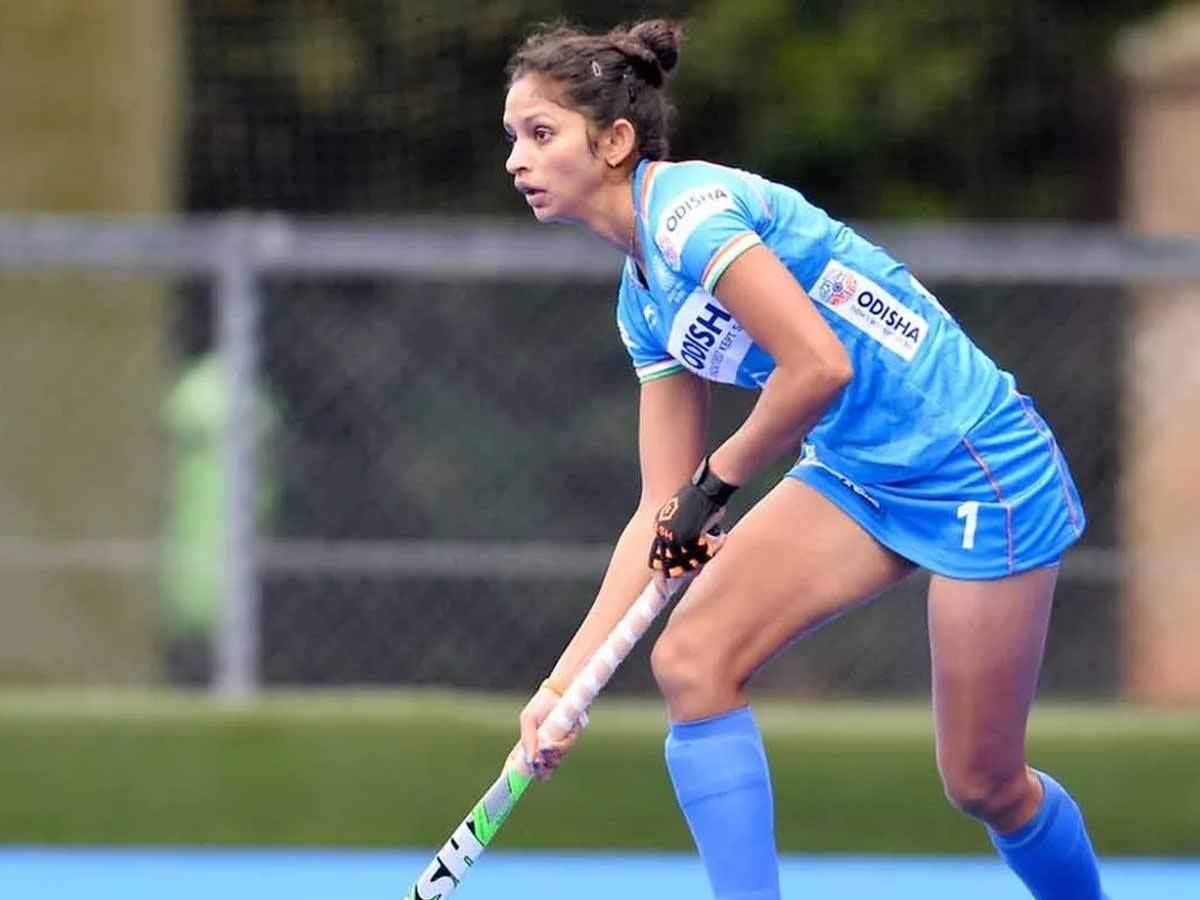 Women Hockey players of India: Navjot Kaur's father wanted any one of his children to be an athlete and insisted her to play hockey. Though it wasn't the best of ideas to inject sport to anyone, things didn't go bad for Navjot as she showed great potential since joining Sanjay Gandhi National Park School for training. Being exceptional as a midfielder, she got into the national side in 2012 and went on to win medals at the 2014 and 2018 Asian Games and has been a part of both the latest Olympic Games.  
Gurjit Kaur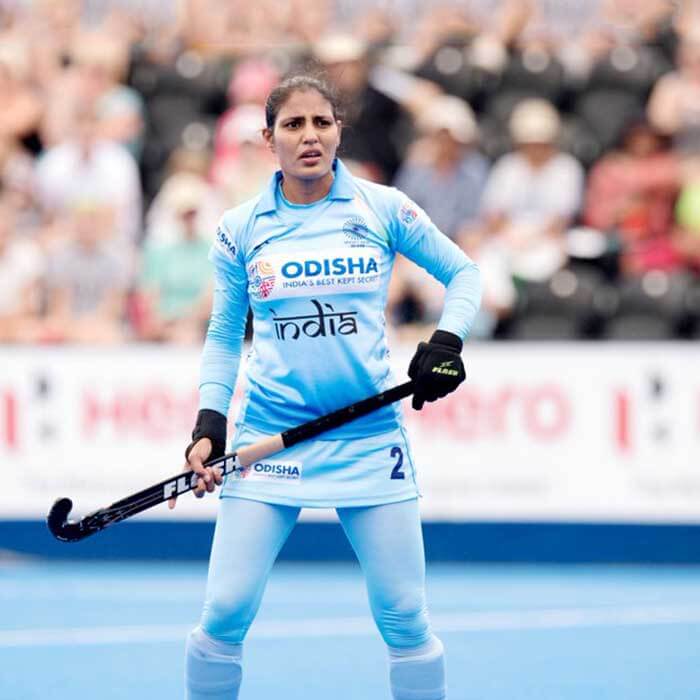 When Gurjit Kaur joined the boarding school, she was not at all passionate about sports. Not until she saw girls playing hockey in the nearby ground. Initially, she just wanted to indulge in the act of play and have fun but the sport grew inside her and she developed into an exceptional drag-flicker. In 2017, she scored 8 goals in the victorious Asian Cup and became the top scorer in the 2019 FIH Women's Series Final which Indian won. 
Navneet Kaur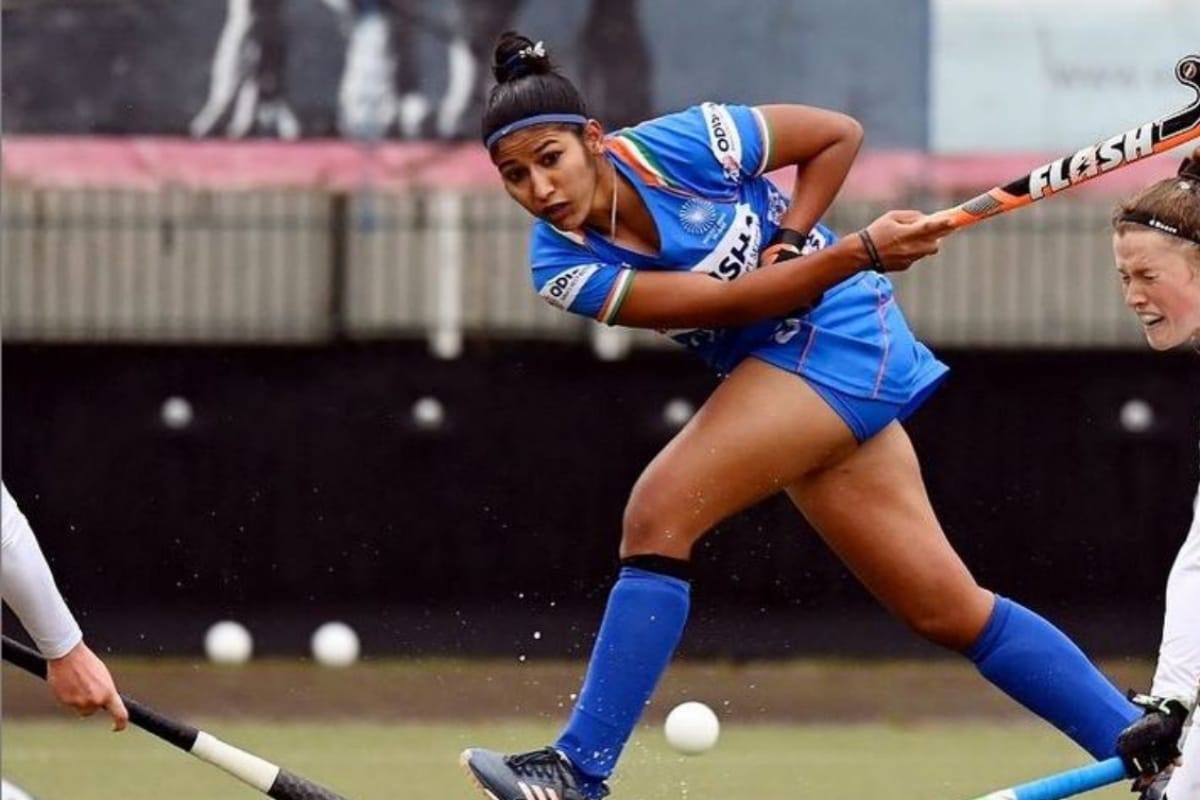 A vital part in the Indian Women's hockey squad, Navneet Kaur has been one of the most consistent forwards for the country. She won bronze in the Junior World Cup of 2013 and the silver medal in the 2018 Asian games. She played in the 2016 Rio Olympics as well.
Lalremsiami
The 21-year-old is the first female athlete from Mizoram to compete in an Olympics event. She entered the team at the age of 16 when she didn't know English or Hindi. She used to communicate with her team members using monosyllables and sign language. Hockey is not very popular in Mizoram; hence it was a tough route for Lalremsiami to overcome the societal obstructions and build her career. Woefully, her father's demise was a day before the semifinals of the FIH Series Final, but the youngster showed her strong character by staying with the team and made the nation proud by winning the tournament.  
---
[For more latest updates and stories on Indian sports (and athletes), subscribe to the KreedOn network today-
KreedOn: The Voice of #Indiansport]