Virat Singh is a young Indian left-handed batsman who plays for Jharkhand at the domestic level. He made his domestic debut at the senior level at the early age of 16.
He made his debut for East Zone in the inter-zonal matches in 2014. Likewise, he played in the Deodhar Trophy in his debut.
Let's dig deeper into the life & style of this cool Indian cricketer.
About Virat Singh
Details

Full Name

Age

Gender

Sport Category

Date of Birth

Hometown

Jamshedpur, East Singhbhum, Jharkhand

Height

Weight

Coach

Networth

Spouse

Parent

Father- Vinod Singh, Mother- Renu

ODI Debut

Test Debut

Batting Style

Bowling Style

Teams Played for

Jharkhand, East Zone, Sunrisers Hyderabad

IPL Debut

vs Mumbai Indians at MA Chidambaram Stadium, Apr 17, 2021

Alma Mater
Personal Life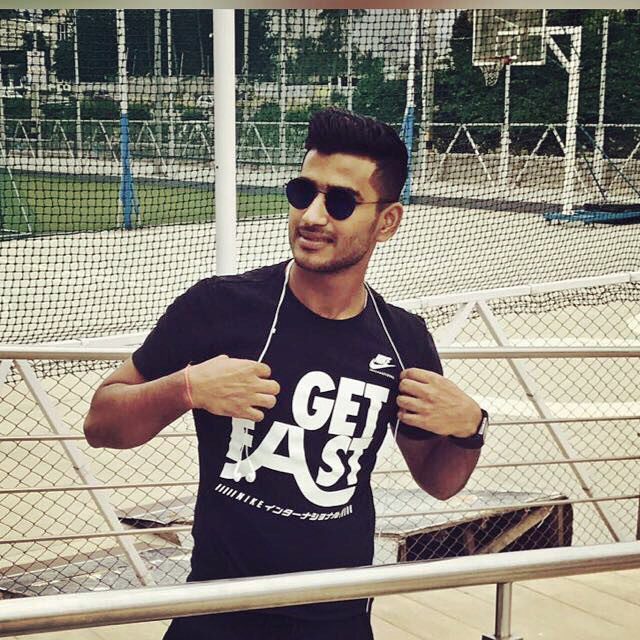 Virat Singh was born on 8 December 1997 to a businessman in Jharkhand. His father's name is Vinod Singh, and his mother is called Renu Singh.
Virat has two brothers. His brother Vivek Singh is a businessman like his father, while the other Brother Vishal Singh is a cricketer like Virat.
His brother too plays for Jharkhand at the domestic level. Virat Singh completed his 12th grade at D.B.M.S English School.
Virat was never very good in his studies. He had been passionate about cricket since a very early age. Virat, along with his brother, used to play cricket in the yard of their house.
After many broken window panes, his father admitted him to Jharkhand Cricket Academy. After horrible results, Virat's father had been very angry and locked Virat's bat in the storeroom.
But, after much convincing from Virat's Coach, he decided to let him continue. 
-- Advertisement --
Domestic Career
At a very young age, Virat was playing at the district level and even got selected for the Under-16 side.
Virat made his debut for the Under-19 Jharkhand side at the age of 14. He played his first match in the 2012-13 Vinoo Mankad Trophy.
Only two players scored more runs than him in that tournament, his brother being one of them. He ended up with 152 runs in 5 innings.
Virat Singh also received a chance to play in the 2012-13 BCCI internal competition. He scored a brilliant 78 for East Zone against Central Zone in that tournament
At a very young age of 15, Virat Singh captained Jharkhand in the 2013-14 Cooch Behar Trophy. He was the highest run-scorer in the interzonal ODI tournament and four-day Cooch Behar trophy.
Virat Singh made his senior-level debut in the Vijay Hazare Trophy. His two half-centuries in five matches helped his team reach the semi-finals.
He also gained a spot in the T20 side for the Syed Mushtaq Ali Trophy. He didn't do quite well there. Virat Singh continued playing for the domestic side and also trying for the U-19 National team.
He made his Ranji Debut in 2014. In his second match itself, he scored his first century against Kerala. 
In the Deodhar Trophy Finals, Virat Singh scored 54 runs in his debut season. His innings, along with a 135 run stand with Manoj Tiwary led East Zone to its first Deodhar Trophy victory since the 2003-04 season.
Virat Singh IPL
Virat Singh was bought by the Sunrisers Hyderabad (SRH) franchise for 1.9 crores. In 2021, he made his debut for the team.
In his debut match against Mumbai Indians, he scored 11 runs. He didn't manage any big runs in the other two matches.
His IPL career is relatively new. Virat Singh would be looking to leave his mark in the league which has led to so many international players for India.
Virat Singh Batting Stats
| | | | | | | |
| --- | --- | --- | --- | --- | --- | --- |
| Format | Matches | Runs | Average | Half Centuries | Centuries | Best |
| List- A | 50 | 1,633 | 37.97 | 13 | 01 | 100 |
| First Class | 30 | 1,394 | 29.65 | 04 | 03 | 140 |
| IPL | 03 | 15 | 07.50 | 00 | 00 | 11 |
| T20 | 69 | 1,899 | 34.52 | 11 | 01 | 103* |
FAQS
Virat Singh was retained by Sunrisers Hyderabad for 1.9 crores in 2021.
Social Media
Twitter
Virat Singh's fine ton against Delhi https://t.co/hiSzrrYYhJ

— Virat Singh (@virat_80) February 26, 2022
#GrindHard pic.twitter.com/9qQNXWuoIF

— Virat Singh (@virat_80) September 11, 2021
A sublime century from our very own southpaw @virat_80 helps #Jharkhand secure an impressive victory over Assam. Congratulations to the youngster! May you continue to light up #SyedMushtaqAliTrophy. #SISE#JHAvASM pic.twitter.com/EXWg7ydbTM

— Second Innings (@SISE_IN) January 14, 2021
Instagram
View this post on Instagram
View this post on Instagram
View this post on Instagram
---
[For more latest updates and stories on Indian sports (and athletes), subscribe to the KreedOn network today-
KreedOn: The Voice of #Indiansport]