Since making his Test debut against the West Indies in 2011, Virat Kohli has gone a long way as a cricketer. In the first encounter, the Delhi lad had a poor performance, scoring only 19 runs. Kohli is ready to play his 100th Test match in Mohali on March 4 after a decade-long journey.
Virat has scored 7962 runs at a brilliant average of 50.39 in 99 Test matches. Kohli captained India in 68 Tests, winning 40 of them. He has a 58.82 percent overall win percentage.
Nobody has scored as many hundreds in Test cricket as Kohli has in the first ten years. Kohli had his best year in 2016 when he scored 1215 runs in 12 Tests.
Adelaide- 2012 (Iconic)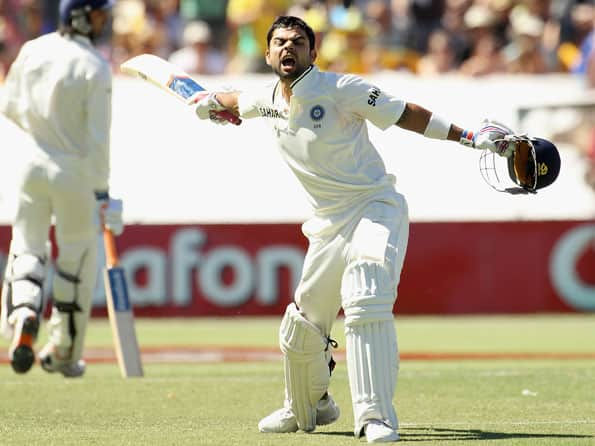 In the final Test of the 2011-12 tour, India was up against Australia. In the first two Tests, the right-hander only managed to score 43 runs. Kohli, on the other hand, hit his first century in the longest format in Adelaide, in the 14th innings of his Test career. He was asked to bat at No. 6 in a middle-order that included Rahul Dravid, Sachin Tendulkar, and VVS Laxman, and he scored 116 runs in India's first innings total of 272.
Virat Kohli Records
1. As a captain, Kohli has the second-most Test hundreds of any player. Only Graeme Smith (25) has a better time than him.
2. Only Australia's Steve Smith has more centuries since his debut than the former Indian skipper, who has more than David Warner, Joe Root, and Kane Williamson.
3. The Indian squad led by Virat Kohli has won 24 Test matches at home.
4. Kohli is the Indian skipper with the most Test victories. India won 40 of their 68 matches under Kohli's leadership.
---
[For more latest updates and stories on Indian sports (and athletes), subscribe to the KreedOn network today-
KreedOn: The Voice of #Indiansport]
-- Advertisement --