Varun Aaron, when in his prime, showed a lot of promise. It looked like he was here to stay. But his career started to fizzle out after almost four years in international cricket. He bowled good lines and lengths, he also had good speed but lacked consistency. He has been a part of a few IPL teams. Early on he was a regular part of the playing XI's, but now he usually warms the benches. Whether or not will ill we see more in the coming time is yet to be seen.
Let's know the life story of one of the fastest bowlers of India – Varun Aaron.
About Varun Aaron Cricketer
Details

Full Name

Age

Gender

Sport Category

Date of Birth

Hometown

Height

Weight

Achievement

Bowled one of the fastest ball in cricket history: 153.5 km/hr

Networth

Spouse

Parent

Father- Clement Paul Aaron, Mother- Mary Aaron

ODI Debut

23rd October 2011 vs England

Test Debut

22 November 2011 vs West Indies

Batting Style

Bowling Style

Teams Played for

India, Jharkhand, Kolkata Knight Riders, Delhi Daredevils, Royal Challengers Bangalore, Kings XI Punjab, Rajasthan Royals

IPL Debut

vs Punjab Kings at Arun Jaitley Stadium, Apr 23, 2011

Alma Mater

Loyola School, Jamshedpur.
Early Life
Born in Jharkhand, he was interested in fast bowling since his teens, and he idolized Andy Roberts growing up. At the age of 15, he was scouted by MRF Pace Foundation. He also played for Jharkhand Under 19, East Zone, and India Under 19.
Varun Aaron wife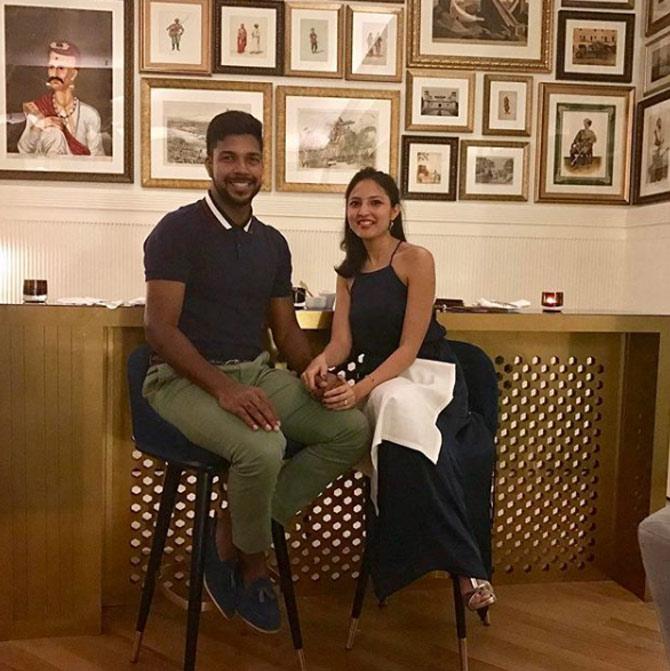 Varun Aaron is married to his childhood girlfriend Ragini Singh since 2016.
Domestic Career
He made his debut for Jharkhand in the 2008-2009 season. After a few years, he was included in the emerging player's team that toured Australia. He has also played for the Durham Cricket team in County Cricket Championship in 2014. He was a part of India B in Deodhar Trophy and India Red in Duleep Trophy.
International Career
His performance as a part of India's emerging players in Australia earned him his maiden call up for India in a tour to England, although he did not make his debut then. During India's home leg against England, Varun made a debut as a replacement to Ishant Sharma. He picked up 3 wickets at Wankhede Stadium in Mumbai in his first ODI game. He made his test debut against West Indies in November 2011, but shortly after that he faced injuries and was out of the team for 2 years. In 2014, he made a comeback to the Indian team in a tour of New Zealand.
Varun Aaron IPL journey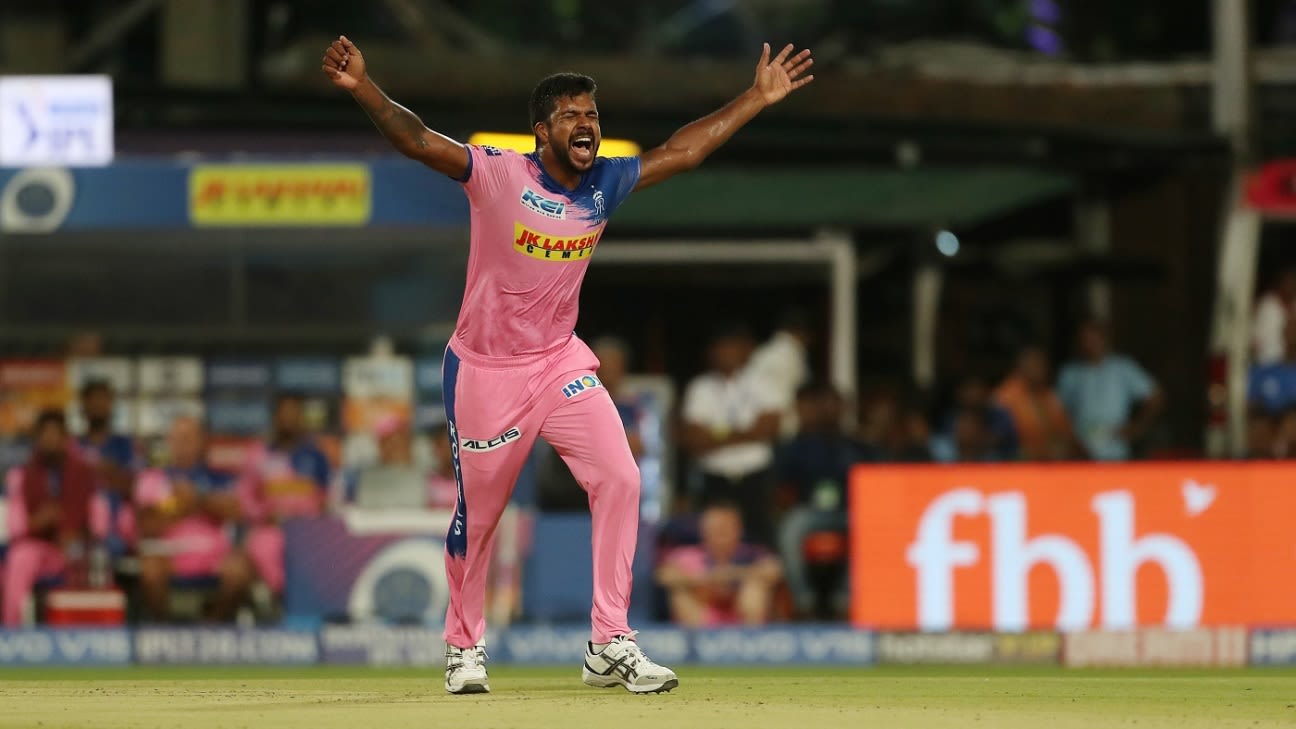 He has been a part of many IPL teams. Starting with Kolkata Knight Riders from 2008 to 2010, but he only warmed benches with KKR. In 2011 he was signed by Delhi Daredevils and released in 2013. He was bagged by Royal Challengers Bangalore in 2014 and released in 2017. Rajasthan Royals included him in their team in 2019, and he remains with them, but barely gets to play a match and is usually benched.
Varun Aaron IPL 2021
Due to several injuries, which further led to inconsistent performance, Varun remained unsold in IPL 2021 at a base price of 50 lacks.
-- Advertisement --
Varun Aaron facts
He idolized Andy Roberts, former West Indian fast bowler, and still tries to imitate him in his bowling.

Varun Aaron fastest ball: When representing Jharkhand in 2011, Varun clocked a speed of 153 kmph, which is the fastest by any Indian.

He played along with David Warner, Matthew Wade, Usman Khawaja, and Moises Henriques for the Australian center of excellence squad.

He played for Durham in the County Championship under the captaincy of former English Captain Paul Collingwood in 2014.

Varun Aaron IPL Price: His base price was set at 50 lacks for the IPL season 2021, but he remained unsold.

In the 2015 season of Vijay Hazare, he once captained MS Dhoni as a wicket-keeper batsman in the side.

Varun Aaron IPL team: Kolkata Knight Riders, Delhi Capitals, Royal Challengers Bangalore, Rajasthan Royals, Punjab Kings.
Varun Aaron Bowling Speed
He is one of the rare bowlers in Indian cricket history. Varun Aaron can bowl consistently at a high speed of 150 km/hr. But due to injuries, he is running out of the field for a while now.
Varun Aaron stats
Bowling Career Summary
| | | | | | | | | | | | | |
| --- | --- | --- | --- | --- | --- | --- | --- | --- | --- | --- | --- | --- |
| | M | Inn | B | Runs | Wkts | BBI | BBM | Econ | Avg | SR | 5W | 10W |
| Test | 9 | 14 | 1189 | 947 | 18 | 3/97 | 3/97 | 4.78 | 52.61 | 66.06 | 0 | 0 |
| ODI | 9 | 9 | 380 | 419 | 11 | 3/24 | 3/24 | 6.62 | 38.09 | 34.55 | 0 | 0 |
| IPL | 50 | 48 | 964 | 1429 | 42 | 3/16 | 3/16 | 8.89 | 34.02 | 22.95 | 0 | 0 |
Varun Aaron Twitter
Superfoods for the Super Athlete!! Packed with pure plant based energy, Fast&Up Energy Superfoods has been my go-to when it comes to fuelling my performance and stamina without energy crash! It surely is SUPER! @FastandUp_India #fastandupindia #fastandupfitsquad #fuelsthefinest pic.twitter.com/w4Crdr4viu

— Varun Aaron (@VarunAaron) June 8, 2021
Taking in the year gone by and welcoming in the next. Happy 2021 to everyone!! 👊🏽 pic.twitter.com/83iQB6pvVv

— Varun Aaron (@VarunAaron) December 31, 2020
VARUN 'AIR'ON 😎#HallaBol | #RoyalsFamily | @VarunAaron pic.twitter.com/1Ruilin9rX

— Rajasthan Royals (@rajasthanroyals) November 12, 2020
And we shall live happily ever after @raginisingh789 pic.twitter.com/eZd2T7iQqe

— Varun Aaron (@VarunAaron) February 5, 2016
---
For more interesting content on Indian Sports, stay tuned with KreedOn.