Squash has been one of the popular recreational sports in India with the majority of people thinking it to be more for the privileged few.  But with time, it is gaining popularity as a competitive sport. A talented bunch of players have emerged to make India a formidable force in Squash at the international podium.
The #squash world is united behind our dream to see squash become an Olympic sport ?

Find out how to help Squash Go Gold by visiting: https://t.co/rFkLZ4cQUz #Paris2024 #Squash2024 #SquashGoesGold pic.twitter.com/ImdZCi876L

— Squash Goes Gold (@squashgoesgold) February 14, 2019
Here we look at the top 5 squash players and their achievements
Saurav Ghosal
A lot happened last week! My heart felt tension, elation, doubt, disappointment and possibly every other emotion. Looking back now, quarterfinalist @PSAWorldChamps is a step in the right direction 🙂 hopefully more to come #SquashSupers pic.twitter.com/fCWcFhZ9tc

— Saurav Ghosal (@SauravGhosal) March 4, 2019
Kolkata born Saurav Ghosal is a young and talented squash player who started playing the game at the age of nine.
After completing his school, he moved to Chennai and joined the ICL Squash Academy and started practising under his coach Major (Rtd) Maniam and Cyrus Poncha.
Saurav turned squash professional in the year 2003 and since then has never looked back. He became the first Indian to win the coveted British Junior Open Under-19 Squash title in 2004. He is also the first Indian to be ranked junior World Number one and has bagged three Junior National championships back to back.
In 2013, Saurav reached the quarterfinals of the World Championship and became the first Indian to do so. In 2014, he clinched a silver medal in the 17th Asian Games (singles)  at Incheon.
In 2017, he married the love of his life Diya Pallikal, sister of a renowned squash player Deepika Pallikal.
Recently, Saurav made it till the quarterfinals of the PSA World squash championship in some neck to neck competitions and looks promising for further tournaments this year.
Joshna Chinappa
?Medal at the Asian Games 2018. Always an honour to play for my country. Thank you to everyone who made this possible.#TeamIndia?? pic.twitter.com/o04ykPWnKT

— Joshna Chinappa (@joshnachinappa) August 26, 2018
Joshna Chinappa is a world-class professional Indian women squash player. Ranked number 1 in Indian women's category, she is at 14th position in the PSA World Squash Rankings.
Few of us know that Squash runs in the blood of Chinappa family. The game is being played by Chinappas' since the last four generations. Her great grandfather Field Marshall K.M. Cariappa was a regular player of the game followed by his grandfather and father. But it is Joshna who has taken this family game to the international level.
Her journey of success started at the age of 14 when she was crowned the Youngest Senior National Champion, followed by countless awards, titles and medals. Also, she is the first Indian girl to win the British Squash Championship bringing laurels to the country.
Joshna's standout performance in Glasgow with Deepika Pallikal, helped India clinch a gold medal at the Commonwealth Games.
Ritwik Bhattacharya
Ritwik Bhattacharya was the first Indian squash player breaking into the World Top 50, ten years back.
The Pathankot-born Ritwik took Indian squash to a whole another level by winning the Indian National Squash Championship five times (1998, 2000, 2001, 2003, 2005).
Also, he shared the World Doubles 2004 final match with Saurav Ghosal as his partner.
Moreover, Ritwik has led the Indian Team in the World Team Championships in 2007 to finish at top 8.
After coming into the limelight, Ritwik made his television appearance in ' Fear Factor- Khatron Ke Khiladi Season 3' completing as runners up. His relationship with the famous celebrity Neha Dhupia was much talked about.
Once a talented player is now a great coach who wants the squash to grow leaps and bounds.
Mahesh Mangaonkar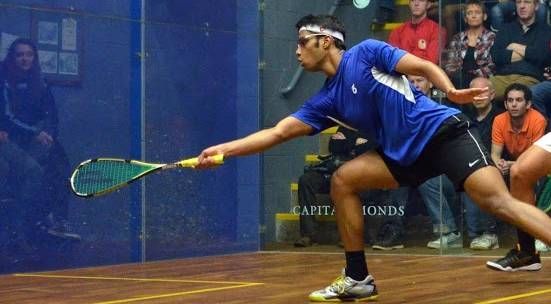 Mahesh Mangaonkar is currently the No.2 ranked professional squash player in the Indian Squash Senior Rankings after Saurav Ghosal.
In 2015, he reached the highest world ranking of his career, 44.  Mangaonkar went onto achieve the semi-finals of both the Contrex Challenge Cup and Victorian Open before achieving the last of the NSCI Open JSW Indian Squash Circuit, where he wrapped sprinter up to Adrian Waller after four diversions.
Mahesh is a great player with the skills of an expert. At 2014 Asian Games in South Korea, he was part of the Indian men's squash team which clinched the gold.
Utkarsh Baheti
Utkarsh Baheti is currently placed No. 1 in the Junior Rankings (U-19) boys and is definitely the rising star.
Born on 11 March 2001 in Jaipur, Rajasthan, Utkarsh has won the boys U-17 Junior Squash title in Ajmer in 2017. In the same year, he received the Rising star award by the Sports Minister Gajendra Singh Khimsar.
In 2018, he won over Rahul Baitha in a challenging final match to lift the U-19 boys title in the National Sub Junior and Junior Squash Championship.
Recently, Utkarsh has [performed well at the Asian Junior Team Championship and his fans are looking forward for more victories.
For the latest content on Indian Sports, stay tuned with KreedOn.