Over the course of its history, the Indian Premier League (IPL) has witnessed some outstanding batting performances. T20, cricket's shortest format, is thought to be more batsman-friendly. Throughout the competition, even the best bowlers have been knocked out of the park on several occasions. Here is a complete list of all the highest partnerships in IPL of all time.
In T20 cricket, batters, and their ability to accelerate is extremely important. A team, however, cannot be carried by a single individual. Individual brilliance has been known to win few awards. Yes, that is a match-winner.
To win a trophy, though, you must work as part of a team. As a result, every strong hitter requires someone to complement or equal him. And that's why partnership is so important. Partnerships are what determine the outcome of a game.
Full list of highest partnerships in IPL history 2008 – 2022
| | | | | | |
| --- | --- | --- | --- | --- | --- |
| PARTNERS | RUNS | TEAM | OPPOSITION | VENUE | DATE |
| Virat Kohli, AB de Villiers | 229 | RCB | GL | Bengaluru | 14/05/16 |
| Virat Kohli, AB de Villiers | 215* | RCB | MI | Mumbai | 10/05/15 |
| Adam Gilchrist, Shaun Marsh | 206 | KXIP | RCB | Dharamsala | 17/05/11 |
| Chris Gayle, Virat Kohli | 204* | RCB | DD | Delhi | 17/05/12 |
| David Warner, Naman Ojha | 189* | DD | DC* | Hyderabad | 10/05/12 |
| Jonny Bairstow, David Warner | 185 | SRH | RCB | Hyderabad | 31/03/19 |
| Gautam Gambhir, Chris Lynn | 184* | KKR | GL | Rajkot | 07/04/17 |
| Mayank Agarwal, KL Rahul | 183 | KXIP | RR | Abu Dhabi | 27/09/2020 |
| Shane Watson, Faf Du Plesis | 181* | CSK | KXIP | Dubai | 05/10/2020 |
| Shikhar Dhawan, Kane Williamson | 176* | SRH | DD | Delhi | 10/05/18 |
Highest partnerships in IPL | Virat Kohli & AB de Villiers – 229
Highest partnership in IPL history: Virat Kohli and AB de Villiers were at their best in Bangalore, just under a year after their attack on the Mumbai Indians. Gujarat Lions are the opponents this time. After Chris Gayle was dismissed, AB de Villiers came in and started striking right away. Kohli was matching him this time as well. Both players completed their century in record time. 248/3 was the final score.
AB de Villiers stayed not out on 129 from 52 balls, while Kohli was cleaned out for 109 from 55 balls in the last over. The Lions were bowled out for 104 in the second innings, giving RCB a 144-run victory.
Highest partnerships in IPL: Virat Kohli and AB de Villiers – 215*
Royal Challengers Bangalore won the toss and elected to bat first in a 2015 IPL match at the Wankhede Stadium. They got off to a terrible start as Chris Gayle went down early. Virat Kohli and AB de Villiers, on the other hand, put up a fantastic partnership. The Mumbai Indians' feeble bowling attack had no idea what de Villiers was capable of.
The South African thrashed the bowling assault, scoring 133 in just 59 deliveries. Kohli scored 82 runs from 50 deliveries. The result was 235/1. Despite their best efforts, MI was only able to score 196 runs.
Adam Gilchrist and Shaun Marsh – 206
In 2011, Kings XI Punjab captain Adam Gilchrist and fellow Australian Shaun Marsh unleashed a stunning attack on Dharamshala. The pair punished the Royal Challengers Bangalore bowling assault by joining hands in the fourth over. By delivering a staggering 27 extras, the bowlers didn't assist their own case.
Marsh stayed unbeaten on 79 runs off 49 balls after Gilchrist was removed for 106 runs off 55 balls. RCB collapsed in the chase, falling short by 111 runs thanks to Piyush Chawla's four-wicket haul.
-- Advertisement --
---
READ | Do you know which player holds the record of most 50's in IPL history?
---
Chris Gayle and Virat Kohli – 204*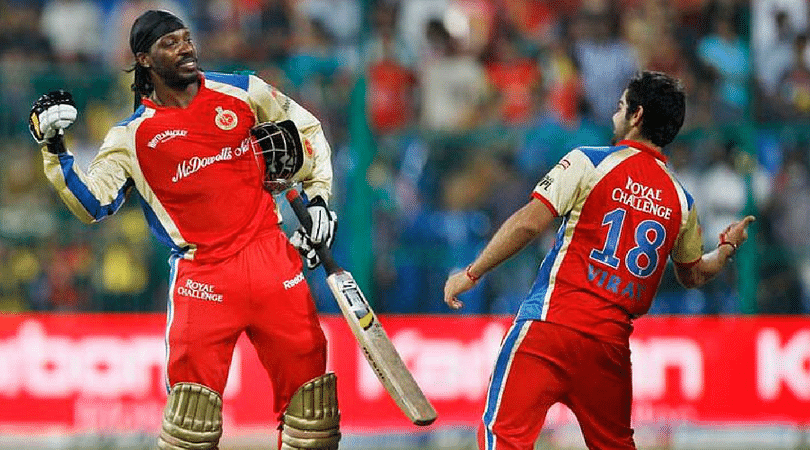 Chris Gayle began cautiously as he was given the opportunity to bat first in a vital match in the IPL 2012. Early on, he lost his opening partner Tilakaratne Dilshan. Virat Kohli, the captain, then joined him. The onslaught of the Delhi Daredevils was subsequently crushed by the Jamaican.
Gayle ended with a score of 128 not out from 62 balls. Kohli, who had to play second fiddle to Gayle, concluded with a score of 73 off 53. The Daredevils, on the other hand, did not go down without a fight in the match, coming within 21 runs of the objective. But, with to credit goes Kohli and Gayle's massive partnership, the target set was simply too high.
David Warner and Naman Ojha – 189*
Sunrisers Hyderabad skipper David Warner and Indian wicketkeeper Naman Ojha shared a remarkable unbroken 189-run partnership in 2012. The Delhi Daredevils, who were chasing a massive 188 runs to win, got off to a bad start when skipper Virender Sehwag was dismissed early.
Warner, on the other hand, began to let go, and there was no turning back. He was well backed by Ojha's solid innings. Warner smashed his century in the 17th over, and the Daredevils sealed their triumph.
---
[For more latest updates and stories on Indian sports (and athletes), subscribe to the KreedOn network today-
KreedOn: The Voice of #Indiansport]