Sports stadiums in India are getting a lot more attention as the infrastructure for sports gets evolved. Right from the iconic Salt Lake Stadium to HPCA our stadiums are WOW.
Sports infrastructure is an important and integral part of the sports ecosystem of any country.
India as a young sporting nation plays a mix of sports. Right from 'guli danda' to playing hockey and hosting International Cricket, sports stadiums in India are developing every year.
Apart from hockey and cricket, India is also home to the second-largest football stadium in the world. The Salt Lake Stadium in Kolkata is an iconic football stadium that hosted greats like Pele, Maradona, and most recently Lionel Messi.
Most recently world-class multi-purpose Athletic stadium is also being developed to boost Olympic sports in India.
The sports stadiums of any country reveal the degree of importance which it attaches to the culture of sports. In particular, India has many world-class sports stadiums through which it hosts many national as well as international sports fixtures.
Let's look at some of the best and awe-inspiring sports stadiums in India which will make any Indian proud.
List of most beautiful sports stadiums in India
| | | | |
| --- | --- | --- | --- |
| S.N | IPL stadium | Location | Sport |
| 1 | Buddh International Circuit | Noida | Moto Racing |
| 2 | Salt Lake Stadium | Kolkata | Football |
| 3 | HPCA Stadium | Dharamshala | Cricket |
| 4 | Indira Gandhi Arena | New Delhi | Kabaddi |
| 5 | GMC Balayogi | Hyderabad | Multi-Sport |
| 6 | JRD Tata Sports Complex | Jamshedpur | Multi-Sport |
| 7 | Shilaroo Hockey Stadium | Shimla | Hockey |
| 8 | Transtadia | Ahmedabad | Multi-Sport |
| 9 | Trivandrum International Stadium | Kerela | Multi-Sport |
| 10 | Narendra Modi Stadium | Motera | Cricket |
Stadiums in India: Buddha International Circuit (Noida)
Buddh International Circuit, the first Indian motor racing circuit. Situated in Noida, this is also the venue for the annual Formula One Indian Grand Prix. It has a capacity of 120,000 seats. Professional Motorsport World Expo awarded it the motorsport facility of the year 2011. It is considered one of the fastest tracks in the world. Unfortunately, Formula One races do not count the Buddh International Circuit as a venue in their calendar. 2014 was the last official F1 race to be organized at this iconic racing track.  
Football stadium in India: Salt Lake Stadium (Kolkata)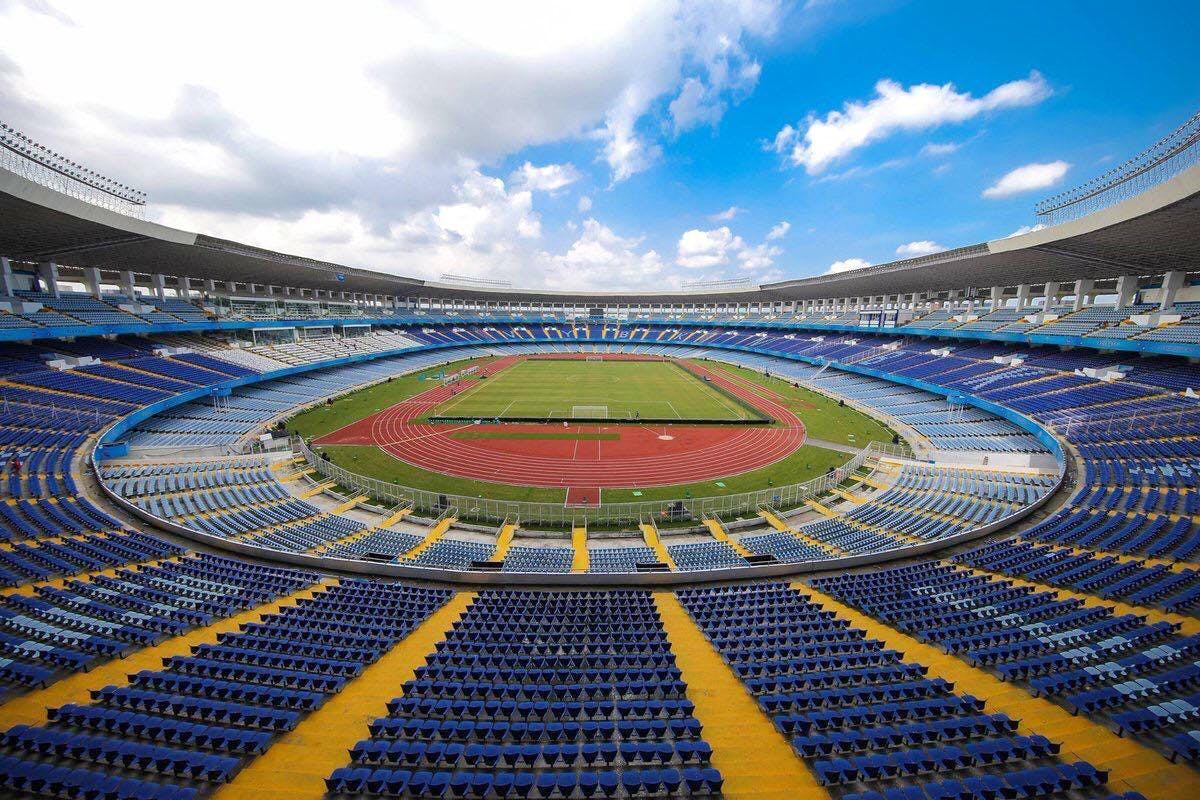 Salt Lake Stadium (Kolkata), A.K.A Yuva Bharati Krirangan is a multipurpose stadium with a capacity of 68000. Before its renovation in 2011, it was the second-largest football stadium in the World with 120,000 capacity.
-- Advertisement --
As one of the venues of the U-17 Football world cup 2017, it may possibly be the venue for the final. In 1997, a derby match between Mohun Bagan and East Bengal recorded the highest attendance for a match ever in India, 131,000. This venue also organized SAF Games in 1987 and various national athletics events in India.
Stadiums in India: HPCA Stadium (Dharamshala)

Imagine playing Cricket at an altitude of 1457m with Himalayan mountains in the background. Yes, the Himachal Pradesh Cricket Association stadium situated in Dharamshala could get your wish come true. It hosted the 2016 ICC World T20 and home games for Kings XI Punjab in the IPL and Ranji team of Himachal.
Stadiums in India: Indira Gandhi Arena (Delhi)
Built as the largest indoor sports stadium of India, Indira Gandhi Arena is also the third-largest in Asia. Apart from sports events like tennis and Kabaddi, it also hosts several political & musical events. It was renovated in 2010 during the Commonwealth games at a cost of 240 crores. The venue also hosted the first WWE live event after 13 years in India. Many athletes from all over India come here to participate in national games, and also to get a feel of an internal venue. 
Stadiums in India: GMC Balayogi (Hyderabad)
GMC Balayogi, situated in Hyderabad, was named after a former Loksabha speaker. It not only hosted the 2003 Afro-Asian Games but also hosted an event by Guinness book world record in 2010. 2800 Kuchipudi artists made a world record by performing a century-old dance form. This is considered as a modern stadium with 8-lane competition athletic tracks and 4-lane practice tracks. All tracks are synthetic. It also boasts of high mast lighting for day-night events providing obstruction-free viewing.
JRD Tata Sports Complex (Jamshedpur)
Stadiums of India: JRD Tata Sports Complex, a stadium located in Jamshedpur, is currently used for football and athletics competitions. It provides athletes the facility to board, train and compete in the same arena. It is also the headquarters for Tata Chess center and Tata Archery Academy. One of the most complete sports stadiums in India. 
Shilaroo Hockey Stadium (Shimla)
Stadiums of India: Shilaroo Hockey Stadium, situated 50 km from the state capital of Himachal Pradesh, Shimla. It is the highest ground in India at an altitude of 2500m. Sports Authority of India built this center to make athletes utilize a greater amount of oxygen while practicing on those altitudes. This would enhance their capabilities by giving them a better edge. Many international players do it.
Transtadia (Ahmedabad)
Stadiums of India: Transtadia (Ahmedabad), is a stadium built on fundamental principles of SPORTS, COMMUNITY, ECONOMICS, and LEGACY. It is a unique public-private partnership project and an out-and-out international venue. It uses a globally patented technology. This converts an outdoor stadium into an indoor arena, within 6 minutes, at a touch of a button. Kabaddi World Cup 2016 took place here recently. It is India's first convertible stadium. It strongly shows the future sports infrastructure in India and the worth of sports stadiums of India.
Trivandrum International Stadium (Kerela)
Stadiums of India: Trivandrum International Stadium is one of the most scenic stadiums in India. Situated in Kerala, it has a seating capacity of 55000 spectators. The first stadium to use DBOT (Design, Build, Operate and Transfer) model was used with toll road projects. Authorities constructed it in line with international FIFA regulations and ICC rules. It hosted the 2015 SAFF Championship. India became the champions.
Largest stadium in India: Narendra Modi Stadium (Motera)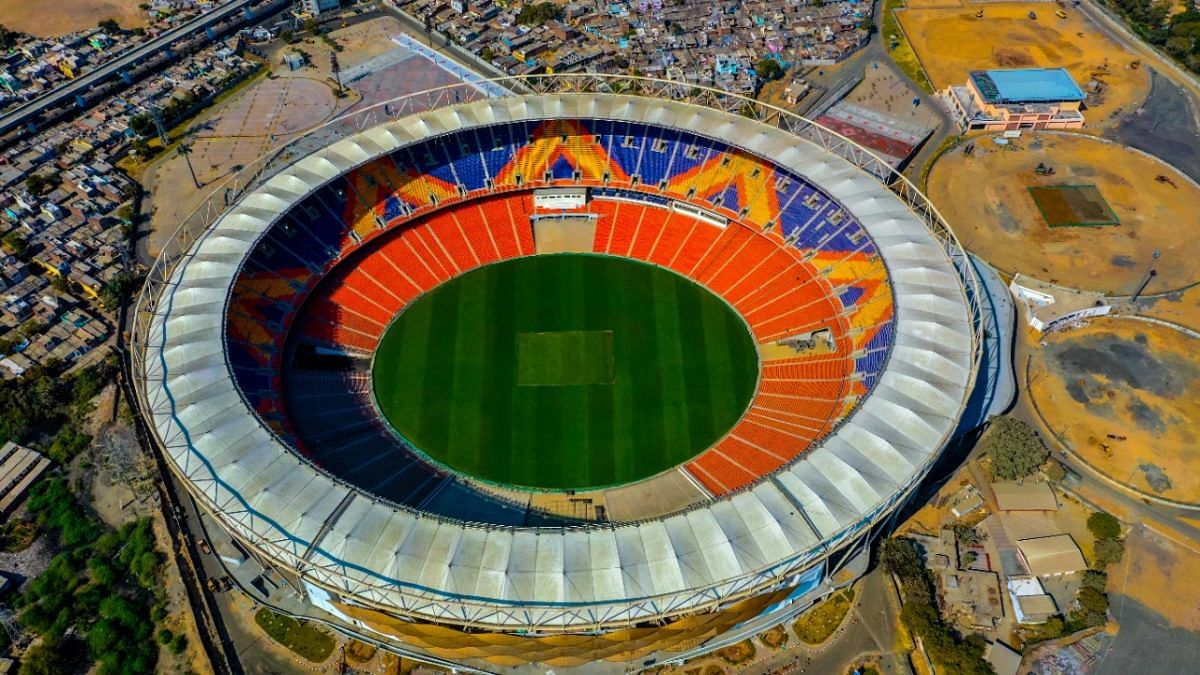 Biggest Stadium in India: Narendra Modi Stadium is the largest cricket stadium in India. Earlier, it was called as Motera stadium. In the year 2019 it was renamed as Narendra Modi Stadium. Constructed at an estimated cost of Rs 800 crore, the stadium is spread over a space of more than 63 acres. Motera stadium surpassed the Melbourne Cricket Ground which has a capacity of around 90,000.
---
[For more latest updates and stories on Indian sports (and athletes), subscribe to the KreedOn network today-
KreedOn: The Voice of #Indiansport]