Shreyas Iyer, the right-hand versatile batter from Mumbai is a fan favorite for his elegant cricketing shots, lightning-quick fielding efforts, and explosive outings with a cricket bat in hand. Despite being born into a Tamilian family, he is Mumbaikar, as he has spent all his life in the City of Dreams. As of now, it seems as if Shreyas is in contention to be part of the Indian squad for the upcoming ICC World Cup 2023, which will be hosted by India. In this blog, we will look at Shreyas Iyer's Workout and Diet plan.
Shreyas Iyer was born on 6th December 1994 in Chembur, Mumbai. He was already a superstar in his friend's circle as he used to churn out runs in the age group matches. His appetite for runs and centuries was unmatchable. He kept producing good performances each season playing for Mumbai. Despite the performances, he couldn't get any long run donning an Indian blue jersey.
To everyone's delight, the tides have turned, fortunes have changed, and the hard grind in domestic games has started to pay off well for him. Iyer has been a mainstay of India's stumbling batting order for a while now.
Shreyas Iyer Workout Plan
Levitating 🪄 pic.twitter.com/9IPOJUGqvZ

— Shreyas Iyer (@ShreyasIyer15) April 14, 2022
---
Also Read | List of top 15 best running shoes under 2000
---
Shreyas Iyer works extremely hard in the gym and, in the net sessions too. He was very fit even before he made his international debut. Though many would categorize him in the lean category. As he started to get more playing time, Shreyas realized the importance of fitness.
To cope with the pressure of continuously playing at the highest level, Shreyas starts his day with breathing, stretching, and meditation. Just like any other cricketer, he does focus on strengthening the core, back, and lower body muscles.
-- Advertisement --
Sunday hustle 😈 pic.twitter.com/XN9Ae4pAZU

— Shreyas Iyer (@ShreyasIyer15) December 12, 2021
Shreyas loves running as it keeps his heart in healthy condition. Then he does TRX Training. In simple words, TRX Training means Total Body Resistance Exercise Training, which uses your body weight and gravity as resistance to build strength, balance, coordination, flexibility, and core and joint stability.
This Mumbai batter then goes for swimming, which not only works out the body but also refreshes your mind. Well, in the hot and humid weather of Mumbai, swimming is like heaven. Shreyas does perform different exercises like spinning which is nothing but indoor cycling.
Never content pic.twitter.com/TMfNqmyR5Z

— Shreyas Iyer (@ShreyasIyer15) September 6, 2022
---
Also Read | Ishan Kishan Workout & Diet Plan
---
His Workout includes Exercises like
Alternating split squat jumps.

Tuck jumps.

Push-ups.

Side lunges.

Stepping up.

Medicine ball exercises.

Cardio.

Explosive training.

Core strengthening exercises.
Shreyas Iyer Diet Plan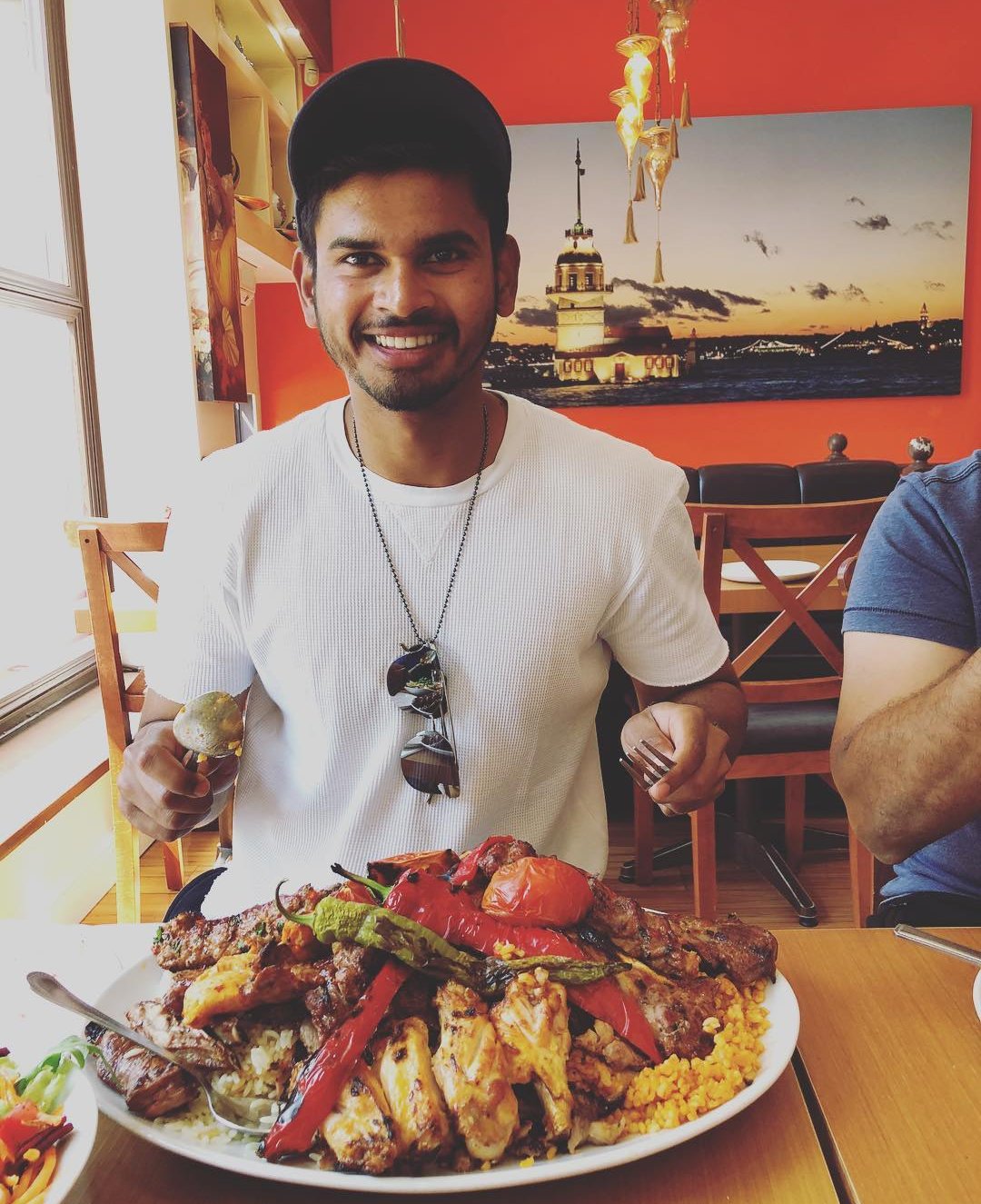 Shreyas is very particular about what he eats and how much he eats. Yes, he confesses being a Mumbai boy, it is difficult to ignore Vada Pav. But for the greater good, he ignores it, which is now paying off in a big way.
This Mumbaikar keeps track of calorie intake. He loves to have fruits in his diet.
For breakfast, Shreyas consumes an omelet (3 egg whites and a whole egg), spinach, black pepper, and cheese. And Shreyas prefers some smoked salmon or grilled bacon.
Watermelon and papaya are great ways to insert fluids into the body. These fluids help him to stay active all day. Shreyas prefers green tea as compared to normal tea. Shreyas eats mashed potatoes, grilled chicken, spinach, and green vegetables for his lunch. Obviously, he adds something extra if the body demands it.
For dinner, Shreyas stays away from seafood that is either boiled or grilled, while the dinner remains almost the same as that lunch.
Shreyas Iyer Workout Videos
View this post on Instagram
View this post on Instagram
View this post on Instagram
View this post on Instagram
Shreyas Iyer Achievements
This batter from Mumbai scored a total of 809 runs in his debut Ranji season at an average of 50.56 including two centuries and six fifties.

ICC player of the month for February 2022.

He is the 16th Indian player to score a century in his debut Test match.
---
Read More| Top 10 Best BCAA Supplements to enhance your power & boost your energy
---
For more latest updates and stories on Indian sports (and athletes), 

subscribe to KreedOn

 network today – KreedOn: The Voice of #Indiansport