Sanju Samson, the name has been around in Indian Cricket for a while. This wicketkeeper batter from Kerala has every cricketing shot in his book. Sanju, most of the time, tonks the ball, but with traditional cricketing shots rather than going for any improvisation. Sanju just makes batting look far easier. The ease with which he clears the boundary ropes is just astonishing to watch. Despite the potential, despite the prolific performances in the IPL, this right-handed classy batter never really managed to cement his place in an Indian squad. The timely injuries, too-many competitors, inconsistent performances, and unfavouring luck have infested his career in a big way. The good thing is he is still on the right side of his 30s and there is plenty of cricket in front of him. So, let's hope fortune will favor this brave batter. In this article, we will look at the workout and diet plan of Sanju Samson.
Sanju Samson's Workout Plan
— Sanju Samson (@IamSanjuSamson) April 20, 2022
Cricketer Sanju Samson, like many others, took inspiration from one and only Virat Kohli when it comes to diet, workout, and overall health & fitness. A conversation with Virat in 2020 about fitness galvanized Sanju to take fitness seriously. Since then, he has been a beast in the gym.
Sanju focuses on exercises that work out the lower body and back. Because these are the two most important body parts which should be strong enough to have a long-lasting cricketing career at the highest level. Thus, he does exercises like kettlebell lunges, deadlifts, and squats to have a strong lower body.
---
Also Read | Ishan Kishan Workout & Diet Plan
---
— Sanju Samson (@IamSanjuSamson) March 21, 2022

-- Advertisement --
This batter from Kerala clears the boundary pretty easily and elegantly. Well, without a strong upper body, this would not have been possible. To have a stronger upper body, Sanju does seated lat pulldown, incline bench press, and bicep curls along with other common exercises.
As a cricketer, along with the gym sessions, he works tremendously hard on his skills in the net sessions and practice sessions. Sanju used to work out and practice for more than 7-8 hours combinedly during the lockdown in 2020.
Strength is MY biggest Strength
💪🏽😎#day2quarantine pic.twitter.com/D3U25xvk40

— Sanju Samson (@IamSanjuSamson) October 29, 2021
---
Also Read | Top 10 Best Fitness Bands to track your daily fitness 
---
Sanju Samson's Diet Plan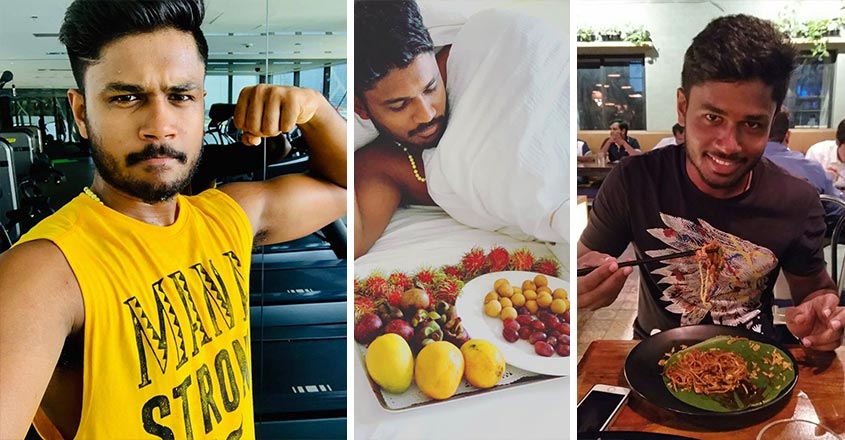 Sanju Samson, in the 2020 IPL was scoring at rapid rates with many scintillating sixes. Everybody was in awe and so was Mahindra Group Chairman Anand Mahindra when he asked about this batter's diet on Twitter. Since then, there have been many discussions about his diet plans.
Kevin Pietersen, the former squash-buckling English cricketer responded by saying
"He then reintroduced eggs and meat into his diet. He trained like mad through the lockdown. Quite simply, spectacular dedication!"
Well, other than the 'vegan, eggs, and meat' thing, there isn't much detailed information available about this beautiful batter's daily diet. But we can surely guess what diet he must be following considering he was inspired after a conversation with Virat Kohli.
Sanju Samson Achievements
Youngest batsman to score 1,000 runs in IPL.

Youngest batsman to score 2,000 runs in IPL.

He won the Best Young Player award of the 2013 season with 206 runs and six stumpings from 10 innings.
The youngest player to score a half-century in CLT20
---
Read More | Top 9 Best Tracksuits For Men
---
For more latest updates and stories on Indian sports (and athletes), subscribe to the KreedOn network today – KreedOn: The Voice of #Indiansport