Fantasy sports in India: Onset of evolution 
The Indian sports were merely restricted to passive entertainment from the bounds of a living room but the emergence of fantasy sports in India enabled the fans and audience to unite and consume their favorite sport as active participants. Fantasy sports games platforms have been in existence since the last two decades but they have recently become popular over the internet especially in the phase of pandemic. For instance, the concept of online gaming is admired by a large number of people and has gained recognition worldwide. It is a way of connecting to several people living not only in India but abroad as well, using an online platform designed to fulfil sports fantasies of people.
What are fantasy sports?
Fantasy sports is an acclaimed platform for online gaming where fantasy gamers assemble a virtual team of real sports players belonging and designed to play in a specific league such as the Indian Premier League (IPL), English Premier League (EPL), National Basketball Association (NBA), etc. It enables the players to have a lively experience of a professional sport. They enable the gamers to display their talent and knowledge in the game and have fun as well. Besides that several games allow participants to earn money through their proficient skills and gaming pattern. There are numerous fantasy sports platforms in India like Dream 11, MPL, Balle Baazi, My team 11, Fancode, etc. that have emerged as a boon to Indian society. Virtual gaming is an evolutionary episode to Indian sporting culture. 
Growth of Fantasy sports in India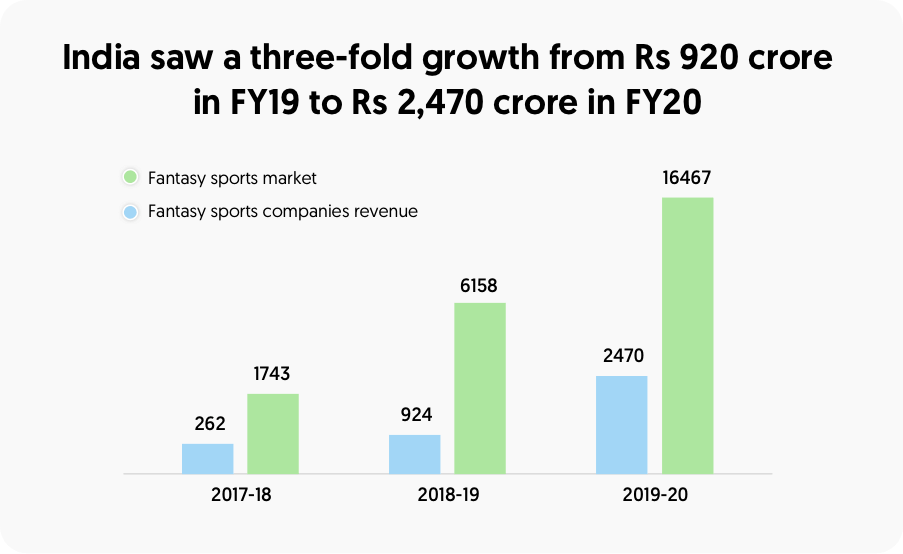 Over the last few decades, technology has bridged the gap between dreams and opportunities of the Indian gaming industry. Even though India is a novice in the global fantasy sports industry as compared to Canada and USA, yet it has seen an upsurge in the number of fantasy sports fans. The Indian Sports Industry was already booming but it has witnessed an upheaval after the expansion of technology across the world. Fantasy sports gaming has taken the Indian gaming industry by a storm in more recent years. It has enabled the sports fans to have a closer real-time action by being an active participant of their desired games.
The prime reason for growth of E.Sports in India
Love for Cricket & technological advancement
One of the major reasons for the massive growth of fantasy sports in India is the unparalleled passion for the game of cricket. The technological advancement is another key element of the development of fantasy sports as it led to the rise of 4G enabled smartphones and the fans could easily access their desired games and other applications with the use of phones.
With the rise in fans' enthusiasm, India is estimated to have more than 650 million gamers by 2025 with an ever-rising number thereafter. India serves a wide range of sports ranging from cricket, basketball, football, and several more enticing games but assuredly cricket is the most famous among others. It is known as fantasy cricket and it is one of the most played games besides fantasy kabbadi and fantasy football. Indian fantasy sports has generated immense interest and passion amazon Indian gaming enthusiasts. 
---
Also Read: Sports Gaming Online: The Rise of Fantasy Sports in India
---
The evolution of fantasy sports in India & "The Federation of Indian Fantasy Sports"
The Indian Fantasy sports is regulated and controlled by a self-regulatory body known as "The Federation of Indian Fantasy Sports" (FIFS). It was established to protect consumer interest and formulate the finest opportunities for Fantasy Sports in India. It also administers the ground rules for the members along with publishing a charter for online Fantasy Sports Platforms (OFSP). There are various popular fantasy sports platforms in India that have made a huge difference in the gaming industry. Dream 11 is one among the top platforms that has witnessed a significant rise in fantasy gamers. MPL, Fancy11, Faboom, Fanfight, Guru 11, Balle Baazi, My11 Circle, My team 11, Fancode are some other applications that have become popular overtime. Let's dive into the charismatic pool of fantasy gaming through the famous gaming applications.
Top fantasy sports apps
Complete List of Best Fantasy Apps in India
| | | |
| --- | --- | --- |
| S.N | Best Fantasy sports App | USP |
| 1 | Playerzpot | Goodies as Rewards; Weekly Login. |
| 2 | Sport 11 | Separate beginner and expert contests. |
| 3 | LeagueX | Instant money withdrawal, Various leagues to play. |
| 4 | Faboom | Ranking all players instead of only selecting Captains and Vice-Captains |
| 5 | GoSuper11 | Instant settlement of winnings |
| 6 | Gamezy | More chances to win; Prize money in free to enter leagues; Eight languages; submit team before second innings. |
| 7 | My Team 11 | Can be played in English and Hindi, 24×7 assistance, Regular Play, and Safe Play |
| 8 | CricPlay | No Deposit, Powers Up in Super League Format, Star Contest. |
| 9 | 11 Wickets | Select Your Substitute |
| 10 | Mobile Premier League Fantasy Cricket | Featured Events, Immediate Cash-out |
| 11 | My 11 Circle | Beat the Experts Challenge |
| 12 | Howzat | Unique scoring system |
| 13 | Fantain | Fan Engagement, Chat, Purchasing of  Merchandising, ticketing, and souvenirs. |
| 14 | HalaPlay | Use of ML, data analytics to help users, creation of personalized leagues. |
| 15 | Ballebazzi | Bowling Fantasy, Batting Fantasy modes, User-friendly interface. |
| 16 | Dream 11 | Oldest fantasy apps, Various formats, and challenges to win cash prizes up to lakhs of rupees. |
| 17 | Fun2Play | 1 vs 1 match, no credit limit in Fan2Play |
| 18 | Fan Fight Cricket Fantasy App | Opportunity to win 20X |
| 19 | Real 11 | Rs. 50 to Rs 100 Real11 refer cash & Joining bonus. Less Competitive |
| 20 | Fantasy Power 11 | 100 % refer cash usage, earn lifetime earnings of whom you refer. |
| 21 | Paytm First Games | Multisports, Multiplayer contests, & Trivia Quizzes. |
| 22 | Khel Champs | Offerings: 500% of bonus cash |
| 23 | Nostra Pro | In this app, you have to predict who wins matches or who scores a maximum run, or who takes wickets. |
| 24 | Fan Mojo | Directly redeem cash in the bank account |
| 25 | My Fab 11 | Use up to 100% Bonus to play game |
Dream 11
-- Advertisement --
The online gaming platform of Dream 11 was started in 2008 and it is one of the oldest and most renowned fantasy gaming platforms in India. The former Cricket player, MS Dhoni is the brand ambassador of Dream 11 and it is also a secure platform to invest money while playing. It enables the participants to choose between a variety of games including cricket, football, hockey and basketball to enjoy and showcase their skills in their beloved game. It also displays the IPL betting predictions and it has the largest number of users in India. 
Mobile Premier League (MPL) 
MPL is a Bangalore based gaming platform founded in 2018. The captain of Indian Cricket Team, Virat Kohli is the brand ambassador of MPL since march 2019 and it has risen to great extents within a short span of time. It enables the participants to play their desired fantasy games in the comforts of their homes and provides an opportunity to win real cash by displaying their talent. MPL is also the sponsor of the two famous IPL teams, Kolkata Knight Riders and Royal Challengers Bangalore. It has popularised the world of fantasy gaming.
My Team 11
This gaming platform was launched in Jaipur in 2016. This app is very user friendly as it allows easy access to games and has more than 15 million users within a short period of time. It offers five different games on this platform, cricket, football, baseball, basketball and volleyball. It makes the life of monotonous players full of excitement and enjoyment. 
CricPlay
The other platforms include CricPlay and 11 Wickets. The former is promoted by Gautam Gambhir. Both the platforms are equally unique in their own ways and have a smooth gaming interface. Other than these, Halaplay and Fan fight are also popular gaming platforms. 
First Games
Another platform, First games Fantasy sports has also been in trend and it is launched by Paytm and none other than Master Blaster, Sachin Tendulkar is the brand ambassador of Fantasy sports. It has also hosted T20's, ODIs, T10, Tests, Popular Club Football, International Football tournaments, kabaddi leagues and franchise tournaments. Besides this, there are several other virtual games and fantasy sport apps that are being acknowledged by government and multinational companies as well. 
The authenticity of virtual gaming
A few years ago, only less than ten companies offered and promoted fantasy sports apps but now there has been a change in the scenario as more than 150 companies provide a virtual platform to explore fantasy games. Basketball, rugby, hockey, and baseball have also attracted gamers recently and they have also become significant virtual games on fantasy sports apps. It is marked as an evolution in the virtual Indian gaming history by launching skill-based games that transformed into an obsession among not only children but also adults and the aged. It has witnessed a mega rise since 2017 and is continuing to make India a global competitor. The games and tournaments that have popularised virtual gaming over time include The Indian Premier League, International T20 matches, Caribbean Premier League, Big Bash, and so on.
The future prospect of Fantasy sports in India
The fantasy sports business model brings together passionate and enthusiastic sports fans on a common platform. It enables them to put their skills and knowledge to the test and win exciting cash prizes sitting at home through electronics. Moreover, Fantasy gamers are given a chance to join paid or free fantasy premier leagues at no additional cost. In the end, fantasy sports is about nurturing the fans' passion and rewarding their talent.
One of the major reasons for the destined greatness of Fantasy sports in India is that sports betting in the country is illegal and other forms of gambling are also prohibited. On the other hand, Fantasy sports are considered as skilled games, testing knowledge and anyone can participate in their favorite games. Eventually, more operators will join the market and proliferate their offer which will make fantasy sports even more renowned throughout India than before. Playing international lotteries in India has also been legalized and is growing in popularity. As more people learn to play, it will create more opportunities for them. 
---
[For more latest updates and stories on Indian sports (and athletes), subscribe to the KreedOn network today-
KreedOn: The Voice of #Indiansport]