Introduction
Rajat Chauhan is an Indian archer who stole the spotlight of the media and India's archery fraternity for the first time by finishing second at the World Championship in Copenhagen in the individual category in 2015. He was the first Indian archer to have ensured an individual medal in the World Championship. Already before that year, in the Incheon Asian Games in 2014, Rajat was one of the three-member Indian team which won the gold medal. In the same year, this 28-year-old archer from Rajasthan became the first Indian compound archer to have qualified for the Archery World Cup.
A couple of months ago Rajat Chauhan, the Deputy Superintendent of Police in Rajasthan Police again came into the limelight by winning six individual medals (four gold and two silver medals) out of the nine medals his state won in the All India Police Meet. He was also adjudged the best 'men player' of the competition.
Rajat Chauhan's Unforgettable Days
Rajat Chauhan who is likely to shift from compound to recurve archery as compound archery is not included in the Olympics, cannot forget those days when his father had to sell his car to purchase a quality bow for Rajat. It was 2011 when young Rajat was preparing for the Bangkok Asian games and at that time he suddenly broke his bow. It was too difficult for his father Tarachand Chauhan, an advocate with modest practice to arrange a bow of international quality that costs nearly Rs 2 lakh. In its aftermath, Rajat had to take part in several national and international competitions with second-hand equipment and his performance always suffered due to a lack of top-class equipment. Amidst the situation, Rajat's father had to sell his car to purchase a new kit for his son. Even his mother Nirmala Devi sold her ornaments for his son.
Initial Days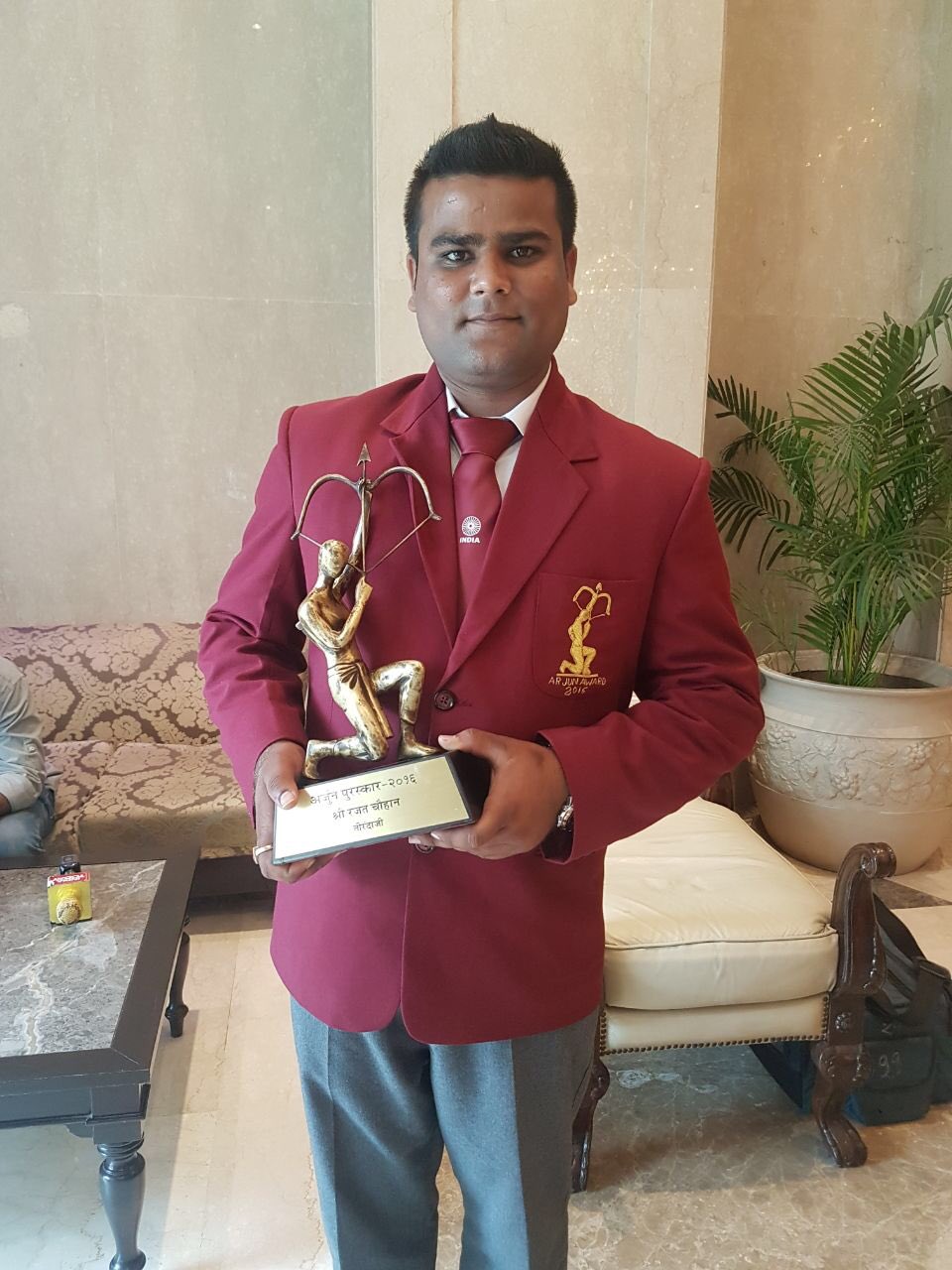 Rajat Chauhan, an Arjuna Awardee started his career with taekwondo in 2007 along with his cousin's brother. But he switched over to archery seriously in 2008 under the guidance of Kamalesh Sharma and practiced at Swai Man Singh Stadium in Jaipur. He was not impressive in his school days. Especially, his result in the eighth standard, which wasn't encouraging, was a factor in his serious taking to the sport. His father advised him that if he could not do well in his studies, he should try to excel in sports. This suited Chauhan and took up archery seriously.
Transformation to Coaching
Rajat Chauhan has been an archery teacher silently during his playing days. While practicing at Swai Man Singh Stadium for more than the last two decades he has guided nearly 25 young archers and it continues. Two of his students have already reached the international standard. They are Priya Gurjar and Swati Dudhwal.
Swati has already been a silver medalist in the Asian Championship. She even acquired the best award of sport in Rajasthan ' the Maharana Pratap award'. She also bagged a gold medal in the World University Games. Priya Gurjar also bagged gold medals in cadet women's and mixed team events and was also a silver medalist in women's team events in the World Championship held in the USA last year. He also provided equipment for his students whenever they needed it.
Rajat said,
"Around 2010 Rajsthan did not have any top women archers who could bring medals in the mixed events in the national championships. From that perspective, I prepared Swati. I have always liked to share my experience with them. They learn the technique of the game while practicing at the stadium. Today I feel proud watching their success."
Rajat Chauhan During Lockdown
During the Covid-19 pandemic and lockdown in 2020, Rajat continued training at home. He revealed,
-- Advertisement --
"I have a portal target on which I practiced shadow training. Simultaneously, I did meditation, yoga, and reduced my weight also."
The archer had donated Rs 2 lakh 11 thousand to the CM Relief fund during the Covid-19 pandemic and it was a time when Rajat did not get the job. 
---
Read More | Missing the Flight to Tokyo by a whisker, Sakshi Chaudhary sets eyes on Paris now
---
For more latest updates and stories on Indian sports (and athletes), subscribe to KreedOn network today – KreedOn: The Voice of #Indiansport