Rahul Tripathi is an Indian right-handed batsman who plays for Maharashtra in domestic cricket and Sunrisers Hyderabad in the Indian Premier League.
He became famous after brilliant performances in the 10th edition of the Indian Premier League for the Rising Pune Supergiants.
His father had a background in cricket. The older Tripathi had played for the junior Uttar Pradesh team and had also performed fairly well at the university level. This is the life & style of this cricketer.
Rahul Tripathi Details
| | |
| --- | --- |
| Name | Rahul Tripathi |
| Rahul Tripathi Age | 31 years |
| Date of Birth | 2 March 1991 |
| Role | Batsman |
| Rahul Tripathi IPL Team | SRH |
| Rahul Tripathi IPL Price | 8.50 Cr |
| Achievement | leading run-scorer for Maharashtra in the 2018–19 Ranji Trophy (504 runs in 8 matches) |
| Rahul Tripathi batting position | One Down, No. 3 |
| Height | 5ft 9 inches |
| Weight | 64 kg |
| Zodiac Sign | Pisces |
| Rahul Tripathi gf | Not Known |
| Rahul Tripathi Sister | Rupali |
| Parent | Father- Ajay Kumar Tripathi Mother- Saroj Tripathi |
| Hometown | Ranchi, Jharkhand, India |
| Rahul Tripathi Networth | Around $2.5 million USD |
| ODI debut | Not Yet |
| test debut | Not Yet |
| IPL debut | vs Delhi Capitals at Maharashtra Cricket Association Stadium, Apr 11, 2017 |
| T20I debut | Not Yet |
| batting style | Right-Handed |
| Rahul Tripathi highest score in IPL | 93 (IPL 2017) |
| team played for | India, Maharashtra, Rising Pune Supergiants, Rajasthan Royals, Kolkata Knight Riders, Sunrisers Hyderabad |
| Rahul Tripathi jersey number | #52 |
| alma mater | Sir Parashurambhau Mahavidyalay (aka SP College), Pune |
| Rahul Tripathi Instagram | @tripathirahul52 |
| Rahul Tripathi Twitter | @tripathirahul52 |
Rahul Tripathi Family
Rahul Tripathi belongs to a sporting background. His father used to play cricket at the university level and the junior level for Uttar Pradesh. Tripathi's brother too is a cricketer. His sister, Rupali Tripathi is a national-level basketball player. His father is a colonel in the Indian Army.
He completed his graduation with BSc in Mathematics from SP College (Sir Parashurambhau College). Tripathi had developed a love of cricket from a very small age. His father's transfer to Pune helped him as he registered himself at one of the oldest cricket academies, Deccan Gymkhana.
---
Also Read: Riyan Parag Biography | Age | Achievements | Batting | Stats
---
Domestic Cricket Career
Rahul Tripathi made his first-class debut for Maharashtra in the 2012-13 Ranji Season. But his records, in the beginning, were merely average over 26 first-class games and only three hundred during that interval.
Neither did he have any great records to boast of in the limited-overs format. One of his standout performances came in the 2018-19 Ranji Season when he was the highest run-scorer for Maharashtra. He scored 504 runs that season. Rahul Tripathi's greatest contributions come from the Indian Premier League or the IPL. He gained fame through the IPL.
-- Advertisement --
Rahul Tripathi IPL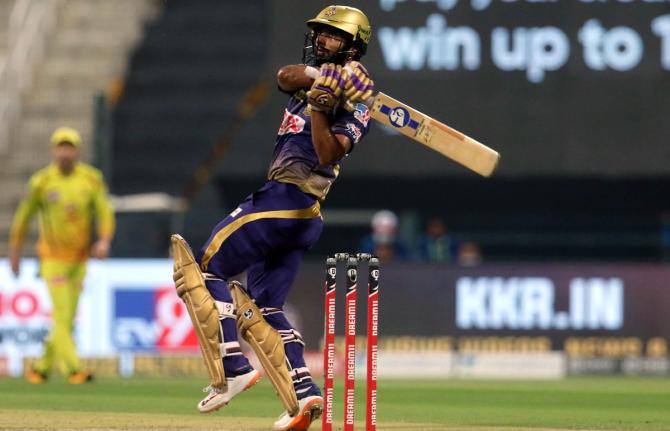 The 2017 Indian Premier League made Tripathi a known face and made the cricketing fraternity aware of him. He was one of the biggest finds of that season, opening for the Rising Pune Supergiants. At the beginning of the season, people doubted if he'd be even selected, but not only was he selected but he stunned everyone with his performance for Rising Pune Supergiants in that season. The team reached the finals easily that season.
The fact that he was even selected, despite average domestic performances, was surprising but the fact that he did better after that was a testament to his talent.
The next year, Rising Pune Supergiants were replaced by a returning Rajasthan Royals. Tripathi was luckily selected for a team but did not find himself playing many matches.
However, towards the end of the tournament, Rahane's lack of form enabled Tripathi to get a chance. Tripathi perfectly utilized that game as he scored a fifty which came in a crucial knockout game.
He was later released by Rajasthan Royals ahead of the 2020 auction and was bought by Kolkata Knight Riders, also known as KKR in the 2020 auction. In February 2022, he was bought by the Sunrisers Hyderabad in the auction for the 2022 IPL tournament.
---
Also Read: Harshal Patel Biography | Age | Stats | IPL | Cricketer | RCB
---
In June 2022, Tripathi was named in India's T20I squad for the two-match series against Ireland. In the next month, he was named in India's One Day International (ODI) squad for the series against Zimbabwe.
Rahul Tripathi Stats
Batting & Fielding
| FORMAT | Mat | Inns | NO | Runs | HS | Ave | BF | SR | 100s | 50s | 4s | 6s | Ct | St |
| --- | --- | --- | --- | --- | --- | --- | --- | --- | --- | --- | --- | --- | --- | --- |
| FC | 52 | 87 | 5 | 2728 | 132 | 33.26 | 5020 | 54.34 | 7 | 14 | 326 | 54 | 32 | 0 |
| List A | 53 | 52 | 5 | 1782 | 156* | 37.91 | 2021 | 88.17 | 4 | 10 | 177 | 33 | 15 | 0 |
| T20 | 125 | 121 | 17 | 2801 | 93 | 26.93 | 2088 | 134.14 | 0 | 17 | 260 | 107 | 58 | 0 |
Bowling
| FORMAT | Mat | Inns | Balls | Runs | Wkts | BBI | BBM | Ave | Econ | SR | 4w | 5w | 10w |
| --- | --- | --- | --- | --- | --- | --- | --- | --- | --- | --- | --- | --- | --- |
| FC | 52 | 55 | 1862 | 937 | 13 | 2/27 | 2/10 | 72.07 | 3.01 | 143.2 | 0 | 0 | 0 |
| List A | 53 | 27 | 483 | 446 | 6 | 2/25 | 2/25 | 74.33 | 5.54 | 80.5 | 0 | 0 | 0 |
| T20 | 125 | 17 | 222 | 281 | 12 | 5/27 | 5/27 | 23.41 | 7.59 | 18.5 | 0 | 1 | 0 |
IPL Stats
Year
Mat
No
Runs
HS
Avg
BF
SR
100
50
4s
6s
CT
ST
Career
76
10
1798
93
28.09
1277
140.80
0
10
176
68
29
0
2022
14
3
413
76
37.55
261
158.24
0
3
40
20
6
0
2021
17
2
397
74*
28.35
283
140.28
0
2
41
11
8
0
2020
11
1
230
81
23.00
181
127.07
0
1
21
10
3
0
2019
8
1
141
50
23.50
118
119.49
0
1
13
2
3
0
2018
12
3
226
80*
25.11
167
135.32
0
1
18
8
4
0
2017
14
0
391
93
27.92
267
146.44
0
2
43
17
5
0
Rahul Tripathi Social Media
Rahul Tripathi Twitter
🇮🇳💙 pic.twitter.com/TpoxrwzNzS

— Rahul Tripathi (@tripathirahul52) January 3, 2023
GREAT SERIES WIN 🇮🇳 #TeamIndia pic.twitter.com/6zEVtKt0nP

— Rahul Tripathi (@tripathirahul52) October 11, 2022
Gratitude @KKRiders 💜💛 pic.twitter.com/u3HRh1zg7g

— Rahul Tripathi (@tripathirahul52) August 16, 2021
Wish You A Very Happy Birthday Ajju dada 🎂🤗🥳 @ajinkyarahane88 pic.twitter.com/WuszTNphLe

— Rahul Tripathi (@tripathirahul52) June 6, 2021
Hasate Raho 😁
Partner in Crime @Kamleshnagark13 pic.twitter.com/KM0tZlouyp

— Rahul Tripathi (@tripathirahul52) May 19, 2021
Rahul Tripathi Instagram
View this post on Instagram
View this post on Instagram
View this post on Instagram
---
---
For more latest updates and stories on Indian sports (and athletes), subscribe to KreedOn network today – KreedOn: The Voice of #Indiansport