Kids are the purest souls. They have the brightest smiles around which can brighten every parent's tiring day. Cricketers' children are no different. As cricketers are one of the most celebrated stars in India, naturally, the limelight is on the kids as well. Here is the list of 15 popular cricketers kids who are taking over the Internet.
Complete list of Cricketer's Kids
MS Dhoni Daughter: Ziva Dhoni
The former Indian captain married his longtime girlfriend Sakshi Dhoni secretly in 2010. The couple gave birth to their daughter, Ziva Dhoni on 6 Feb 2015. The little girl is already an internet sensation, thanks to her mother Sakshi Dhoni's active presence on social media. Believe it or not, but Jr. Dhoni already has a following of 1.1 million on her name @ziva_singh_dhoni which is run by her mom Sakshi. The account's bio reads "This account is managed by Mumma @sakshisingh_r and Papa @mahi7781! ?‍?‍?  ❤️".
Virendra Sehwag Son: Aryavir Sehwag & Vedant Sehwag
Aryavir Sehwag is the elder son of Virendra Sehwag, born in 2007. He grabbed some media attention during the 2017 Champions Trophy when the little chatty boy joined Star sports and interviewed various Indian cricketers. Virendra's second son Vedant Sehwag was born in 2010 and like their father, both boys are into cricket from a young age. Though the former Indian opener has various records to his name, he has bigger aspirations from both of them. He has been famously quoted "I have told my sons that if they score more than 319 in any form of cricket, let it be in school, under-16 or under-19, I will gift a Ferrari."
Rohit Sharma's daughter: Samaira Sharma
The super cute Mumbai Indians supporter is the youngest among this lot. Rohit Sharma and Ritika Sajdeh's cute daughter Samaira is the new sensation of cuteness online. This what the hitman had to say when asked about how his feelings after winning the IPL 2019 Finals by his wife: "It is special. Not just Samaira but you (addressing his wife, Ritika) also. Yes, (winning in front of) Samaira because this is her first IPL and she came for most of the games. I'm very happy,"
Shikhar Dhawan Son: Zoravar Dhawan
Shikhar married Ayesha Dhawan with 2 daughters from her previous marriage in 2012 which followed a speedy escalation in Shikhar's cricketing career. Although Ayesha's 2 daughters beautifully accepted Shikhar as their father, the family was complete in 2014 after the birth of their son Zoravar. Zoravar can be seen having fun with many Indian cricketers in the dressing room and off the field. In fact, Shikhar's co-opener in the Indian Cricket team, Rohit Sharma has been seen having fun with the naughty boy a lot of times.
Suresh Raina Daughter: Gracia Raina
The famous Indian Cricketer and Chennai Batsman, Suresh Raina married his childhood friend Priyanka Chaudhary in 2015. She gave birth to their daughter Gracia Raina in 2016. The couple also runs an NGO, Gracia Raina foundation from her name which helps spread awareness in society about infant and mother nutrition and health. Papa and Mama Raina often feed the world with the cuteness of little Raina through their social media accounts. Suresh even has her name tattooed on his left hand.
Harbhajan Singh Daughter: Hinaya Singh
The famous Indian spinner married Bollywood beauty Geeta Basra and the couple welcomed their daughter Hinaya on July 27 2016. The 2-year old accompany their parents everywhere they go and paparazzi just can't let the cuteness go without a perfect snap. The word Hinaya means shine, which is exactly what she has brought to the couple's life.
Sachin Tendulkar kids: Arjun Tendulkar and Sara Tendulkar
Born on 24 September 1999, Arjun Tendulkar makes highlights very often with his celebrity status as a star kid being the son of the most famous cricketer in the world. The 19-year old recently made his debut appearance in the Mumbai T-20 league with Akash Tigers. He has also seen bowling in the Nets to current Indian Cricketers on various occasions.
Ashish Nehra Son: Aarush Nehra
Ashish Nehra bid adieu to his 18-year long international career in November 2017. He credited his family, his wife and his kids for the support. His kid Aarush seems to steal the show every time he makes an appearance off the field with the family.
Gautam Gambhir Daughter: Azeen Gambhir
Azeen Gambhir, born in 2014, is the closest thing to the heart of most serious Indian Batsman. Azeen brought the charm of luck to the life of former Indian opener as he made some promising performances in the domestic cricket and hence made a comeback in the international squad. Also, Gambir once said "Fatherhood has brought me a lot of joy and luck; I am thankful to the creator. The other day, one of my friends suggested that whenever I walk out to bat, my profile should read: Gautam Gambhir: Indian cricketer, World Cup winner, Arjuna Awardee and now a Proud Father."
Sourav Ganguly Daughter: Sana Ganguly
The former Indian Captain married his childhood love Dona in Feb 1997. The family was completed in November 2001, after the birth of their daughter Sana Ganguly. In his days, Dada could be seen spending much of his off-field time with his little girl. The little girl is now all grown up and is very active on Instagram @sanaganguly with 20.8k followers on board.
Yusuf Pathan Son: Ayaan Pathan
Ayaan Pathan, born on 17 April 2014, is son Indian all-rounder Yusuf Pathan. Ayaan is the dearest thing to Yusuf's heart and the little boy's antics are loved by his chachu, Irfan Pathan as well. Recently, on his son's 5th birthday, daddy Yusuf had a warm message for his young one.
Dear son, on this birthday I want to tell you to be fearless, go out there and do everything your heart desires. We are all here to back you and love you. #Happybirthday Ayaan pic.twitter.com/50lWmr22kZ

— Yusuf Pathan (@iamyusufpathan) April 17, 2019
Rahul Dravid son: Samit Dravid
Samit Dravid is the elder son of former Indian batsman, famously known as 'the wall'. The 13-year old also wants to become a cricketer and play for India like his father. He showed first signs of his father's batting skills in 2016 smashing 125 runs in an Under-14 match against the Frank Anthony Public school. But unlike his father, he is more into explosive batting. He again showcased his talent when he smashed 150 runs against Vivekananda School.
Anil Kumble son: Myas Kumble
Mayas Kumble is the son of legendary Indian spinner, Anil Kumble. Mayas was a little boy in Anil's playing days. Well, the little boy is all grown up now and like his father, he too has a passion for photography. In fact, he is an amateur wildlife photographer and working on his skills, posting his work on his Instagram handle @mayas.kumble.
Sreesanth Daughter: Saanvika Nair
The most controversial cricketer in recent times, Sreesanth Nair manages to stay in the limelight for some other reasons. But his cute daughter, Saanvika, manages to steal the spotlight from his father with her adorable smile and cuteness. In fact, the little girl is quite famous on his father's social media accounts.
all I need is A Look into my angels eyes.."and that's my biggest strength to keep going strong..#family ❤️ pic.twitter.com/cvH7SlNfZv

— Sreesanth (@sreesanth36) August 6, 2017
Mohammad Kaif Son: Kabir Kaif
Kabir Kaif is the son of former Indian batsman Mohammad Kaif. The little guy frequently makes his presence on TV and social media with his father. Recently, Sachin Tendulkar posted a video of Junior Kaif, hitting the ball bowled through a bowling machine in nets.
Junior Kaif smashing it beautifully through the covers. Well done. Keep playing always. @MohammadKaif pic.twitter.com/lsUd8s1LCD

— Sachin Tendulkar (@sachin_rt) December 29, 2017
The former cricketer was recently criticized by a small section ultra-conservatives for posting a photograph on FB, playing chess with his son.
Hardik Pandya Son: Agastya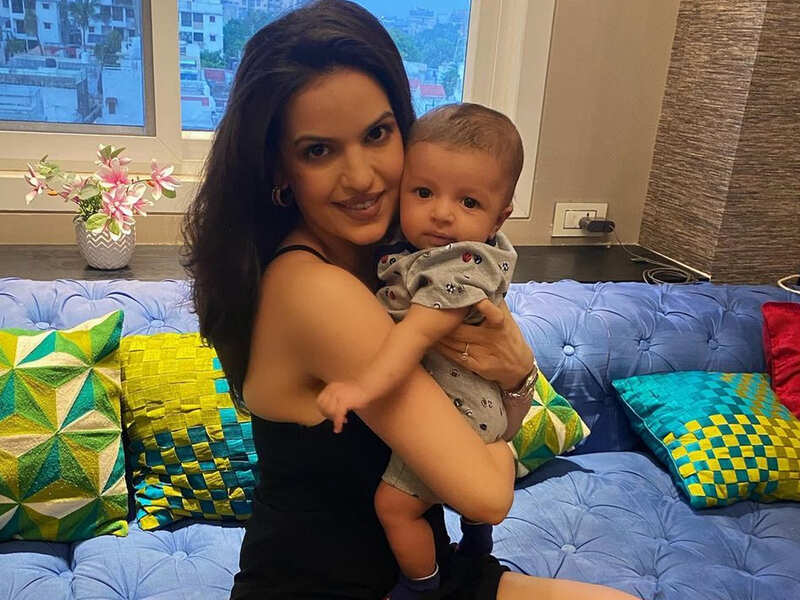 Virat Kohli Daughter: Vamika Kohli
Ajinkya Rahane Daughter: Aarya
---
[For more latest updates and stories on Indian sports (and athletes), subscribe to the KreedOn network today-
KreedOn: The Voice of #Indiansport]