Badminton is considered one of the most popular sports around the world. Within the last decade or so, it is now a major sport in India. Badminton, which was once mostly played in social groups and as winter leisure, underwent a major transformation when Saina Nehwal clinched a bronze medal at the 2012 London Olympics. The popularity of taking up badminton and competing in it has skyrocketed. Moreover, with PV Sindhu's silver medal at Rio 2016 and her regular appearances at global competitions, badminton's popularity skyrocketed. Now when it comes to playing badminton (amateur or recreational purposes), there isn't any hard and fast rule that it must be played on an indoor court, it can be enjoyed both indoors and outdoors. It signifies that there isn't any restriction on playing badminton. Today we'll be talking about outdoor badminton court and we will give you a complete guide for constructing an outdoor badminton court.
Size and dimensions of a badminton court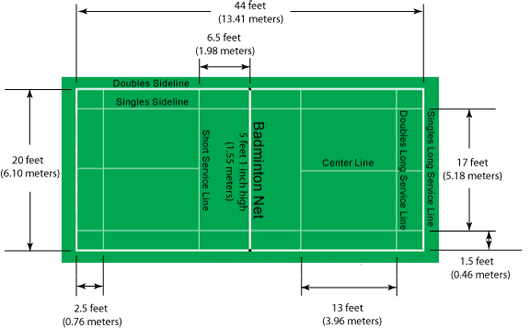 The court's conventional playing measurements are 20 ft x 44 ft.

The dimensions of the court with the non-playing area are 49 ft by 23 ft.

For doubles matches, the badminton court is 20 ft (6.1 meters) wide. This width is reduced to 17 ft during singles matches (5.18 m). The court is 44 feet long in total (13.4 m).

The conventional badminton court is rectangular with lines that are 40 mm wide.

The posts are 5 ft high above the court's surface.

The net has a depth of 76 cm and a width of at least 20 ft. It's made of a dark-colored fine cord with a mesh size ranging from 5 to 20 mm.

A 75 mm white tape is layered over a wire or cord that goes through the tape to finish the top of the net. This tape is placed on top of the cord or cable.

For singles, the top of the net from the court surface is 5 ft in the center of the court. It's 1.08 ft above the sidelines for doubles.
How to make an outdoor badminton court?
Outdoor Badminton Court Location
Before we begin to construct or play badminton on an outdoor court, there are a few things that need to be checked. Playing a sport like badminton on an outdoor surface comes with several challenges (professionally badminton is an indoor game). Proper planning and execution can be helpful in minimizing these challenges and help you enjoy the game to its fullest.
Following are the challenges and suggested remedies for an ideal badminton location (outdoor)
1: Wind – Wind is the biggest challenge when it comes to playing badminton outdoors. Constructing a badminton court adjacent to a building or any structure which might help in avoiding wind flow is suitable. Also, the location must be away from trees and other windy objects.
2: Humidity – Humid air is another challenge that players might encounter while playing badminton outdoors. A humid air restricts the speed of the shuttle and thus affects the game. As a precautionary measure, an outdoor badminton court must be constructed away from a water body.
Rebound Ace India – Your Sports Infra Expert
This expert article is brought to you by Rebound Ace India. Rebound Sports is an industry leader with more than 15 years of experience when it comes to Sports Infrastructure for any sport. They are specialized in Wooden Flooring, Acrylic flooring, Rubber Flooring, Astroturf, and several other types of sports flooring in India. Rebound Ace India manufactures world-class long-lasting sports products based on patented technologies and rigorous R&D.
Interested in building a Badminton Court? Get an expert opinion now!
Subbase of an outdoor badminton court
Concrete, RCC, asphalt are some of the basic materials which can be used to make the subbase for an outdoor badminton court. In some cases, we can also use pavers as well (which are basically used in making footpaths). They are actually quite easy to assemble and are easy on the pocket too. Also, a simple muddy base is also preferred while playing badminton outdoors.
Types of outdoor badminton court surfaces
Acrylic courts is another name for synthetic flooring. For all types of outdoor sports venues, synthetic flooring is the finest option. Synthetic flooring is the most economical option for building any outdoor anti-slip and anti-glare sports surface.   The ideal subbase should be asphalt. But more common is RCC as making small asphalt sub-base is a very expensive proposition.

Modular Tiles- if somebody is installing a CC concrete court, in that case, the general options available are modular sports tiles. Good quality with shock absorption rating options is available. They are anti-slip and anti-glare with a very long life.

 Ideally, you can make a comparative ground that is of mud, or you can also make it on a grass court, for outdoor clay. They are comparatively cheaper than any Synthetic courts. But, the disadvantage of mud or grass is high maintenance and refurbishing on regular intervals. Also play is not possible during the rainy season.

EPDM (

Ethylene Propylene Diene Monomer) is another material used in badminton flooring. EPDM is a soft rubber flooring option that is environmentally friendly. It's made out of a coating of chemically cleansed, cryogenic rubber filler (SBR) overlaid with EPDM granules to provide a robust, water-permeable basis that's ideal for any outdoor activity. The surface provides optimal safety to its users due to its robust yet soft nature, which reduces the chance of injury.

Other options available are high-end PU cushioned courts, which is a combination of SBR and PU (Polyurethane). There are also some courts that are made of 100% PU material.  
How is an outdoor badminton court different from indoor badminton courts?
Badminton is essentially an indoor sport, due to various reasons. A major reason is atmospheric conditions that hamper the gameplay when it is played outdoors. Outdoor badminton court is generally used for recreational purposes as it has a certain sponge to it. Badminton courts, both indoor and outdoor, are essentially the same. The markings and all other specifications of a badminton court are the same. Both forms of courts follow the same set of laws and regulations. 
The floor, however, differs between indoor and outdoor badminton. Indoor sessions are frequently held on courts with wooden synthetic, or rubber surfaces. There are various ways of creating outdoor badminton flooring as discussed earlier. 
-- Advertisement --
Outdoor badminton court lighting
Luminaire is one of the most significant components of a badminton court. The lighting on a badminton court is quite important. Not only should it be bright to brighten the space, but it should also be bright enough for spectators and players to view everything else in the arena. Players and spectators may struggle to see what is going on if the badminton court illumination is inadequate. When it comes to choosing the ideal lighting for the court, there are numerous aspects to consider.
Generally, two poles of the height of surround 15 feet are installed next to the post, with two lights of 150W being enough to illuminate the badminton court.
How much does it cost
There are some components involved in the costing,
Sub-base cost – which can be as much as 20,000 rupees and can go up to 2 lakh rupees depending upon the surface of the court. For instance, if you opt to make a mud court, then the average cost for rolling the court will be around 15,000-20,000 rupees. Whereas if you go for a good RCC court or asphalt court, then the price can go up to 1.5 lakhs.

Synthetic court – it ranges from 40 rupees sq feet to 300 rupees square feet. 
---
For more content on Indian sports & infrastructure stay tuned with KreedOn.