Nikhat Zareen is a born fighter and glimpses of this attitude were quite visible in her childhood days. She was 12 years old when she came home having a bruised black eye after a defeat in one of the early boxing games in her career. "How did she beat me up so badly? I will return the favor the next time", these were her words after that particular defeat and since then she has been quite successful in battering the opponent inside the boxing ring. In this blog, we will look at Nikhat Zareen's Workout and Diet Plan.
The boxing star, Nikhat Zareen was born on 14 June 1996 in Nizamabad city of Telangana. Boxing was in her blood and she was trained by her father for her first year. Then she was inducted into the Sports Authority of India (SAI) in Vishakhapatnam to train under Dronacharya awardee, IV Rao in 2009. Just a year into training at SAI, she won golden best boxer at the Erode Nationals in 2010 and since then she has never looked back.
Nikhat Zareen's Workout Regime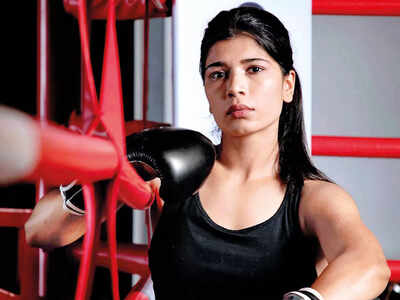 Boxing is a brutal game. You must have power, strength, mobility, speed, and flexibility in your body to take a blow and give it back. That's where training and workout come into the picture. According to her, without speed other attributes are not very useful, as only speed can surprise the opponent. Hence to improve speed, she trains with a 'speed bag'. This is a speed-intensity workout and a high-intensity workout with speed punches.
After speed bag training, she moves on to punching the bag. She generally does interval training with a punching bag. Nikhat hit punches with the highest intensity for 15 seconds, takes 15 seconds of rest, and repeats the process several times.
---
Also Read | Top 10 Best BCAA Supplements to enhance your power & boost your energy
---
This type of training helps to convert strength into power which is the most crucial element that can knock the opponent out.
This is then followed by a cardio session. In boxing, you need the endurance to keep the intensity level high for a longer duration. That's where cardio helps out a boxer. Nikhat generally does 30 seconds or 1-minute interval training with cardio. In total, she trains for 10-12 rounds of such cardio.
Skipping ropes is also a major part of her daily workout routine.
Nikhat Zareen's Workout Videos
View this post on Instagram

-- Advertisement --
View this post on Instagram
View this post on Instagram
View this post on Instagram
View this post on Instagram
Other than these workouts she also performs
Treadmill run to improve cardiovascular health

Workouts out with a medicine ball to enhance muscle strength, muscle power, coordination, agility, balance, and speed.

Strength training

Barbell squats

Dumbbell push-ups

Power clean
---
Also Read | Top 10 Best Fitness Bands to track your daily fitness 
---
Nikhat Zareen's Diet Plan
Nikhat always mentions that it is hard to follow a diet plan if you hail from Hyderabad and that's where her discipline comes to the rescue. Nikhat starts to shed weight through her workout around 2 months before the actual game. You cannot shed weight suddenly and even if you do, it will damage the body in multiple ways.
Hence to lose weight in a systematic manner, Nikhat focuses on a protein-rich diet and generally targets losing 200-300 grams per day. Obviously, this amount varies depending on how many days are remaining for the competition.
Nikhat Zareen Achievements
Gold medal – World Boxing Championships 2022, Istanbul

Gold medal – Commonwealth Games 2022, Birmingham

Bronze medal – Asian Boxing Championships 2019, Bangkok

Gold medal – Women's Junior and Youth World Boxing Championships, Istanbul

Silver medal – Youth World Boxing Championships 2013, Albena

National Sports Award – Arjuna Award 2022
---
Read More | List of top 15 best running shoes under 2000
---
For more latest updates and stories on Indian sports (and athletes), subscribe to KreedOn network today – KreedOn: The Voice of #Indiansport