The golden boy of India, Neeraj Chopra has been nothing short of an inspiration. He was very obese in his childhood days. He took sports to fight obesity and stay in a good shape. But eventually, Neeraj Chopra had a strong liking for a particular game 'Javelin Throw' and took it as a career option. In this blog, we will look at Neeraj Chopra's diet and workout plan and his incredible journey from a fat kid to one of the fittest athletes in the world.
Neeraj Chopra's Diet
For an activity sport like javelin, a slightly higher body fat percentage is recommended than usual which gives the athlete more energy and explosive power. The ideal body fat percentage for male javelin throwers is 10 to 10.5%. Neeraj Chopra aims to keep his body fat percentage at 10%.
Overall, Neeraj Chopra's diet appears to be quite high in fruits and protein, the macronutrients that support muscle growth and maintain a healthy level of body fat. To fulfill his daily requirements, he also takes protein supplements.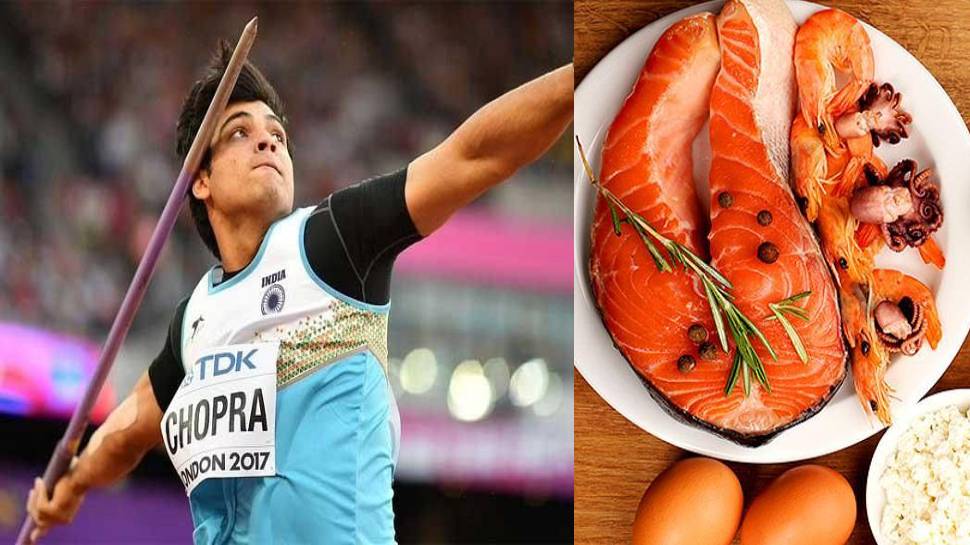 Neeraj Chopra just added salmon fish to his diet plan, and he is quickly making it his preferred source of protein.
How does Neeraj start his day?
The Tokyo Olympic gold medalist starts his day with juice or coconut water. 
Breakfast 
Neeraj Chopra usually has three-four egg whites, two pieces of bread, a bowl of Dalia, and fruits for breakfast. Bread-omelet is one of the favorite breakfast options for Neeraj Chopra.
Lunch
The lunch constitutes a high protein diet including chicken and pulses. Neeraj usually eats curd and rice for lunch, along with pulses, grilled chicken, and salad.
In between training sessions, the athlete eats some almonds along with some fresh juice. 
Dinner
Neeraj usually eats a lightweight dinner that does not involve bread, rice, or any heavy food. The dinner mostly comprises soup, boiled vegetables, and fruits. 
-- Advertisement --
---
Also Read | Top 10 Best BCAA Supplements to enhance your power & boost your energy
---
Cheat Meals
For Neeraj Chopra, who tries to follow his diet as strictly as possible, cheat meals are not very regular.
However, Neeraj Chopra enjoys eating churma, a Haryanvi delicacy comprised of mashed roti (Indian bread), sugar, ghee, and various sweets, notably kheer (sweetened rice with milk), at frequent intervals.
The renowned Indian street food known as Golgappas, also known as Pani-Puri or Puchka, is one of Neeraj Chopra's favorites. It is a spicy mashed potato filling in a crispy fried thin wafer that is served with either sweet or tangy-flavored water.
Neeraj also thinks of himself as a skilled cook, and his specialty is "namkeen chawal" (salty rice). It is also known as veg biryani.
Neeraj Chopra Training & Workout
Javelin throwers must focus on their upper as well as their lower body. They need to focus on certain joints and muscles according to their throwing style. 
Strength Training & Core Training
Neeraj Chopra's workout routine includes a lot of work with medicine balls. For his arms and elbows to be in the finest condition possible, he must devote a lot of time to strength training in the gym. Exercises with a cable pull are crucial because they develop strong shoulders, elbows, and arm muscles.
He improves his shoulder strength further by performing front and side lifts with dumbbells. Strengthening exercises for the core include Swiss ball crunches and lying oblique crunches. He performs leg lifts with a concentration on the hamstring to increase his sprint pace.
Neeraj Chopra also performs exercises including squats, snatches, weighted lunges, and time circuits every day.
---
Also Read | List of top 15 best running shoes under 2000
---
Javelin Throw specific exercise with the medicine ball
There are a few workouts designed specifically for Neeraj Chopra. One of them is clutching a weighted ball while standing tall with his arms outstretched above his head. When he is only a few inches from the ground, he begins to slowly kneel down while still clutching the large ball. When the ball is only half an inch above the ground, the body arches back like a bow.
He launches the ball like a catapult once his full body weight is on his toes. It enhances strength and flexibility, two qualities that are crucial for javelin throwers.
Hip mobility & ankle strength
Neeraj Chopra has been focusing on his hip mobility and ankle strength in addition to strength training to give himself an advantage. When the javelin thrower interrupts their run by planting their leading leg shortly before releasing the spear, both hip mobility and ankle strength are essential.
A flexible hip and strong ankles are essential to prevent any form of injury.
Tabata Workout
Tabata is a high-intensity interval training (HIIT) workout, which consists of 10 different exercises. 
Exercises at a high intensity for 20 seconds are followed by 10 to 15 seconds of rest. The Tabata is a great cardio workout because it boosts afterburn, or the calories burned after an exercise session as the body returns to normal.
Cooldown & recovery
Neeraj Chopra keeps himself in shape by taking ice baths, contrast baths (in warm and cold water), deep tissue release, and getting eight to ten hours of sleep each night.
Neeraj Chopra Workout Videos
View this post on Instagram
View this post on Instagram
View this post on Instagram
View this post on Instagram
View this post on Instagram
---
Read More | Top 10 Nike sports shoes 
---
For more latest updates and stories on Indian sports (and athletes), subscribe to KreedOn network today – KreedOn: The Voice of #Indiansport