Youth Olympic Games champions Saurabh Chaudhary and Manu Bhaker won a mixed-team event gold by setting an all-time world record.
On their way to winning the 10m air pistol mixed team gold medal, ace champions Manu Bhaker and Saurabh Chaudhary shattered the junior world record, on the concluding day of the 11th Asian Airgun Championships at Kuwait.
Manu and Saurabh defeated the Chinese pair Wang Xiaoyu and Hong Shuqi, with a difference of 7.5 points. While the Chinese pair scored 477.9, the Indian champion duo gained 485.4.
Another Chinese duo bagged the bronze in this category, while Indian players Abhidnya Patil and Anmol Jain.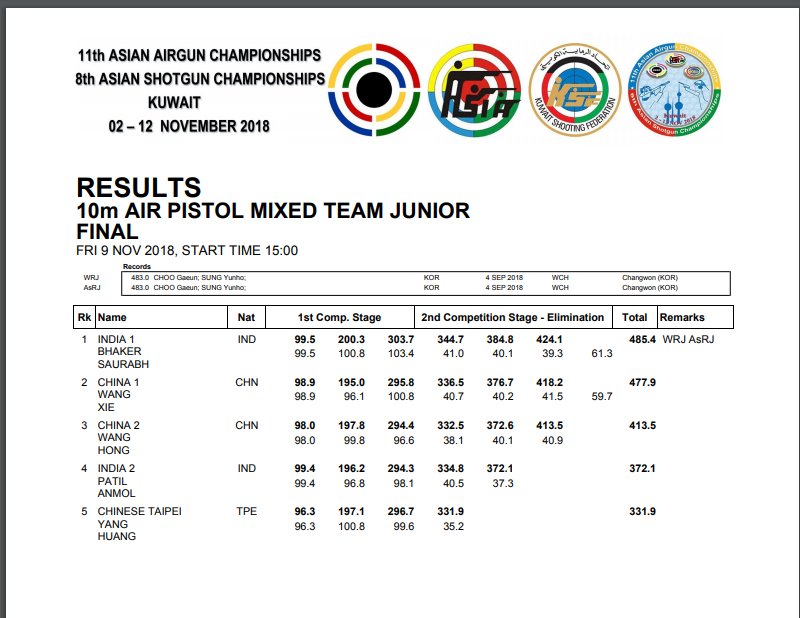 Image Source: ANI Twitter
In the qualifying stage of the championships, Manu and Saurabh were among the top 5 teams, who scored 762 out of 800 as a combined score. Though the due had scored in the same as the Chinese toppers Wang and Hong, unfortunately, lost due to the lesser inner 10s. In qualifying, Anmol and Abhidnya stood third with a combined score of 760.
This has been a great event for the Indian shooters as India's junior shooting team ended with a total tally of 11 medals, which includes four gold in India's kitty too.
Having won the gold medals in individual and team 10m air pistol events, this was Saurabh's consecutive third gold in last 2 days. On the other hand, Manu had bagged a silver medal for the team.
Saurabh's endless winning streak
Shooting teenage sensation of India Saurabh Chaudhary is steadily keeping pace with his incredible run by winning three gold medals at the recently concluded Asian Airgun Championships. To note, this is Saurabh's fourth individual gold medal in the last few months.
-- Advertisement --
First, Saurabh along with Arjun Singh Cheema and Anmol Jain had logged in a successful, gold-medal win by scoring a combined total of 1731 points. He later scored 239.8 in the eight-man individual final to clinch a gold medal again.
Saurabh, who had earlier bagged gold at the Asian Games in August, had also earned golden moments at his name at World Shooting Championship and Youth Olympic Games last month.
India's Arjun Singh Cheema managed to clinch a silver in the individual category.
Manu misses a medal in the individual category
Shooting maestro Manu Bhaker was unable to clinch any medal in her individual round and settled for a fourth in the 10m air pistol final with a score of 196.4. Though Manu played neck to neck with her pair Saurabh and was able to clinch a gold for the country in the mixed team's event.
The Indian women's Junior team which included Manu, Abhidnya and Neha won the team silver in the 10m Air Pistol with a combined tally of 1694 points. They were one down from team China who tallied 1704, who took away the gold.
 Congratulations, Manu and Saurabh!