Test match cricket is notoriously difficult and it requires a mental toughness that isn't matched by other versions of the game.
If you are the fielding team, you will sometimes have to be prepared to toil while the batting team makes hay, and posts a huge first innings score. The batting team, depending on their first innings score, may decide to declare, so they can defend their target and make some inroads into the opposition by picking up early wickets.
While we are more likely to remember monster innings totals, it is also hard to overlook the times when teams have had blemishes with the bat, and the top order tossed away their wickets, which ultimately led to trouble later down in the lineup.
We were all taught about leaving the short ones. Chasing the wide ones down the off-wicket could leave you vulnerable as a batter because if you get a nick, there is a strong chance you can edge one to the wicketkeeper or the slips.
Anyway, there have been many times over the years where there have been low scores in a Test inning.
What are some of the lowest scores in Test Match?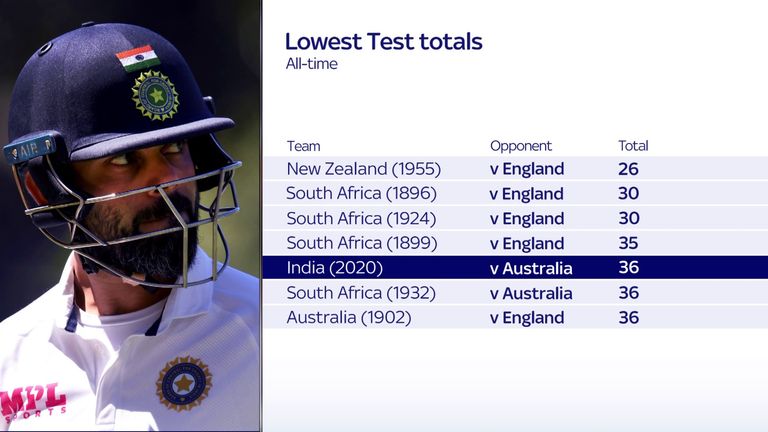 The likes of South Africa feature heavily in this dreaded list, and the Proteas recorded an unenviable Test score innings of a meager 30 in 1896 against England when they succumbed in just 27 overs.
India's lowest score in Test Cricket
India has also had struggled over the years when they have travelled on tours, as the ball doesn't spin as much in say England on a day 1 or day 2 pitch as it would on the sub-continent.
If we are looking for a more recent example of where India has surrendered with the bat, you only have to go back to December 2020 when they were skittled out for 36 in Adelaide against Australia in just over 21 overs.
There are so many intriguing elements and intricacies to Test cricket, and while it may have been overtaken by the likes of T20 cricket, it still has its place in the game, and the traditionalists will no doubt argue that it is the purest version. Of course, the top cricket betting sites will do justice to Test cricket, and they will have an array of amazing betting lines to keep bettors entertained. This will not just be limited to the 'Match Winner' bet, but players will also be able to wager on the first or second innings of a team.
-- Advertisement --
Moreover, the best betting sites, such as bet365 will make Test cricket fascinating for fans by offering live betting markets. Players will be able to see how well their wagers are doing during in-play, and they will also have a brilliant live stream, so that bettors won't miss a single moment of the action if they are using the app while they are on the move.
Of course, we are likely to see more low innings totals in Test cricket in the months and years to come.
While it's something you don't want to see if you have an allegiance to or support a particular country, there's no doubting that low innings scores can be quite hilarious if you are a neutral, and it is unlikely to be forgotten about in a hurry.
---
For more latest updates and stories on Indian sports (and athletes), subscribe to the KreedOn network today-
KreedOn: The Voice of #Indiansport