Tennis has a sizable following in India, despite being restricted to metropolitan regions. It is still one of the most popular sports in the country. India has produced several tennis players who have gained international acclaim and competed in some of the world's most prestigious tennis events including grand slams. The All-India Tennis Association (AITA), which was founded in 1920 and is a member of the Asian Tennis Federation, is India's regulatory organization for tennis. The Indian Davis Cup team is Asia's most successful Davis Cup team, having finished second three times. Today, let's have a look at the most famous female tennis players in India.
Complete list of female tennis players in India
| | |
| --- | --- |
| Female Tennis Players in India | Status |
| Sania Mirza | Active |
| Ankita Ravinderkrishan Raina | Active |
| Karman Kaur Thandi | Active |
| Rushmi Chakravarthi | Active |
| Nirupama Sanjeev | Retired |
| Prarthana Gulabrao Thombare | Active |
| Mahak Jain | Active |
| Rutuja Sampatrao Bhosale | Active |
| Shikha Devi Uberoi | Retired |
| Ankita Bhambri | Retired |
| Riya Bhatia | Active |
| Tara Iyer | Active |
| Salsa Aher | Active |
Female Tennis Players In India: Sania Mirza
Sania has achieved several major successes and has served as an inspiration to millions of young girls who aspire to play tennis. She was the first Indian woman to enter the top 100 of the WTA singles rankings, to win a WTA singles tournament, to win the year-ending WTA Finals (doubles), and to win a Slam of any type.
She's also done exceptionally well for India at multi-nation competitions, winning many medals (including gold) in singles and doubles at the Commonwealth Games, Asian Games, and Afro-Asian Games. She came up just short of a bronze medal in the 2016 Rio Olympics, losing in the semi-finals.
Sania's reputation and impact have spread well beyond the tennis court. While her straightforward statements have sparked controversy on occasion, she has also regularly spoken out on women's rights and minority concerns, gaining her supporters all over the world.
Sania has assured that she would be a revered national symbol for a long time to come, with six Grand Slams in doubles and mixed doubles, a top-30 singles career, and a ubiquitous presence in India's social and cultural fabric.
Female Tennis Players In India: Karman Kaur Thandi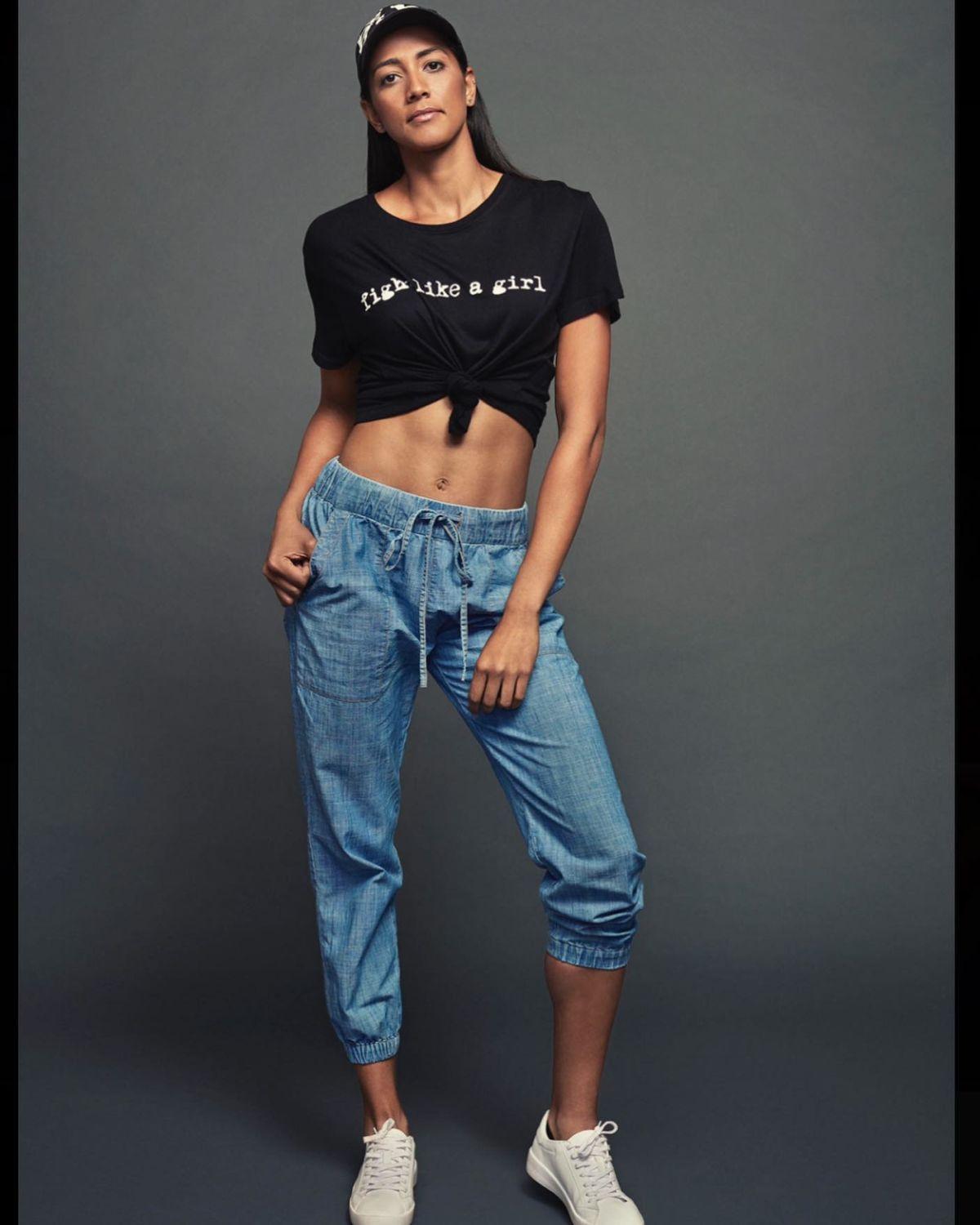 Karman Kaur Thandi is an Indian tennis player who has been tipped as a future champion and a potential top 50 player.
Thandi has already created a name for herself with her huge game and confident demeanor, and she has progressively risen up the WTA rankings.
Female Tennis Players In India: Rushmi Chakravarthi
Rushmi Chakravarthi is a professional Indian tennis player who holds the record for most ITF Women's Circuit championships won by an Indian woman (45). In September 2005, she made her professional debut in the first round of the WTA Tour Sunfeast Open Tournament in Kolkata. She is the ITF Circuit's undisputed champion. Chakravarthi has only competed on the WTA Tour twice in her career, at the Sunfeast Open in 2005 and 2006, where she lost in the first round both times.
The highlight of her successful career came in 2003 when she won four medals (two of them gold) in the Afro-Asian Games. She also competed in the 2010 Commonwealth Games in Delhi, where she reached the quarterfinals after defeating English Katie O'Brien and won the bronze medal in the doubles with Sania Mirza. Chakravarthi and Sania Mirza were given wild card entries to the 2012 London Olympics to compete in Women's Doubles.
-- Advertisement --
Laxmi Poruri
Female Tennis Players In India: From an early age, Laxmi Poruri was recognized for her athletic talents. Her parents moved to the United States soon after she was born in Guntur, and it was there that she acquired a passion for the sport. Her father was an avid sports fan who enjoyed tennis. This drove his resolve to ensure Laxmi Poruri had the finest coaching possible, and there was no going back once she defeated Monica Selles in the Orange Bowl. At the age of 15, she participated in the US Open before attending Stanford University on a full sports scholarship for four years. She ascended to the top of the United States' professional tennis rankings, winning the All-American Athlete Award four years in a row. She is now retired.
Ankita Raina
Female Tennis Players In India: Ankita Raina is an Indian tennis player who has had considerable success in both singles and doubles, giving her compatriots hope of a home-grown WTA winner.
Raina has been slowly rising the ranks, following in the footsteps of her compatriot Sania Mirza. She's begun to win titles on the ITF circuit.
For Ankita Raina, the previous two years have been a period of considerable improvement. She is only the sixth Indian woman to ever break into the WTA top-200 in singles (April 2018. (Best ranking 160, March 2020). She cracked the top-100 in doubles earlier this year, winning the Philip Island Trophy in Melbourne. Her first WTA Tour-level trophy after Sania Mirza.
She made her Grand Slam main draw debut in doubles at the Australian Open. She then went on to compete in the main draws at the French Open and Wimbledon.
---
[For more latest updates and stories on Indian sports (and athletes), subscribe to the KreedOn network today-
KreedOn: The Voice of #Indiansport]