Cricket news feed consumption on the browser has shot up 34% as compared to the IPL season last year. Moreover, UC Browser's Play & Win Game initiative has also garnered 4 million users. The game involves Indian legends Virender Sehwag and Irfan Pathan entertaining fans.
It has only been a week since the 2019 Indian Premier League started, but the IPL fever has already surmounted over the crazy cricket fans. The opening three matches of the world's richest cricket league garnered a viewership of 219 million, a direct 31% jump from last year. Going by the initial numbers, it feels that the Indian population's thirst for more cricketing action is at an all-time high.
Catching the pulse of IPL 2019 action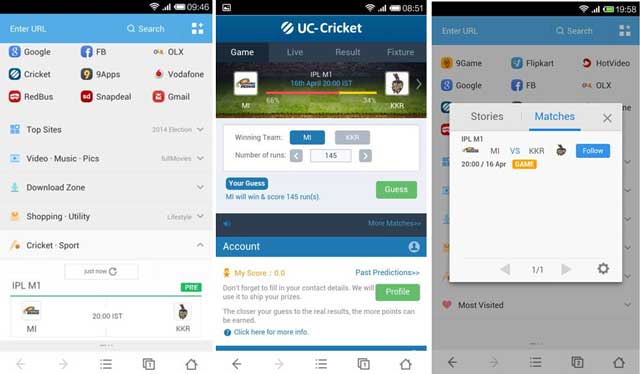 The Alibaba Digital Media and Entertainment Group-backed UC browser already has a massive following of over 50 million people to get the hottest cricket updates.
UC Browser has come up with multiple in-app activities in a bid to meet rising demand for cricket content during the latest edition of Indian Premier League.
In general, while watching or following a match live, communication is often one-sided.
But, to make this IPL more interactive and to catch the interest of the cricket fans, UC Cricket –  UC Browser's in-app channel for cricket content aggregation, is up with an all-in-one live cricket content that includes live scores, news, videos, photos, live commentaries among other things.
But wait, they haven't stopped here – The company has also partnered with Legendary Indian cricketers Virender Sehwag and Irfan Pathan, thus bringing an expert angle to cricket content.
Cricket-viewing would never have been such a fun affair
The two ex-players, known as UC Cricket Captains on the platform, can be seen interacting with the fans through exclusive commentary, short- videos, GIFs and memes, all while cheering and supporting their respective teams in the IPL at the same time.
-- Advertisement --
During the opening match of IPL, Sehwag placed his bets on RCB whereas Irfan Pathan favoured CSK. Sehwag sportingly completed the #TappingChallenge upon losing. Hundreds of fans followed suit and posted their own version of the Tapping Challenge on social media.
Play and Win, too? Woah!
As a result of these initiatives, UC browser has managed to attract 4 million users for its Play & Win Game and given out huge prizes.
The browser has a new contest for every match and users stand a chance of winning UCoins. These can easily be exchanged for Paytm Cash.
Something even for women cricket viewers to cheer up!
In a bid to attract females to IPL, UC Browser has also launched the UC Miss Cricket campaign. The feature allows users to choose cheerleaders to support their favourite teams at the time of browsing a variety of cricketing content on the browser. UC Browser will then shortlist contestants from all the entries it receives.
Users then get a chance to vote for the top cheerleaders within the UC Browser App. The contestant who garners the maximum number of votes is subject of winning a cash prize.
Moreover, she is also entitled to enjoy exclusive entertainment industry resources apart from the public exposure that UC and its partners provide.
Meeting the content demand and consumption for cricket
Explaining the company's innovative concept, Huaiyuan Yang, VP of UCWeb Global Business says, "As a user-oriented content platform, UC Browser has excelled in providing curated and specialized content for its wide 130 million user base. Cricket is the most popular sport in India, the content demand and consumption related to it is known to be high."
Talking about the UC's content strategy, he added, "We aim to keep in line with UC's content strategy for the Indian market of generating rich, enjoyable localized content in the form of short videos, GIF's, memes and more. And the announcement of having Sehwag and Irfan on-board is, in fact, a part of this exact strategy."
"Additionally, this year, we will also launch the UC Cricket Fun Columns which will house exclusive inputs and commentary from Irfan Pathan so as to reach a wider cricket-loving audience."
UC Betting Big on Short Videos
Apart from their endeavour in the cricket world, UC is also betting high on short-form content like short videos and other snackable content.
The Short-video content consumption has witnessed a sudden jump in 2018 on the browser with more than 3.6 crore short-videos already aggregated on UC Browser, the world's leading third-party mobile browser and a content platform.
Today, this kind of content already accounts for over 40% of the platform's overall content consumption. Moreover, uploads of the daily video have also raised by 100% in the past 6 months.
As a result of the above, increasing its foothold in the short-form content is among the top priorities for UC.
Sounds interesting? Don't wait, catch all the IPL buzz with UC Browser and be a part of this crazy cricket extravaganza.
About UC
UC, a business within Alibaba Digital Media and Entertainment Group, is a leading provider of mobile internet software and services. The international product portfolio of UC includes content distribution platform UC Browser, Android app store 9Apps and UC Ads for mobile marketing.
As per StatCounter, UC Browser is the No. 1 third-party mobile browser in the world. It has reached 430 million Monthly Active Users globally. Additional information about UC and its products can be found on their website.