Badminton is one of the most popular sports around the world. With a viewership of more than 220 million around the globe, this sport rules the hearts of people. Badminton's infrastructure has grown tremendously in recent years, with more excellent courts being built in a variety of places. The primary purpose of a badminton court is to offer sufficient padding/cushion and traction to badminton players, as the game requires a variety of actions like jumping. It can lead to serious injuries to the players, if there is not enough shock absorption offered by courts. Today, we will know about indoor badminton court. In this blog you will learn about how to make an indoor badminton court, its cost, material required, dimensions and many more.
How to make an indoor badminton court?
In order to make a good badminton court, you should first know all the basics of an indoor badminton court.
Indoor badminton court dimensions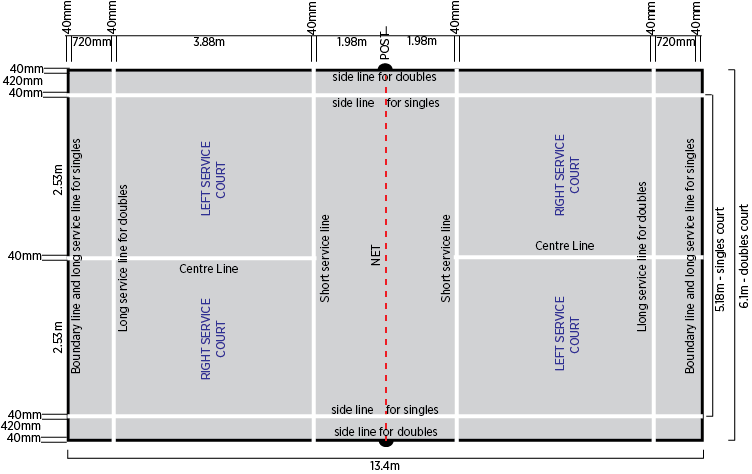 Whenever a customer plans for the courts, they never consider the fact that they require a walking area beside the court. The universal rule may say that a badminton court has dimensions of 44 ft ✕ 20 ft, so people plan their court's layout accordingly. But people don't realize that the standard PVC mat size is 50ft X 24ft. Henceforth the ideal dimensions of the court is 50ft X 24ft. In this dimension, there are no side galleries. In order to have a decent side gallery, the ideal dimensions of the hall should be 55.8ft X 26.4ft. 
So the playing area has dimensions of 44ft X 20ft. While for doubles matches, the badminton arena is 20 feet (6.1 meters) wide. This width is reduced to 17 feet during singles matches (5.18 m) with proper line-markings. 
---
Rebound Ace India – Your Sports Infra Expert
This expert article is brought to you by Rebound Ace India. Rebound Sports is an industry leader with more than 15 years of experience when it comes to Sports Infrastructure for any sport. They are specialized in Wooden Flooring, Acrylic flooring, Rubber Flooring, Astroturf, and several other types of sports flooring in India. Rebound Ace India manufactures world-class long-lasting sports products based on patented technologies and rigorous R&D.
Want help with your next project? Reach out to us by filling below form.
---
Indoor badminton court structure
Shed
Now to make an indoor court, you must have a proper shed. Many contractors use tin sheets or thermal sheets. They may do the job but it is recommended to make your court echo-proof. Therefore to avoid the problem of echo, it is recommended to use sound acoustics, which can relatively lower the echo sounds.
While constructing the shed there is a preferred wall perimeter, with 5-7 ft height that should be raised after which the sheets are installed. 
People nowadays use PEB (Pre-engineered building) structures instead of conventional brick and mortar structures. It reduces the construction time and cost.
-- Advertisement --
Ventilation
Ventilation is a very critical aspect while constructing badminton courts, especially for the players. Since badminton is a high-intensity workout sport, all the players constantly require fresh and clean air to breathe. Therefore for good ventilation, people either construct a fully air-conditioned court or use a basic air-cooled natural system, with the help of ducting.
Now some people use split AC's for their court but they are not quite practical and should not be used. The latest technology is VRF systems which though expensive in hardware but running cost is very less.
The biggest issue is that if the ventilation is not done right, the air would lead to obstruction in the gameplay.
Indoor badminton court ceiling height
In badminton courts, the ceilings are quite high, therefore the average height of the ceiling at the center must be a minimum of 34 ft as per the federation.
In significant international events such as the Olympics or Grade 1 championships, the height of the badminton courts ceiling should be at least 39.3 ft above the ground.
Now, other than this, many large badminton courts have around 4-5 courts at one place, so for that reason, some people prefer making an observation platform. An observation platform helps the audience to look at ongoing matches all at once.
An observation platform is usually at the height of 34 ft. Accordingly, the ceiling height has to be adjusted and increased. 
Indoor badminton court flooring material
Flooring is considered one of the most important factors while making the badminton court. People generally give the least importance to this, as flooring comes in the picture, at a relatively later stage of the project. But if the flooring is not right, the whole purpose of the project fails and it would lead to business loss or player injuries. The flooring should be of high quality and the players should feel comfortable while playing. The most important characteristic required in a badminton court is a good amount of shock absorption (at least 25%) and antislip. The type of flooring ideal for your use case is dependent on various factors like location, weather, usage, budgets etc. 
Creating badminton courts is a costly affair. Whatever material you use in the flooring defines the longevity of the courts. If quality is compromised to keep the costs low, it will lead to damages within a couple of years. Right flooring has a very long life with minimum maintenance.
Any problems with the badminton flooring could jeopardize all of the hard work that has gone into developing this infrastructure. Furthermore, it has an impact on the gameplay and has the potential to cause serious long term injury to players.
As a result, having a thorough understanding of the many varieties of badminton floors and which one best meets your needs is critical.
There are five types of indoor flooring that are used in numbers;
Wooden
Wood is considered an ideal material to use for flooring purposes. Because it is a flexible floor surface in comparison with concrete. Wooden flooring is undoubtedly the greatest choice for badminton court flooring. It is the recommended flooring by the Badminton World Federation (BWF). It is preferable to have a wood springy floor along with authorized non-slip court mats according to the BWF's official rulebook.
Wood has an inherent capacity to absorb pressure while being kind to the body. Wood flooring has an inherent characteristic of elastic surface shock absorption. Hardwood is used with a plank length in the range of 1.5-8 ft, and width in the range of 50-130mm. These planks are installed over runners (various types) & shock pads (various sizes and thicknesses). The total system is in the height range of 50-95mm. 
The flooring is coated with a composite coating of polish to offer it a beautiful appearance and increased longevity of the wood. Pre-polished wood is the most recent trend and provides even more life.
Wooden and mat
Wooden with mat is ideally the best combination for badminton flooring. It is said that not all wooden surfaces, however, are suitable for badminton. Some kinds are prone to becoming slippery, whereas others might not be quite as long-lasting.
Therefore to avoid this problem, mat is a good choice to have over the wooden flooring. Hardwood, being the most popular choice for badminton courts flooring, when used along with a pvc mat, makes the court extra reliable and sturdy.
It also increases shock absorption and provides a good balance to the players' feet.
100% Natural Rubber Flooring 
You can also go for 100% natural rubber for the indoor badminton court flooring. They usually come in medium interlocking designs which can be easily fixed and dismantled. It has minimal costs and extends the life of your floor. Rubber also reduces sports injuries and fatigue. It has a noise-reducing feature for a quiet and relaxed fitness routine. Moreover, natural rubber is eco-friendly and recyclable.
Rubber and mat
Just like wooden and mat, you can also opt for rubber and mat. When rubber and mat are used, it offers an extra shock-absorbing cushion back. The air grooved interlocking tiles has 2 mm thickness, 10 mm & 15 mm. It also comes with an anti-slip sand design & is available in ready-to-use line labeling.
They are UV-treated for long-term use and can be cleaned simply. The athletes will enjoy remarkable surface comfort and ease. This solution is only suited for indoor use.
PVC Mats
PVC synthetic floorings are prominent because they have good anti-slip qualities and look appealingly professional. However, PVC mats should not be used, standalone over concrete for badminton courts, as they do not provide minimum shock absorption.
These should ideally be put over wooden floors. They are incredibly player-friendly and created with the particular needs of the game's current format in mind.
A good branded PVC has a thickness of 4.5mm. However, there are other types of mats available eg. portable mats. You should select the right mat for your use case as it might lead to increased project cost.
Indoor badminton court lighting
Lighting is yet another most important factor while constructing a badminton court. Since it's an indoor badminton court, the lights should be well illuminated. Another thing to keep in mind is that the illuminance is not too much, that it blinds the player. The positioning should also be good so that it doesn't interfere in the game. Therefore, rather than putting lights at the front and back, they should be placed at the sides of the court. 
There are various options of lighting available these days, based on your budgets and energy efficiency requirements.
Indoor badminton court construction cost
Now, if we talk about construction cost, it varies according to the facilities you want to incorporate in your courts. For example, changing rooms, observation platform, reception area, parking etc. It also depends on the types of material used for flooring, ceiling, ventilation, and lighting. 
For the purpose of budgeting, the first step should be, finalizing the facility requirements. The next step should be to create a layout with the help of a professional architect experienced in creating sports complexes. The next step should be to choose and finalize a flooring solution to suit your use case. Then go ahead with the BOQ for construction.  
Doing this exercise should help you determine the rough cost of your project.
---
[For more latest updates and stories on Indian sports (and athletes), subscribe to the KreedOn network today-
KreedOn: The Voice of #Indiansport]