Indian cyclist Deborah Herold is one of India's premier sportswoman who has garnered many laurels worldwide. The popularity of cycling in India only extends to it being a recreational activity, not as a professional sport. However, in the past couple of years, Indian cycling has improved significantly. One of the biggest reasons behind this is Deborah Herold.
Early life of Indian Cyclist Deborah Herold
Indian cyclist Deborah Herold was born on 18th February, 1995 in Port Blair where her father served in the Air Force. From her early school days, Deborah began to play sports and had a desire to represent India. Her grandfather was among the first sportspeople from Andaman to have bagged a medal at the national games.
Spending four days on a tree
Christmas 2004 was not very good for Deborah as she was gifted a teddy bear instead of the sports shoes she wanted for her high-jump competition. She refused to talk to her family members despite several attempts to console her.
The following day, the tsunami struck Port Blair and a giant thud woke up her family. Deborah's parents took her and her sisters away as their house was half submerged in water. During the rush, Deborah lost the grip on her mother's arms and the tide pulled her away.
She collided with a tree and prevented herself from drowning by climbing its top branch. However, she was unable to come down as there was about 20 feet of water. She shouted out for help but nobody could hear a thing due to the immense sound of destruction.
So, she eventually stayed on the tree for four days and survived on the leaves and bark of the tree. On the fifth day, a search party rescued her.
She woke up in a rescue and soon, had a tearful reunion with her family.
The tsunami was one of the worst things that ever happened to the world but it changed Deborah Herold's life. During these four days, she realized that all fear can be overcome.
In 2009, there was a selection camp in Herold's hometown. She participated in the camp's cycling race and won despite pedaling on her rusty, old cycle. As a result, she joined the SAI training center at Port Blair. In 2010, she clinched the gold medal at the junior national games. She shifted to Delhi in 2011 to practice at the Indira Gandhi Sports Complex.
-- Advertisement --
After passing class 10th, Herold continued with her studies, enrolled in an open school system.
Qualification to World Championships and No.4 ranking

She first came to national prominence in 2012 by clinching the gold at the 2012 national championships which made her a regular in the Indian cycling team. The following year, she won five gold medals in the junior Track Asian Championships. That very year, her coach Ruma Chatterjee was killed in a hit and run accident during an early morning session. Later that year, the Andaman Police made Deborah an ASI.
Herold's breakthrough in international cycling came in 2014 when she won two gold medals during the Hero Track Asia Cup, one for 500 meters time-trial and another for team sprint. 2015 was a very successful year for Herold as she won five medals at the Taiwan Cup Track International Classic (1 gold, 1 silver and three bronze). She became the first Indian to qualify for the UCI Track Cycling World Championships. She was ranked No.4 in the World Elite UCI Women's Rankings.
Continued success of India Cyclist Deborah Herold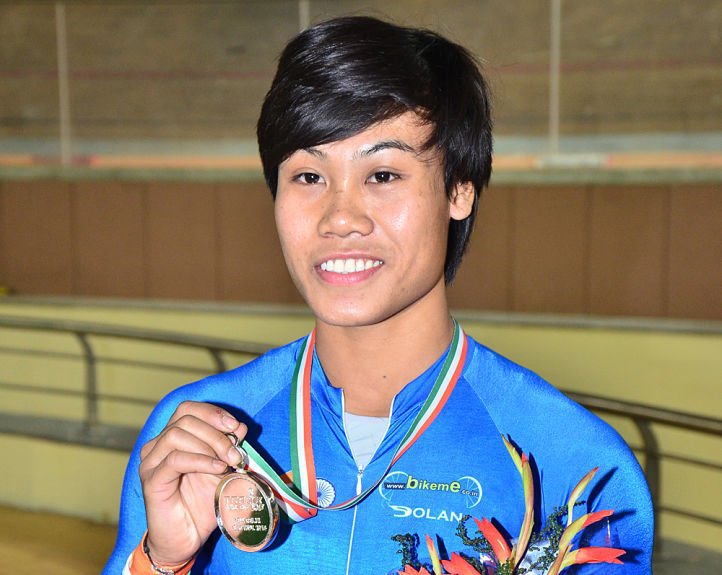 In 2016, she competed in the 500 m time-trial at the World Championships in London but unfortunately, ended last, completing the race in 36.229 seconds, 3.270 seconds more than the winner Anastasia Voynova.
2017 has been a brilliant year for Indian Cyclist Deborah Herold so far. She began the year by finishing fourth in the Asian Track Championships in a pool that consisted of an Olympics bronze medalist. She missed the bronze medal by 0.143 seconds.
In September, Herold led the Indian cycling team at the Asian Indoor and Martial Arts Games where she won three silver medals in the sprint, keirin event and the team sprint. India ended the games with 40 medals (9 gold, 12 silver and 19 bronze), ending 11th in the medal tally.
She secured a berth for next year's World Championships in the keirin event by finishing 5th in the Track Asia Cup.
Deborah currently has her eyes set on the 2020 Olympics and the UCI has invited her to Switzerland to train with the world's best. She hasn't met her family since 2013 and is aiming not to until she has qualified for the Olympics.
A resilient fighter, Indian cyclist Deborah Herold always tries to raise the bar and it will be no surprise that she won't be content just with Olympics qualification. She will want to bring home a medal. Looking at the way she has evolved, she could well be the first cyclist to win a medal for India at the Olympics.