Mayank Agarwal roared loud in Wankhede with a sensational 150 against New Zealand in the first innings of the 2nd test. 
Mayank, who has been contending for the Indian opening slot for quite some time now, stabilized the Indian innings with an incredible century in the match.
Innings Summary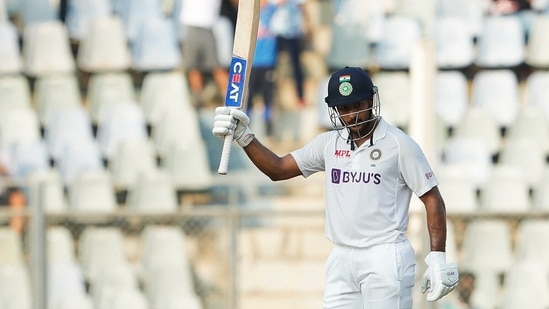 The right-handed opener began the Indian innings with a stable opening partnership of 80 with partner Shubman Gill. The Indian batting order however was soon on the verge of collapse losing three wickets for no runs.
Captain Virat Kohli and Cheteshwar Pujara both lost their wicket to spinner Azaz Patel for zero runs. Virat's dismissal was very controversial as netizens argued whether he was out or not.
Then, Mayank Agarwal went on to build important partnerships with Shreyas Iyer, Wriddhiman Saha, and Axar Patel to lead India towards a good score of 325.
Axar Patel's half-century too proved very important to India. But it was Mayank's century that starred for India.
This was Mayank's fourth test century. Two out of his four tons have been double centuries. The opener has displayed his ginger for big centuries.
Azaz Patel's Special Record
New Zealand spinner of Indian origin, Azaz Patel has broken a very special record in the 2nd test match. 
He has now become only the third player to take all 10 wickets in an innings of a test match. Only Jim Laker and Anil Kumble had done it before him. Azaz Patel ended with the figures of 10/119 in 47.5 overs. It will surely be a career-defining performance for him too.
-- Advertisement --
Mayank cements himself in the team
Before this match, Mayank's place in the team was in question. He had not scored any century in the previous two years. But he proved himself sufficiently in this innings.
Mayank's brilliant knock of 150 has most probably cemented his position in the Indian team for the next couple of Test matches at least. 
Mayank's innings displayed great patience and skillful technique against spinners in the match.
---
[For more latest updates and stories on Indian sports (and athletes), subscribe to the KreedOn network today- KreedOn: The Voice of #Indiansport]