Shreyas Iyer scored a mesmerizing century on his debut Test match against New Zealand on Friday at Green Park, Kanpur. Iyer, who was presented with his cap by Sunil Gavaskar on Day 1, reached the mark after 157 balls.
White-ball maverick Shreyas Iyer continued his sublime run in his debut game for Team India on Sunday, rescuing the Virat Kohli-less side on Day 4 of the first Test match against New Zealand. Iyer, who scored a century in his debut for Ajinkya Rahane's Team India, notched a game-changing half-century to write history in the game's lengthiest and earliest format.
Shreyas Iyer: Unstoppable at Kanpur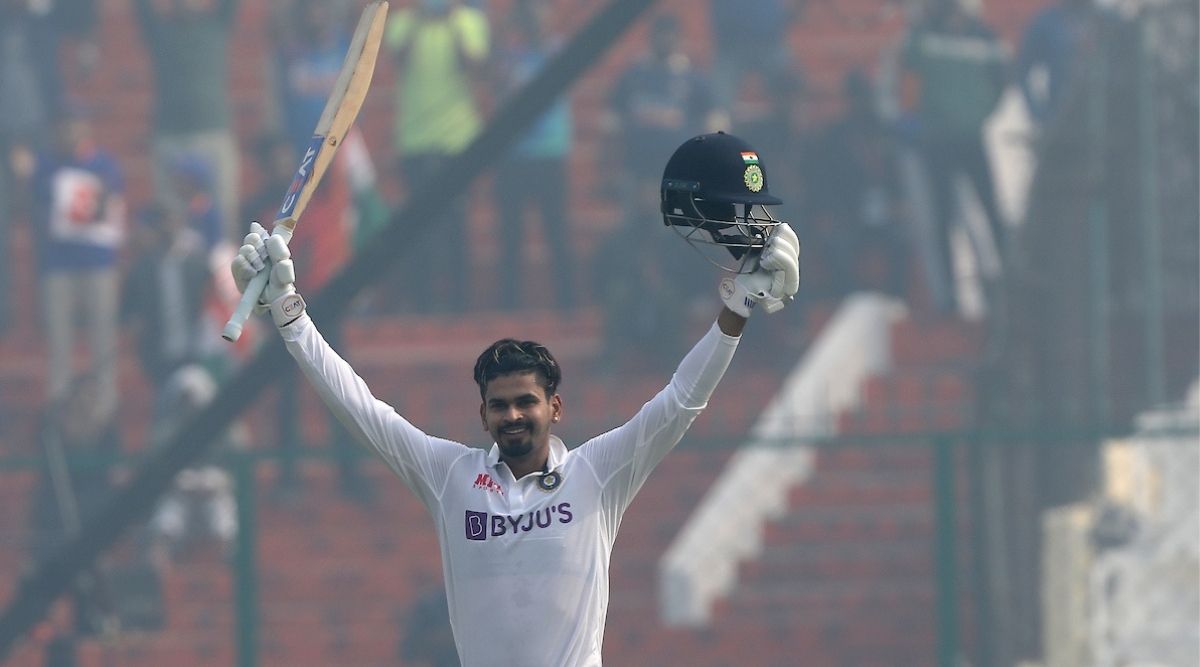 Iyer is the first Indian batter to hit a century and then a half-century in the longest format. In India's first innings against New Zealand at Kanpur, Iyer became the 16th Indian batter to score a century. Iyer managed to complete his half-century in India's second innings on Day 4 of the first Test match, unlocking another huge milestone.
Shreyas is the third Indian batsman, after Dilawar Hussain and Sunil Gavaskar, to score 50 or more in both innings of a debut Test match. Iyer played a crucial knock of 65 off 125 balls to help Team India stage a remarkable comeback on Day 4 of the first Test match, and save the hosts from a shocking batting collapse.
Iyer combined with Ravichandran Ashwin to put together a crucial run stand that extended India's lead to 216 runs. Tim Southee of New Zealand removed the swashbuckling batter in the 61st over of India's second innings before Tea. With 170 runs in the Kanpur opener, Iyer ranks third among Indian batters with the most runs on debut. Only Shikhar Dhawan (187 against Australia) and Rohit Sharma (177 against West Indies) are higher on the list than Iyer.
Twitter Reaction #KanpurTest
Unbelievable Defence .. What a Match…
Test Cricket Is ♥️ Well Played Kiwis .
Congratulations @BLACKCAPS#KanpurTest pic.twitter.com/1jhN5qMuKg

— I Am Aniket (@StoriesByAniket) November 29, 2021
#INDvsNZTestSeries #INDvsNZ #draw #KanpurTest #NZvsIND #WTC23
Ind vs NZ 1st test drawn

-- Advertisement --

*NZ team be like pic.twitter.com/BoVStXRwaS

— Mihir Kumar Rout (@MihirKumarRou11) November 29, 2021
Rahul Dravid to Nitin Menon at Kanpur Test Cricket #KanpurTest pic.twitter.com/l2S3tB9NTG

— Ashutosh Srivastava (@ashutosh_sri8) November 29, 2021
Welcome to kanpur😂😂😂 #INDvsNZTestSeries #ShreyasIyer #BCCI #KanpurTest pic.twitter.com/R5ZxfnKAM0

— risicasm😎😎✍️ (@monkeyofhcverma) November 25, 2021
---
[For more latest updates and stories on Indian sports (and athletes), subscribe to the KreedOn network today-
KreedOn: The Voice of #Indiansport]