Significance of sports in student's life
The question "what is the importance of sports in the life of students?" comes up frequently when discussing sports. Although we emphasize the importance of studies, we must not overlook the significance of sports for students' well-being. Many well-known athletes, like Rahul Dravid and Anil Kumble, started as academics but went on to be successful athletes. Both of these Indian cricketers were going to study engineering or Chartered Accountancy, respectively, but they gave up because they didn't do well in school. Instead, they changed their majors and got a lot more success than they expected.
So, we can say that if you're not very good at school or aren't interested in other activities, sports is one of many fields that are always open to you. Success in sports necessitates consistent practice, dedication, and effort. However, these dreams can all be realized through straightforward actions that must have begun in school. In this article, we will read about the importance of sports in student's life.
Top 12 reasons highlighting importance of sports in students' life
Sports are an important part of a student's growth and development. They aid in the growth of mental well-being and physical fitness. A student develops a variety of personality-enhancing skills, experience, and confidence through participation in sports and games. Given beneath are the motivations behind why sports and games are fundamental in an understudy's life. Let's look at some of the importance of sports in a student's life.
For inner harmony & peace of mind
At the point when we study for the entire day, we want a reviving break as a ton of things are happening to us. Thus, make a propensity for playing for basically an hour for inner serenity. Playing sport provides excellent movements in the body and keep you physically active as well.
---
Top 10 Best Fitness Bands to track your daily fitness goals
---
Sports is straightforwardly corresponding to well-being
Playing sports help you keep your body in good shape. Also, sports boost self-esteem and mental alertness, which work best when we participate in sports at school because we have good grasping power at a young age. At the school level, you should play games like cricket, tennis, table tennis, badminton, basketball, athletics, and gymnastics.
Sports Reduce Stress
When exam time approaches, students experience a great deal of stress because they are under a lot of pressure from their parents and teachers. Thus, we can say sports are the medication to manage that without influencing psychological and actual well-being. The student may find that playing a few games of tennis, table tennis, badminton, or gymnastics can help them cope with stress.
A Career in Sports
Numerous times, we have observed students who excel in sports but struggle academically. Students who lack a strong interest in school can therefore pursue a career in sports. Famous cricketer Rahul Dravid wanted to be a Chartered Accountant, but after reading his first book, he decided to focus more on sports. Consider whether he would have been able to achieve such success if he had not changed his mind about becoming a sportsman. Therefore, you shouldn't force yourself to put in a lot of effort only in your studies because some people are capable of achieving more.
Sports for Higher Education
The most depressing time of year is when it comes to getting into higher education. Sometimes, the best students also don't get into their dream school, but an average student does. Sports quota is the cause of this. Getting into prestigious universities or colleges can be made easier if you perform well in sports at the school level. So, we can say that sports can sometimes be very helpful for higher education. 
-- Advertisement --
---
Also Read | Sports Psychology Courses in India 
---
Sports Help Build Skills
Cricket, Football, Tennis, Table Tennis, Badminton, Basketball, Athletics, and Gymnastics are the most common games played at the school level, when you participate in each of these games, you acquire certain skills. When we play sports regularly, we develop skills like teamwork, leadership, patience, discipline, perseverance, learning from failure, sportsmanship, and others. These skills are just as important for school and management. Therefore, sports can be considered an essential component of skill development. 
Sports Build Emotional Stamina
Sports teach people how to deal with all kinds of emotions, and we all have to deal with some emotions at some point in our lives, whether at home or work. The ability we acquire through sports enables us to accept both wins and losses. As a result, athletes are better equipped to handle challenging circumstances.
Sports Improve Social Connections
Students who participate in a lot of sports can bond with one another. They learn how to improve their social relationships by having to work together as a team in sports. Additionally, this is an essential life parameter.
Effective time management & self-discipline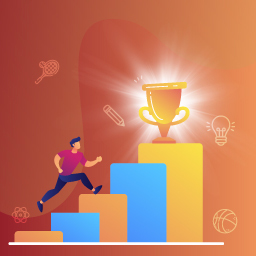 Valuable utilization of time and discipline is a significant quality of any sportsperson. If a student participates in a sport, he or she must demonstrate a commitment to regularly attending a particular location at a particular time. He/she should show restraint, and training will empower the understudy to adapt and analyze difficulties in life. Students can stay fit and disciplined by adhering to the rules and regulations for each sport.
---
Also Read | Best courses for sports science in India: Learn the science behind your favorite sport
---
Qualities of leadership & teamwork
Sports are all about working together. Football, cricket, basketball, and other team sports provide an individual with a sense of self-identity and group membership. Children are encouraged to communicate with their teammates and show off their talents through these sports. It also aids in identifying and honing their leadership abilities, which enriches their personality with values.
Accepting both victories and defeats
Sports are not always about winning. It's about being fair and believing in justice and equality. Accepting defeat in a positive, competitive spirit is what makes a true sportsperson, and it motivates them to work harder the next time to achieve what they missed in the previous game. Losing is an inevitable part of any game.
Boost self-confidence
A student's happiness and confidence are boosted when they score a goal, hit a six, or win a race. It can be very unsettling to perform in front of a crowd that is always watching your every move. However, a sportsperson is focused, patient, confident, and has a never-say-die attitude.
Conclusion
Last but not least, while studying is important for a better future, you can also achieve the same objective by improving your sporting abilities. You ought to get the propensity for playing from the early school days and carry on this however much you can. Choose a school where extracurricular activities like sports and other sports are just as important as academics. To meet the needs of students, an exclusive academic program with a variety of scheduling options has been developed. International and national coaches create training programs and regularly visit the school to assess the student's progress. Every school needs to incorporate games and sports into its curriculum for all of the aforementioned reasons.
---
Read More | Top 10 sports water bottle to keep you hydrated
---
For more latest updates and stories on Indian sports (and athletes), subscribe to KreedOn network today – KreedOn: The Voice of #Indiansport