Harpreet Brar is a young cricketer who plays for Punjab at the domestic level. He is a slow left-arm orthodox bowler. He can also bat and is considered as a bowling all rounder. Harpreet Brar played for the Punjab Kings in the Indian Premier League (IPL). He started playing for the franchise in 2019 and has played 10 matches till now.
About Harpreet Brar
Details

Full Name

Age

Gender

Sport Category

Date of Birth

Hometown

Height

Weight

Achievement

He once hit five sixes in an over in a club match.

Networth

Spouse

Parent

Father: Mohinder Singh Brar, Mother: Gurmeet Kaur Brar.

ODI Debut

Test Debut

Batting Style

Bowling Style

Teams Played for

IPL Debut

vs Delhi Capitals at Arun Jaitley Stadium, Apr 20, 2019

Alma Mater
Harpreet Brar Family
Harpreet Brar was born on 16 September 1995 in Moga, Punjab. His father, Mohinder Singh Brar, worked in the Punjab Police as a driver. His mother's name was Gurmeet Kaur Brar.
Harpreet Brar also has a sister. His sister's name is Ramanpreet Kaur Brar. Harpreet has said that Yuvraj Singh is his favorite cricketer and idol.
As a kid, Harpreet Brar used to study in the Kendra Vidyalaya School. Harpreet Brar also has several tattoos on his right arm.
Harpreet Brar studied at the G.G.D.S.D College, Haryana. While studying there, he contested in the college elections to become the Sports incharge of the college. He contested these elections from the SOI party.
Harpreet Brar was also greatly inspired by another Punjab player, Gurkeerat Singh Mann.
Being a big fan of Sonam Bajwa, a Punjabi actress, Harpreet once uploaded a sketch of her on his Facebook Account.
Domestic and Early Career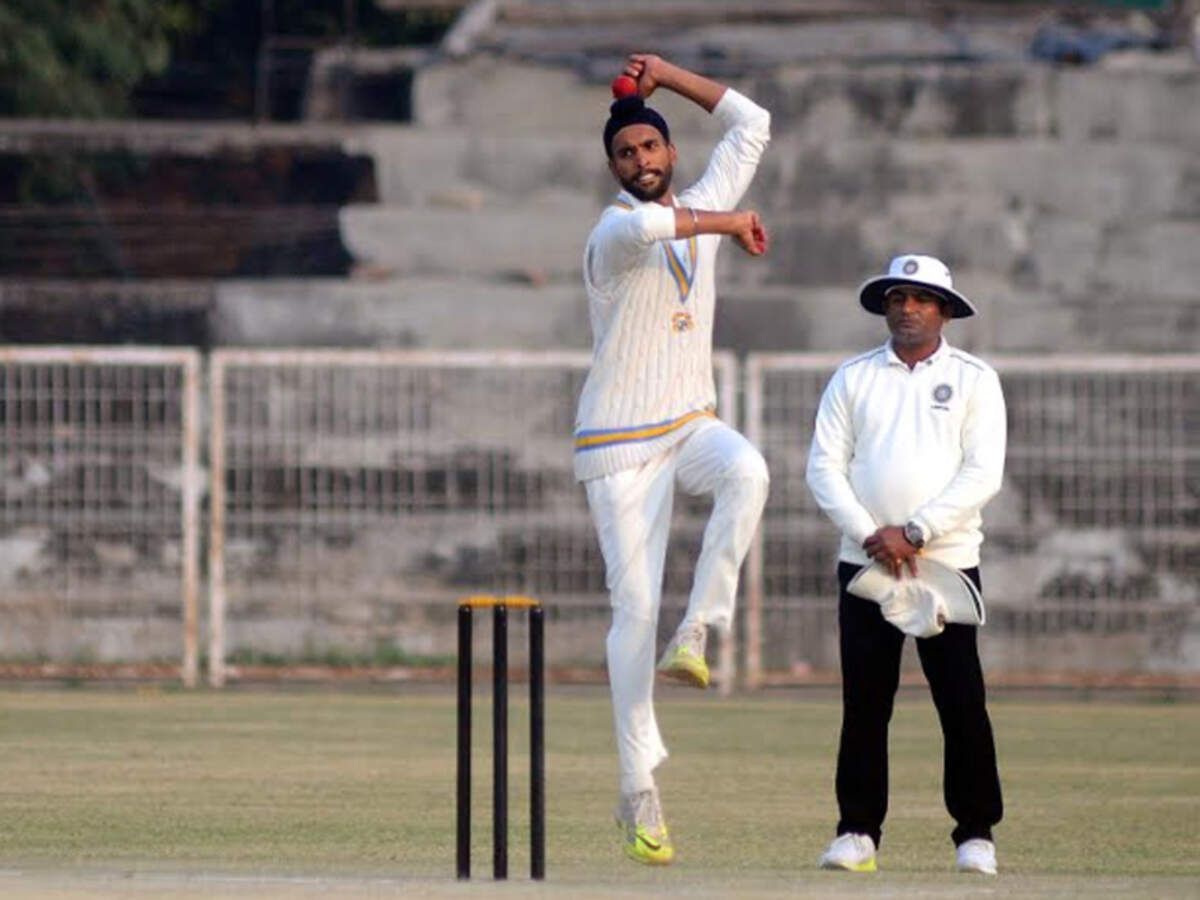 Harpreet Brar played in the U16 Punjab cricket team. This was the beginning of his cricket career. Then, he continued being selected in the U-19 and U-23 Punjab sides.
In a district match against the Hoshiarpur U-19 team, Harpreet Brar stunned everyone by taking 10 wickets in an innings. He was playing for the Ropar U-19 team in that match.
-- Advertisement --
Harpreet Brar ended up with 15 total wickets in that match. Earlier, he had taken five wickets in the first innings. By taking 10 wickets in an innings, he equalled the records by legends such as Jim Laker, and Anil Kumble. 
Harpreet Brar had begun his career in the inter-district level for Ropar and had consistently taken wickets for them. However, afterwards, he shifted to Mohali and continued displaying his skill there.
Harpreet Brar IPL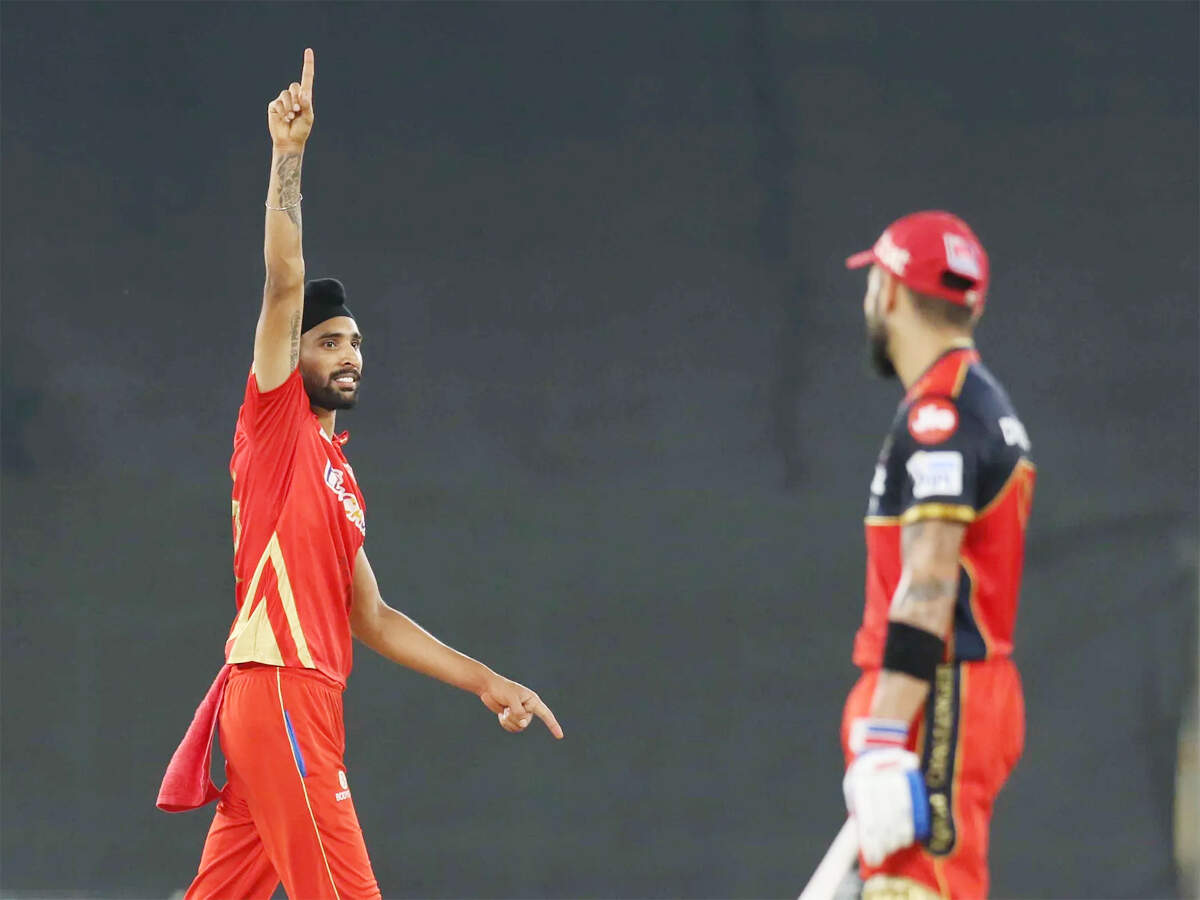 After a long wait of seven years and four trials, Harpreet Brar finally got his due in the Indian Premier League. By then, Harpreet was 23 years old and was considering this his last chance.
Luckily, he was bought by the Kings XI Punjab in the 2019 IPL Auction. He was bought by the team for 20 lakh rupees.
Harpreet Brar got to debut for Punjab against Delhi. Punjab was in a precarious situation when Harpreet came in to bat.
He did quite well for them, scoring 20 runs in 12 balls. His innings included two fours and a six. With the ball though, he struggled, giving out twenty runs in two overs. In the 2021 edition of the league, Harpreet Brar took his first IPL wicket against Royal Challengers Bangalore. His maiden wicket was of Virat Kohli himself. He ended up with three wickets in that match. All three big ones. Besides Kohli, he also got AB De Villiers, and Glenn Maxwell out.
In February 2022, he was bought by the Punjab Kings in the auction for the 2022 Indian Premier League tournament.
---
Read More | How Cricket Bats Are Made? Step-by-Step Guide
---
Harpreet Brar Stats
Bowling
| FORMAT | Mat | Inns | Balls | Runs | Wkts | BBI | BBM | Ave | Econ | SR | 4w | 5w | 10w |
| --- | --- | --- | --- | --- | --- | --- | --- | --- | --- | --- | --- | --- | --- |
| List A | 16 | 15 | 741 | 550 | 17 | 4/43 | 4/43 | 32.35 | 4.45 | 43.5 | 1 | 0 | 0 |
| T20 | 46 | 46 | 906 | 1042 | 41 | 4/22 | 4/22 | 25.41 | 6.90 | 22.0 | 1 | 0 | 0 |
Batting & Fielding
| FORMAT | Mat | Inns | NO | Runs | HS | Ave | BF | SR | 100s | 50s | 4s | 6s | Ct | St |
| --- | --- | --- | --- | --- | --- | --- | --- | --- | --- | --- | --- | --- | --- | --- |
| List A | 16 | 9 | 3 | 84 | 29 | 14.00 | 126 | 66.66 | 0 | 0 | 5 | 2 | 4 | 0 |
| T20 | 46 | 24 | 13 | 188 | 25* | 17.09 | 169 | 111.24 | 0 | 0 | 11 | 9 | 10 | 0 |
Harpreet Brar IPL Stats
Batting & Fielding
Year
Mat
No
Runs
HS
Avg
BF
SR
100
50
4s
6s
CT
ST
Career
15
6
106
25*
35.33
95
111.58
0
0
6
5
5
0
2022
5
0
22
14
7.33
25
88.00
0
0
1
2
3
0
2021
7
5
64
25*
0.00
58
110.34
0
0
3
2
2
0
2020
1
0
0
0
0.00
0
0.00
0
0
0
0
0
0
2019
2
1
20
20*
0.00
12
166.66
0
0
2
1
0
0
Bowling
Year
Mat
Balls
Runs
WKTS
BBM
Ave
Econ
SR
4W
5W
Career
15
288
374
9
3/19
41.56
7.79
32.00
0
0
2022
5
96
146
4
3/26
36.50
9.13
24.00
0
0
2021
7
138
139
5
3/19
27.80
6.04
27.60
0
0
2020
1
24
41
0
0/41
–
10.25
–
0
0
2019
2
30
48
0
0/24
–
9.60
–
0
0
---
Also Read | Top 10 All-Time Best Bowlers in the World 
---
Social Media
Twitter
Truly well deserved @JUnadkat 🇮🇳#Bangladesh

— Harpreet Brar (@thisisbrar) December 10, 2022
Legend 👏 https://t.co/JQNfIUIsnA

— Harpreet Brar (@thisisbrar) November 20, 2022
ਪੰਜਾਬ ❤️ https://t.co/76IvS4jkKM

— Harpreet Brar (@thisisbrar) February 13, 2022
Catch the opportunity. pic.twitter.com/4WCmCcnIrg

— Harpreet Brar (@thisisbrar) February 8, 2022
Instagram
View this post on Instagram
View this post on Instagram
View this post on Instagram
---
Read More | Top 10 Cricket Balls | BUY the best cricket balls review by experts
---