The high jump is one of the track and field events in which athletes must jump unaided over a horizontal bar placed at the calculated height without dislodging it. It is one of those sports events that never ceases to amaze us, and the evolution of the sport has been interesting to watch. Since ancient times, participants have introduced effective and productive techniques to arrive at the current form. The current universally preferred method is known as Fosbury Flop, in which athletes run towards the bar and jump and their head and back facing the bar. In this blog, we will take a look at the top 10 greatest high jumpers of all time.
Top 10 All-Time Greatest High Jumpers 
S.N
Greatest High Jumpers

1

Javier Sotomayor

2

Mutaz Essa Barshim 

3

Patrik Sjöberg

4

Bohdan Viktorovych Bondarenko 

5

Stefka Georgieva Kostadinova

6

Stefan Holm

7

Dietmar Mogenburg

8

Blanka Vlašić

9

Igor Vasilyevich Paklin

10

Valeriy Nikolayevich Brumel

 
Javier Sotomayor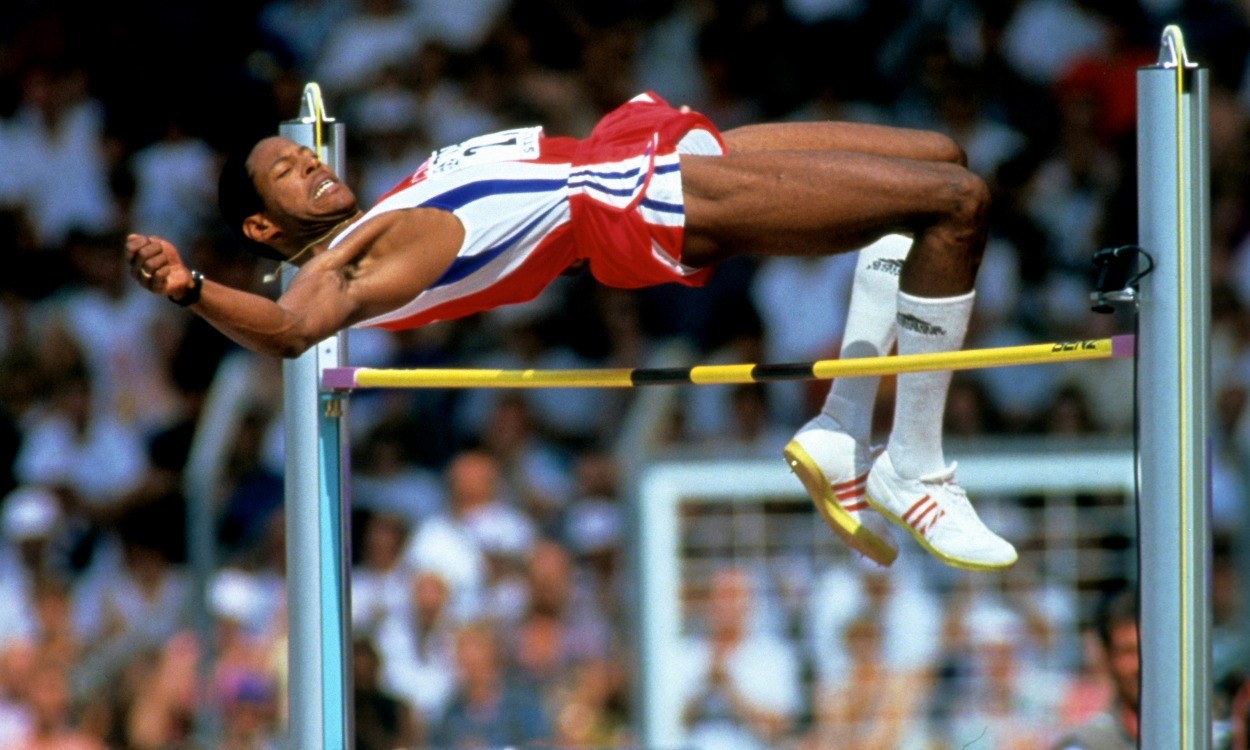 Javier Sotomayor Sanabria, a retired Cuban track and field athlete, specialized in the high jump event. Javier was the dominant high jumper of the 1990s. He was the only person to have cleared eight feet with his personal best of 2.45 m (8 ft 1⁄2 in). He won gold in the 1992 Olympic games. Javier made the junior world record in 1984 by clearing 2.33 meters. His 1st world record came in 1988. In his career, he made numerous records and is regarded as the best high jumper of all time. He won 2 gold in World Championship, and 4 in World indoor championship.
Mutaz Essa Barshim
Mutaz is a high jumper from Qatar. He is the current Olympic Champion (2020) and also the World Champion (2022). He is the second-best jumper of all time with a personal best of 2.43 after Javier Sotomayor. Barshim clinched bronze at the London 2012 Summer Olympics, silver at the 2016 Rio Olympics, and gold at the 2020 Tokyo Olympics. 
In recent times, Mutaz won gold in the World Championship 2022 in Eugene United States. He also holds the Asian record in the high jump.
---
Also Read | Need for speed shoes: Buy the best running shoes under 3000
---
Patrik Sjöberg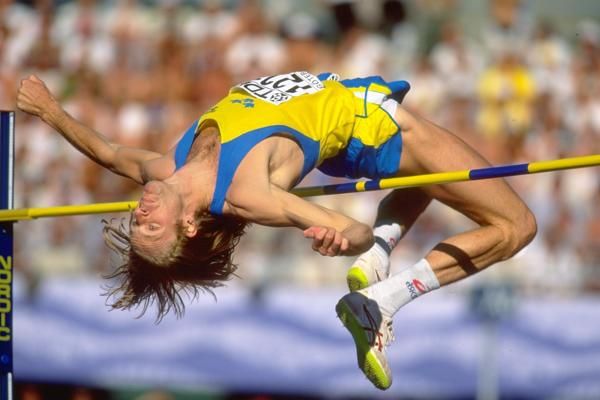 Patrik Sjoberg is a former high jumper from Sweden. In Stockholm in 1987, he broke the world record with 2.42 meters (7 ft 11.3 in). This feat is still the European record and made him the third in the world behind Javier Sotomayor and Mutaz Essa Barshim. 
He secured the world indoor record two times; 2.38 m in 1985 and 2.41 m in 1987. He was the 1987 World Champion and three-time Olympic medalist.
Bohdan Viktorovych Bondarenko
Bohdan Viktorovych Bondarenko is a high jumper from Ukraine. He won gold in the 2013 World champion, and 2014 European champion, and clinched bronze in the 2016 Olympic Games in Rio de Janeiro. He uses the Fosbury Flop technique, jumping off his right leg. At the 2014 IAAF Diamond League event in New York City, Bohdan achieved his personal best jump of 2.42 meters. This jump is a European record and also places him third behind Javier Sotomayor and Mutaz Barshim and tied with Patrik Sjöberg. 
Stefka Georgieva Kostadinova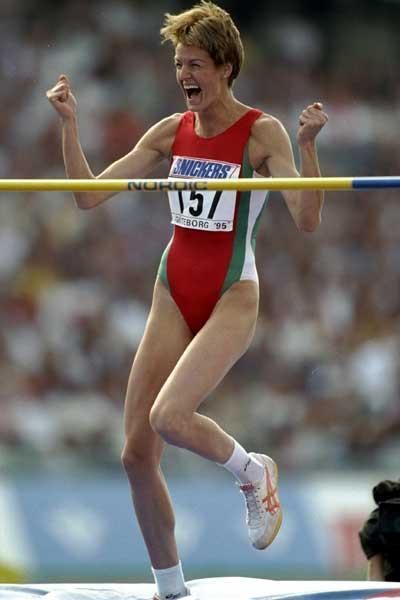 Stefka Georgieva Kostadinova is a retired high jumper from Bulgaria. She was the 1996 Olympic champion, two-time World champion, and five-time World Indoor champion. She has been the president of the Bulgarian Olympic Committee since 2005. Stefka is the reigning world record holder in the women's high jump at 2.09 m, which she secured during the 1987 World Championships in Athletics in Rome.
-- Advertisement --
Stefan Holm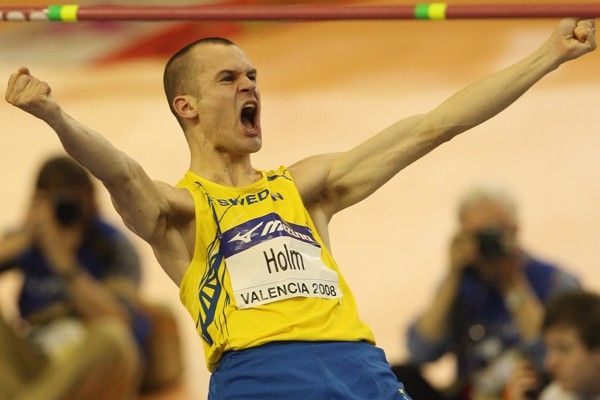 Stefan Christian Holm, a retired Swedish high jumper, bagged an Olympic gold medal, a silver in the World Championships, and one silver and one bronze medal in the European Championships. His records are 2.37 m which he set in outdoors in 2008 and 2.40 m indoors, set in 2005. Currently, he is the coach of Swedish high jumper Sofie Skoog. In 2008, he hung his boots and announced his retirement from the sport. 
Holm ended his 20-year brilliant career with a silver medal at the World Athletics Final in Stuttgart in 2008.
---
Also Read | 8 Stunning health benefits of running that'll change your life
---
Dietmar Mogenburg
Dietmar Mögenburg, a former high jumper, won gold medals at the 1984 Summer Olympics in Los Angeles and the 1982 European Championships in Athens. At the age of 18, in 1980, Mögenburg jumped 2.35 m and tied with the world outdoor record set by Jacek Wszoła of Poland. He was a 10-time West German High Jump Champion and a 5-time West German Indoor High Jump Champion. He won Silver in World Indoor Championship in 1989 and 5 gold medals in European Indoor Championships.
Blanka Vlašić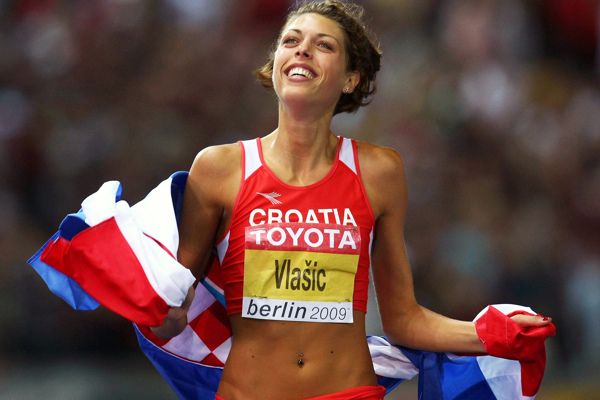 She is a former track and field athlete from Croatia who played the sport of high jump. She is a two-time world champion, 2-time world indoor champion, and double Olympic medalist. Blanka ranks second highest female jumper of all time with her personal best of 2.08 m, behind the world record of Stefka Kostadinova (2.09 m).  In 2008, she won her first world indoor title in Spain (2.03 m). She announced her retirement in February 2021.
Igor Vasilyevich Paklin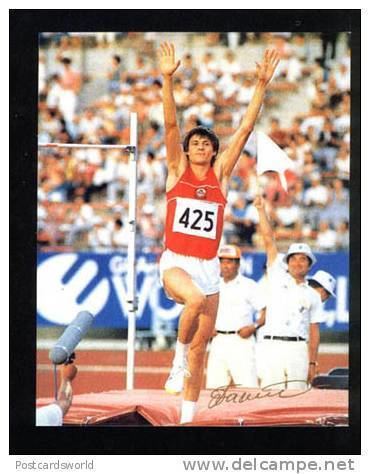 Igor Vasilyevich Paklin is a retired high jumper who represented USSR and later Kyrgyzstan. He bagged the 1987 World Indoor Championships as well as a silver medal at the 1987 World Championships for the USSR. His personal best jump of 2.41 meters (7.9 feet) was also the world record from September 1985 to June 1987.
His record of 2.41 m (7 ft 11 in) makes him the fifth-highest jumper in the history of the sport. Paklin used the Fosbury Flop style like the modern high jumpers have been using. He won gold in the 1986 European Championship and the 1987 world indoor championship.
---
Read More | Amazing Story of Neeraj Chopra: The Golden Boy of India 
---
Valeriy Nikolayevich Brumel
Valeriy Brumel was a Soviet high jumper and was regarded as one of the best high jumpers. The 1964 Olympic champion and multiple world record holder, he is regarded as one of the greatest athletes ever to compete in the sport of the high jump. He took up the high jump at age 12. From 1961 to 1963, he shattered his world record six times, improving it from 2.23 meters (7 ft 4 in) to 2.28 meters (7 ft 6 in). He died at the age of 60 in 2003.
Top Indian High Jumpers 
| | |
| --- | --- |
| S.No | Indian High Jumper |
| 1 | Bobby Aloysius |
| 2 | Suresh Babu |
| 3 | Tejaswin Shankar |
| 4 | Vijay Singh Chauhan |
| 5 | Varun Singh Bhati |
| 6 | Nikhil Chittarasu |
| 7 | Ajit Singh Balla |
| 8 | Gurbachan Singh Randhawa |
| 9 | Hari Shankar Roy |
| 10 | Sahana Kumari |
---
Read More | Top 9 Best Tracksuits For Men | Start Your Fitness Journey Today
---
For more latest updates and stories on Indian sports (and athletes), subscribe to KreedOn network today – KreedOn: The Voice of #Indiansport