Indian sports has been gradually evolving over the years. Many sportspeople have represented India at the international level and have won plenty of laurels for the nation. However, there are a number of young sportspeople who have been showing plenty of potential in the junior level and have the capability to shine on the bigger stage. Let's take a look at some of the future champions of Indian sports.
Future Champions of Indian Football
Dheeraj Singh Moirangthem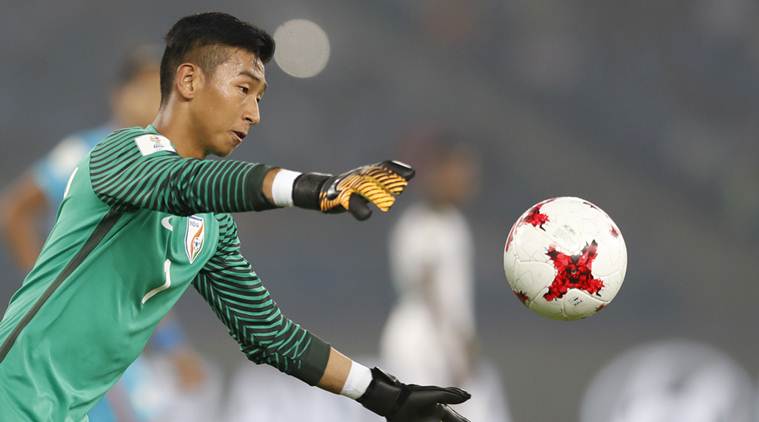 India had a disappointing outing at the 2017 FIFA U-17 World Cup as they were knocked out in the first round with no points and a goal difference of -8. This equaled UAE's performance at the 2013 U17 World Cup which is the worst for a host nation in the competition's history.
However, India's cloudy tournament had a few silver linings. Their goalkeeper Dheeraj Singh Moirangthem, one of the future champion of Indian football is one of them. Giving up studies despite being a bright student, Dheeraj enrolled in the AIFF Elite Academy. He later joined the U17 squad as their first choice goalkeeper. Dheeraj conceded nine goals but also made 16 saves from three matches. This was the third most number of saves throughout the group stages.
Dheeraj produced some brilliant saves against USA, Colombia and Ghana and a number of them were pretty hard to pull off. His performances led to a few foreign clubs expressing their interest in him. Provided Dheeraj continues to keep like this, it won't be long before we see him in the national team or maybe even at the 2019 Asian Cup.
Anwar Ali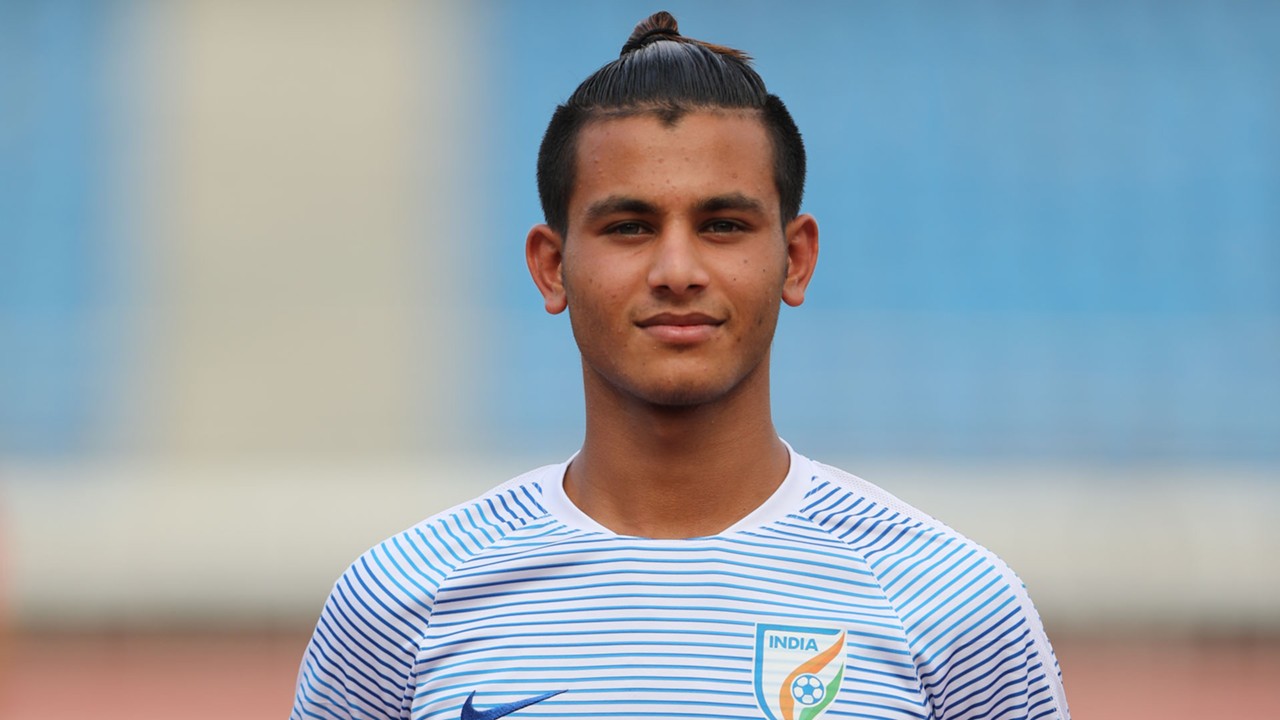 Throughout the tournament, India's organised backline garnered a lot of praise from opposition coaches and from the general public. Anwar Ali was undoubtedly India's finest defender of the tournament. He put up a promising performance in India's opening match against USA, making some crucial clearances and coming in with a number of crucial tackles, blocks and interceptions.
However, Anwar's best performance of the tournament came in India's second group game against Colombia. In this match, Anwar made a number of pivotal clearances including a few from the goal-line. His presence at the back denied the Colombian strikers from scoring more goals time and again. In the process, he also received several painful blows on his feet and looked in pain during the second half. However, he carried on playing and helped India keep the defeat margin to 1 goal.
Despite injury concerns, Anwar showed immense dedication and passion by playing the final group game against Colombia. Anwar Ali was one of India's stand out performers at the U17 World Cup and deserves every praise he has received. If the 17-year old can continue like this then he is somebody who the opposition attack needs to be wary of.
Komal Thatal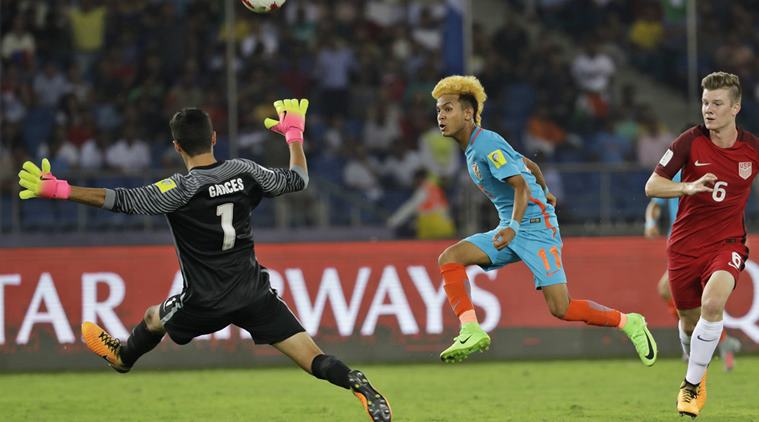 17-year old Komal Thatal has been one of Indian football's prodigies in the past 1 year. He began playing the sport at the age of 3, making a ball out of old rag pieces. Despite the grueling eight hours of school, he still had time to practice.
He kept on working hard and got enrolled in the AIFF Elite Academy. He soon found himself in India's U17 team. Thatal was a skilled midfielder who had an offense-oriented game. He shot to fame after scoring a sensational goal against Brazil last year.
-- Advertisement --
At the Granatkin U17 tournament in Russia last year, Thatal scored two goals- one against Uruguay and the winner against Belarus. Thatal soon became an integra; part of India's U17 team and was selected in the squad to play the U17 World Cup. By this time, Thatal had 8 goals to his name in 30 matches.
He played the first match against USA and was one of India's finest players on the field. However, he lacked the end result despite getting the better of the USA defenders on a couple of occasions. Surprisingly, he was left out of the next two matches. Thatal's talent had the Manchester United's scouts' eyes on him.
Komal Thatal has a lot of footballing talent and there is no doubt he will be able to take Indian football to new heights.
Future Champions of Golf in India
Shubham Jaglan
13-year old Shubham Jaglan has produced some very promising performances in the junior circuit and he is someone who has the potential to be among the future champions.
Jaglan was born in a village named Israna in Panipat to a milkman. His grandfather convinced him to join a golf academy set up in his village by an NRI named Kapur Singh. However, Jaglan's family was against him playing golf. The academy later shut down but Jaglan did not stop practicing.
He used to practice golf on a small plot of land in his backyard. His father later converted the land into a green consisting of three holes. Most of Jaglan's training was self-learned by YouTube videos and he was soon spotted by the Delhi Golf Foundation.
The Delhi Golf Foundation offered him a scholarship of INR 2 lakh and membership at the Delhi Golf Club. As a result, Jaglan and his father moved to Delhi so that he could continue with his golf training. In 2012, aged only 8, Jaglan won the Classic Junior Open and is the world record holder in the 9-under category.
In 2013, he won the World Masters of Junior Golf. Shubham Jaglan scripted history by winning the Junior World Golf Championships in 2015. The following year, he won the European Junior Championship.
Shubham Jaglan has a total of 100 domestic and international titles to his name. He has also received the NDTV "Emerging Player Award". Winning a World Championship, senior or junior at the age of 11 is not child's play.
Shubham Jaglan's incredible journey from golfing in his backyard to winning the World Junior Championships is an inspirational one and there's no denying that he will be a household name some day.
Future Champions of Tennis from India
Mallika Marathe
Mallika Marathe is currently at the top of the All India Tennis Association rankings for girls. However, her journey till here was anything but simple. As a child, Marathe was affected by amblyopia or lazy eye which is a defect where one has vision problems due to the lack of coordination between the brain and the eye. That did not stop one of the future champions from India.
Marathe had this defect in her right eye and she had to wear a patch on her left eye to strengthen her right eye. She kept on wearing the patch for four years and as a result, her vision became pretty weak. However, Marathe's spirit remained the same and she practiced, dreaming to become a world-class tennis player.
Despite her pursuing tennis being frowned upon, Marathe worked hard with immense determination and self-motivation.She won a state level U-10 title and followed this by winning the national U12 tournament in 2015. This year, she represented India at the first division of the ITF Asia U14 and U Development Championships.
By defeating players who were 2-3 years older than her, Marathe qualified for a pre-qualifying tournament for this year's French Open.
Today, she is India's top U14 female tennis player. Despite suffering from poor vision, Mallika Marathe continues to dazzle and inspire us with her grit and determination.
Provided she continues to excel like this, Indian Tennis may have found another Sania Mirza.
Future Champions from Chess in India
R Pragganandhaa
12-year old Pragganandhaa Rameshbabu is one prodigy who you will have to look out because if you at his performances in chess lately, he will definitely be among the future champions. Born in Chennai, Pragganandhaa and his older sister began to play chess from a very tender age.
His sister Vaishali Rameshbabu has won the World Youth Chess Championships at the U12 and U14 level. She became a Women's International Master in 2016. Pragganandhaa won the under-8 World Youth Chess Championship title in 2013. Two years later, he won the under-10 World Youth Chess Championships. In 2016, he became the youngest International Master in the history of chess at 10 years, 10 months and 19 days.
Shortly after turning Master, he stunned Paraguay's Grand Master Axel Bachmann at the Isle of Man chess championships held at Villa Marina. Pragganandhaa forced one of the South America's finest chess players to resign after just 18 moves.
Pragganandhaa Rameshbabu has already established himself as one of the rising stars in chess and provided he continues playing like this, he could be a world champion someday.