Dutee Chand, an Indian professional sprinter never got anything without a fight or struggle. She was born in a below-poverty-line family on 3rd February 1996. The grind was there, and the struggle was real. Many times, she and her family slept on an empty stomach. Her elder sister Saraswati was a state-level runner, and taking inspiration from her, Dutee also started to run. From running barefoot to bagging an endorsement deal with Puma, it has been an incredible and equally inspiring journey. Saraswati Chand saw the potential in her younger sister as Dutee kept winning medals and laurels in her school days. Saraswati enrolled Dutee in a Sports Hostel in Bhubaneswar. The strict and disciplined atmosphere at the hostel, plus the sports-friendly ecosystem brought the best out of this young runner. Not long ago after her admission to the hostel, Dutee broke the national record for 100 meters by clocking 12 seconds. In this blog, we will look at Dutee Chand's workout and diet plan.
Dutee Chand achievements
Current national champion in the women's 100 meters event.

First Indian to win a gold medal in a 100m race in a global competition.

Third Indian woman to ever qualify for the Women's 100 meters event at the Summer Olympic Games.

Gold medal in 200 meters at Asian Junior Athletics Championships 2014.

Gold medal in 4×400 meters relay at Asian Junior Athletics Championships 2014.

Gold medal in 100 meters at XXX Summer Universiade 2019.
Dutee Chand's workout regime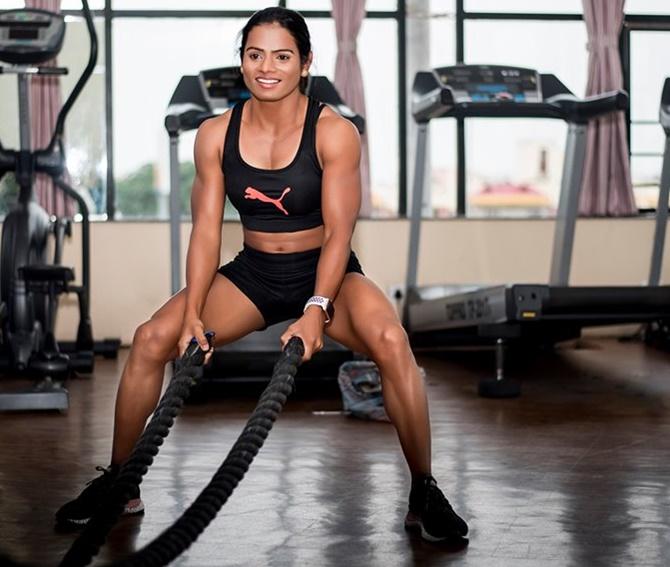 Pursuing a career as an athlete is not the easiest thing. You need to grind day in and day out. Dutee did exactly that in her early days. Well, perhaps she has been doing it despite tasting a good amount of success. The never-ending appetite for winning keeps Dutee motivated all the time. She generally trains for six to seven hours every day. She wakes up early in the morning around 5 o'clock and starts the training around 6 am.
Dutee Chand divides her training or workout routine into three shifts and the shifts are 6 am to 10 am: 11 am to 12 am and 3 pm to 6 pm. The breaks between the shifts are important to not cause overexertion. These little breaks help to start the next shift or the next day with freshness and the highest enthusiasm.
As a runner, she has to run a lot. The bare minimum distance she runs is around 7-8 km. However, as per the need, she can ramp up the distance to around 11-12 km.
Other than running, Dutee focuses on yoga and gym sessions. A runner needs an extremely strong core and a robust lower body. For that, she does weight training in the gym. Yoga is an important aspect of her regime which calms the mind down, helps her focus, and keeps away all distractions.
---
Also Read | Sania Mirza Diet Plan & Workout Routine 
---
Dutee Chand Workout Videos
View this post on Instagram
View this post on Instagram

-- Advertisement --
View this post on Instagram
View this post on Instagram
Dutee Chand Diet Plan
For any athlete, diet is as important as having a great training session. Diet and training are interdependent. You can only train well and perform best on the field if your body is getting enough nutrients from the food you eat.
Dutee always prioritizes homemade food. As the competition day comes nearer, the diet becomes stricter. A few days before the competition, Dutee prefers an oil-free and low-fat diet.
Dutee eats her breakfast after completing the first shift of training. Her breakfast includes milk, boiled eggs, idli, upma, or dosa.

After the second shift, she eats her lunch which includes typical Indian food like roti, rice, dal, and a seasonal sabzi.
You would have probably guessed when she eats her dinner. She eats dinner after the last training shift. Dinner is the last meal of her day. After having rigorous training all day, the body is tired and needs rest along with proper food. Again, just like lunch, she eats homemade food. It is interesting to know that Dutee stays away from non-vegetarian food at dinner.
---
Read More | Top 20 Best Plant-Based Protein Powder 
---
For more latest updates and stories on Indian sports (and athletes), subscribe to KreedOn network today – KreedOn: The Voice of #Indiansport