Highlights
A freak electrical accident when he was just eight years old, left him with an amputated left hand. However, Devendra Jhajharia was always the star sportsman of his school.
After he was spotted by R.D.Singh, he decided to pursue javelin throw. His immense talent was imminent right then.
He scripted his name in the pages of history when he won the gold at the 2004 Paralympics in Athens. His throw of 62.15m was a world record. The record remained unbroken for 12 years!
Then, in a spectacular fashion, Devendra broke his own record with a throw of 63.97m at the Rio Paralympics! It was surely a proud moment for the entire country!
In 2017, he became the first para-athlete to win the Rajiv Gandhi Khel Ratna Award, the highest sporting award.
About Devendra Jhajharia
Details
Full Name
Age
Gender
Sport Category
Event
Date of Birth
Hometown
Churu District, Rajasthan.
Height
Weight
Coach
R. D. Singh, Sunil Tanwar
Achievement
first Indian Paralympics person to win two gold medals at the Paralympics.
Networth
Spouse
Parent
Mother: Jivani Devi. Father: Ram Singh Jhajharia
Children
1 son, 1 daughter: Jiya and Kavyan.
Teams Played for
India National Athletics Team
The Inspirational Story of Devendra Jhajharia
India is heralding a new era in sports. We are finally focusing on sports other than cricket! It is also very heartening to see people actively discuss the para-athletes and Paralympics Games. Many names have come to the forefront during the Rio Paralympics. One name that is consistently shining, is that of Devendra Jhajharia.
The first para-athlete to win the country's highest sporting award has brought two Olympic gold medals for the country! He has time and again shown that physical limitations can never stop a determined mind. It is not easy to maintain consistency for so many years. Devendra's grit and strong willpower have helped him break his own record.
Family Background
Devendra was born in a humble farming family from Rajasthan. His father is a farmer and his mother a homemaker. Devendra's parents have taken care of all his needs to ensure that he could focus completely on his sport. His father, Ram Singh, sent him farm-fresh lentils and wheat even when he was away.
Devendra married Manju, a national-level kabaddi player in the year 2007. Manju sacrificed her own career to support Devendra. She is his biggest strength. The couple is blessed with two children, Jiya and Kavyan.
The Accident of Devendra Jhajharia
When Devendra was just eight years old, he had a freak accident. He was climbing a tree when he touched a live cable by mistake. The cable was not visible due to the tree leaves. Devendra was electrocuted as a result. He was immediately taken to the hospital. Unfortunately, it was too late. His left hand had to be amputated.
Early Days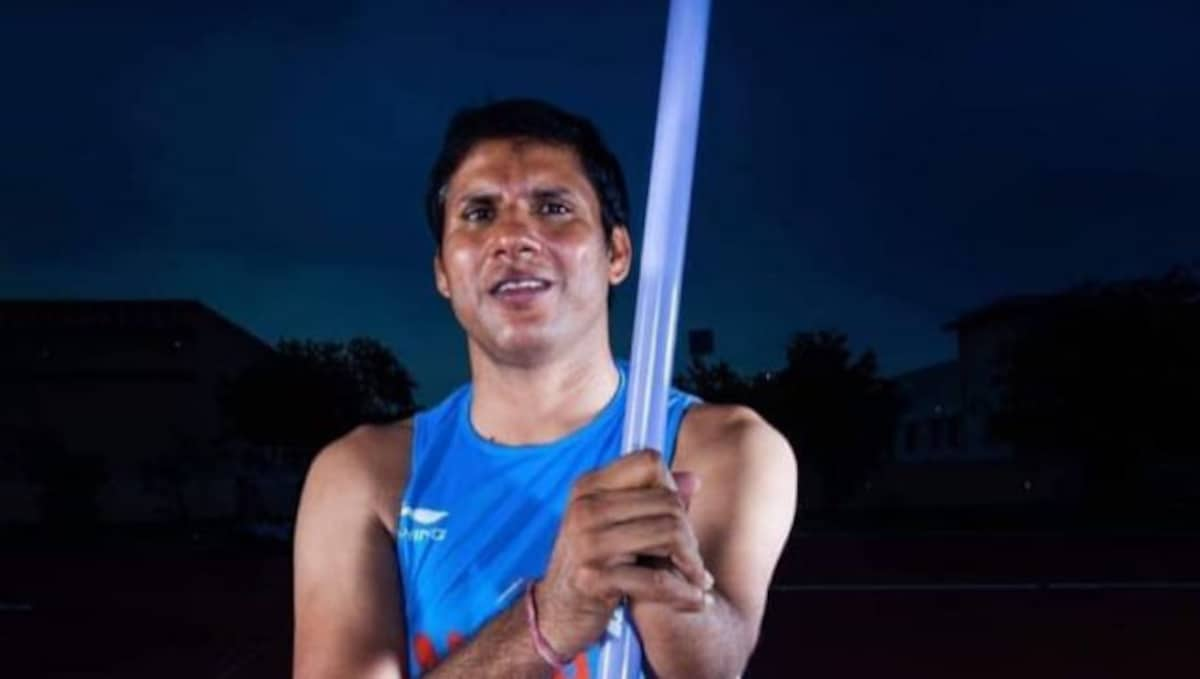 Devendra did not let the amputation stop him from excelling in sports. In fact, he used to win lots of prizes at school events. It was during one such school meet that he was spotted by coach R.D. Singh. Singh decided then and there that he will coach the young star. The training helped Devendra find his footing and make a mark in the sporting world.
In which event Devendra Jhajharia play?
F46 is a disability sports classification. Athletes from this category have a single below or above elbow amputation. Devendra competes in this category for the javelin throw event.
Devendra Jhajharia – The Journey from Athen to Rio
Devendra's international journey started on a golden note. He won the yellow metal at the FESPIC Games held in Korea in the year 2002. Then came the historical gold at the Paralympics in Athens, Greece. Devendra made a world record with a throw of 62.15 meters!  The entire nation was proud of its son.
-- Advertisement --
The golden streak continued at the 2013 IPC World Championship in Lyon, France. In the 2014 Asian Para Games in Incheon, Korea he won the silver. The 2015 edition of the IPC World Championship brought another silver medal for Devendra. The tournament took place in Doha, Qatar.
The Setbacks
The 2008 and 2012 Paralympics were extremely disappointing for Devendra. His category, F46, was not included in the games. Moreover, it was difficult for Devendra to find the motivation need to train. His wife stood firmly behind him in this harrowing period. She helped him look at the bigger picture.
Finally, the much-awaited opportunity came in the 2016 Rio Paralympics. Devendra wasn't going to let go of this one. Before the games, he trained for a few months in Kuortane, Finland. He gave his best performance in the tournament. Through a stellar performance, he broke his own record! It sure must have been a proud moment for the champ. With a throw of 63.97 meters, Devendra clinched the gold medal.
#DevendraJhajharia Breaks His Own World Record To Win #Gold. 1st Indian To Win Double #Gold At #Paralympics ??pic.twitter.com/zW2zOh2HTZ

— Sir Ravindra Jadeja (@SirJadejaaaa) September 14, 2016
Devendra is very happy with the attention para-athletes are finally getting. He also felt an immense difference between the 2004 and 2016 editions of the Paralympic Games. In 2004, he was a young, inexperienced player, but in 2016 he returned as a record holder. Social media is also playing a major role in increasing visibility. Devendra was awarded the Rajiv Gandhi Khel Ratna award for his historical performance at the Rio Paralympics. He feels he deserved the award in 2004 itself but is very happy to have finally found the much-deserved recognition.
Devendra Jhajharia Interview
"I remember playing with able-bodied kids when I was young, and they would say 'why is he wasting his time'. The challenge for me began even before I stepped on to the playing field. My fight has been of changing mindsets, of proving people wrong. I began with a small dream of representing my country and look where that persistence has brought me. This Khel Ratna is not just mine, it belongs to all para-athletes in India, who overcome big challenges to bring themselves to the field and perform for the country. I hope this honor inspires more and more athletes from the small towns of our country to chase their dreams. This award shows that you can achieve what many believe is unachievable," he told News18 in an exclusive interaction.
Devendra Jhajharia Interesting Facts
Devendra is part of the government's Target Olympic Podium Scheme (TOPS). He is immensely thankful as he got better training, personal trainer, and dietary planning.
He is also supported by the GoSports Foundation through their para champion program. The equipment for javelin throw is pretty expensive, and javelins kept on breaking during practice. GoSports' bought many of them for Devendra.
Earlier, Devendra used to work with the Indian Railways. Now, he is working with the Sports Authority of India. He wants to train upcoming para-athletes.
He has appeared on the popular television show Comedy Nights with Kapil Sharma along with his family.
Devendra and Manju want their daughter to pursue a career in sports. "In sports like athletics, there is just too much physical struggle. So athletes cannot focus on their studies as well as perform well in their discipline. That's why we want her to become a shooter or an archer," Manju told Devendra.
Devendra Jhajharia Quotes
"I have never compromised with my training."
"The normal kids did not want to play with me so I took up a sport and decided to do better than them."
Long way to go
The government is working hard to ensure opportunities for para-athletes, but many venues are not disabled-friendly, basic necessities like ramps are a must on all grounds. Basic access is also not available at many venues.
Also, para-athletics needs to be promoted at the grassroots level. If school students get special training, it will open up new avenues for them. Talent is important, but how it is nurtured makes a lot of difference. The right guidance will help in acceptance, rather than social taboos.
In an interview with the Times of India, he urged media persons to continue covering para games.
He said, "Look beyond that (Paralympics) at the national level and state level, and cover what our para-athletes are doing at home and not just overseas."
Absolutely! If tournaments are covered in a better way, more and more people will follow them. Para-athletes deserve equal if not more attention, compared to other athletes. Moreover, this acceptance will be the first step towards an inclusive society. However, India, as a country, has a really long way to go in this department.
Athletes like Devendra Jhajharia are leading the cause of para-athletes through their excellent performances and strong opinions. However, Devendra is not sure about what role he would like to play in the future. But we are sure that he will succeed in whatever he aims for. We wish him luck in all his future endeavors!
Devendra Jhajharia Awards
FICCI Para-Sportsperson of the Year, 2014
Padma Shri, 2012
Arjuna Award, 2004
Devendra Jhajharia Achievements
Paralympic Games
| | | | |
| --- | --- | --- | --- |
| Year | Place | Event | Medal |
| 2004 | Athens, Greece | Javelin – F46 | Gold |
| 2016 | Rio de Janeiro, Brazil | Javelin – F46 | Gold |
IPC World Championships
| | | | |
| --- | --- | --- | --- |
| Year | Place | Event | Medal |
| 2013 | Lyon, France | Javelin – F46 | Gold |
| 2015 | Doha, Qatar | Javelin – F46 | Silver |
Asian Para Games
| | | | |
| --- | --- | --- | --- |
| Year | Place | Event | Medal |
| 2014 | Incheon, South Korea | Javelin – F46 | Silver |
Devendra Jhajharia Social Media
Interaction with prime minister Narendra modi ji 🇮🇳@narendramodi @Media_SAI @ParalympicIndia #cheer4india#Tokyo2020 pic.twitter.com/YFuDmdgHyf

— Devendra Jhajharia (@DevJhajharia) August 17, 2021
75 वें स्वतंत्रता दिवस की सभी देशवासियों को हार्दिक शुभकामनाएँ 🇮🇳
🇮🇳 जय हिंद pic.twitter.com/gjJE04svvu

— Devendra Jhajharia (@DevJhajharia) August 15, 2021
Now it's time to show the love and support to #Paralympics like we have shown to #Olympics.

The Game commences from the 24th of August.
#Cheer4India @DeepaAthlete@DevJhajharia pic.twitter.com/0iO26ZxMCL

— Anju Bobby George (@anjubobbygeorg1) August 11, 2021
#Paralympics #Tokyo2020 @ParalympicIndia pic.twitter.com/r1DFqzOmc3

— Devendra Jhajharia (@DevJhajharia) August 10, 2021
---
[For more latest updates and stories on Indian sports (and athletes), subscribe to the KreedOn network today-
KreedOn: The Voice of #Indiansport]