Deepika Kumari is one of India's best-ever archers, who has taken the sport to another level. She rose to prominence in 2010, when she won a Commonwealth gold in the women's individual recurve archery event. She then doubled it up with a gold in the team's event of the same competition.
About Deepika Kumari
Details
Full Name
Age
Gender
Sport Category
Event
Date of Birth
Hometown
Ratu Chatti village, 15 km away from Ranchi.
Height
Weight
Ranking
World no. 1 (As of june 2021)
Achievement
In 2014, Deepika was featured by Forbes (India) as one of their '30 under 30'. Won the gold medal in Archery World Cup stage 3 held at Medellin, Colombia. World Cup individual stage recurve gold medal at Antalya, Turkey. Won the 11th Youth World Archery Championship held in Ogden, Utah, United States in 2009. Won the Cadet World Championship title in November 2009. Gold medal in the 2010 Commonwealth games in the women's individual recurve event. FICCI Sportsperson of the Year Award. Arjuna Awardee. Padma Shri in 2016.
Networth
Spouse
Parent
Shivnarayan Mahato, and Geeta Mahato,
Teams Played for
Indian Archery Women Team
Deepika Kumari Archery Biography 
Early Days
Born on 13th June 1994 in Ranchi, to Shivnarayan Mahato, an auto-rickshaw driver, and Geeta Mahato, a nurse at Ranchi Medical College, Deepika Kumari, without a shadow of a doubt, is one of the best Indian archers to have ever graced the sport.
Kumari showered glimpses of her natural talent from a very young age. Living 15 kilometers away from Ranchi with her parents, in Ratu Chatti village, as a child, when she had no means of practicing with the proper equipment. She had no choice but to train with mangoes as her target and with stones instead of a bow and arrow.
Since she hailed from a monetarily hindered family, it was somewhat troublesome for her parents to support Deepika's dream fiscally, frequently trading off on the family spending plan to get new equipment for her training.
She represents India in recurve archery and is currently ranked 1st as per the latest World Archery Rankings (2021)
There are two forms of competitive archery. One being Recurve and the other being Compound. The reason for the name "recurve" comes from the shape of the bow's frame. The tips of a recurve bow curve out towards the target, which gives the bow more power when pulled back. On the other hand, compound bows use a pulley system that takes the strain off of the bow and provides slack for the archer, making it easier to shoot with accuracy.
The TATA Archery Academy
Deepika Kumari entered the Arjun Archery Academy in 2005; an institute set up by Meera Munda at Kharsawan. Meera is the wife of Shri Arjun Muda, the chief minister of the state. That's when Kumari made her first breakthrough. However, only after joining the Tata Archery Academy in Jamshedpur, her professional journey began.
-- Advertisement --
For the first time here at the Tata Archery Academy, she was able to train in a uniform as well as along with the proper pieces of equipment. Besides, technical support which helped her hone her skills, she also received monetary support in the form of a  stipend of Rs 500. She returned home just once in that period of 3 years which was after she won the Cadet World Championship in 2009.
In 2009, Deepika Kumari won the 11th Youth World Archery Championship that took place in Ogden, Unites States of America. She was only fifteen at the time. With this title, she became just the second Indian to win this title. The first Indian to achieve this feat was Palton Hansda. At the 2006 Archery World Cup, the Hansda had clinched the Junior Compound title. At the 2009 World Cup, Deepika, alongside Dola Banerjee and Bombayla Devi, bagged Gold in the women's team recurve event.  Since then, there was no looking back for this youngster from Ranchi.
Deepika Kumari Glory at CWG and the Asian Games 2010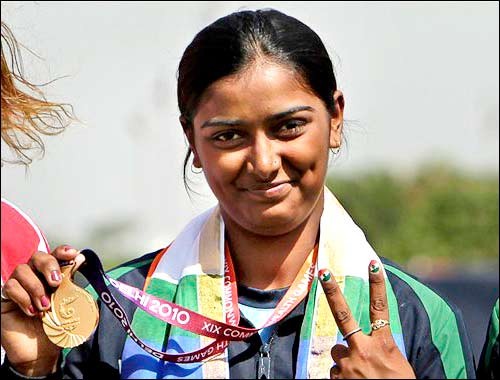 Deepika bagged two gold medals (individual event and women's team recurve event) at the 2010 Commonwealth Games. Owing to her stellar performances, she received the Outstanding Performance at Commonwealth Games (Female) Award at the 2010 Sahara Sports Awards.
A few months later at the Asian Games of 2010 in Guangzhou, China, she missed a significant opportunity for a medal; after she lost to Kwon Un Sil of North Korea in the bronze-award play-off of the women's archery event. Be that as it may, as a piece of the Indian archery recurve team, alongside Rimil Buriuly and Dola Banerjee, she knocked out Chinese Taipei 218– 217 in the bronze play-off to guarantee a podium finish at the Aoti Archery Range.
 Gold at Antalya and No.1 ranking 2012

Deepika Kumari won her first World Cup singular stage recurve gold event at Antalya, Turkey in May 2012. Later in 2012, she would go ahead to end up noticeably as the World No.1 in the World Archery rankings.
She faced a humiliating first-round exit at the 2012 London Olympics after losing to Amy Oliver, ascribing a moderately poor execution to fever and high winds.
Deepika Kumari – The Resilient Indian Archer Glory at the World Cup 2013
At the 2013 Archery World Cup stage 3, held in Colombia, Indian archer Deepika Kumari bagged Gold. India finished fourth overall. Two months later, at the FIRA Archery World Cup, she lost to South Korea's Yunk Ok-Hee in the gold medal match and had to settle for the Silver Medal. That was her 3rd Silver Medal in 3 World Cup Final appearances.
2014 – A remorseful period
She faced a major setback in 2014 as she finished outside the top 4 at the national qualifications and failed to seal her berth in the Indian team.
2015 – Russians take gold, India settle for silver
She bagged her first medal of the year the Second stage of the World Cup. She bagged the Bronze medal in the individual event. Later, she clinched Silver alongside Laxminrani Manjhi and Rimil Buriuly at Copenhagen World Championship. They lost the gold medal match against Russia in the shootout that ended 4-5 in favor of the Russians.
2016- The Indian Archer Equals world record & Rio Olympics

Indian Archer Deepika Kumari scripted history at the first stage of World Cup in Shanghai. She equaled Ki Bo-bae's world record of (686/720) in the recurve event. She was part of the team that qualified for the 2016 Rio Olympics. The women's recursive squad lost the quarterfinal match against Russia and finished 7th in the ranking round.
In the women's Individual archery event, she started off with a spectacular win in the round of 64. She defeated Lithuania's Kristine Esebua with a score of 6-4. The next round was no different as she eased passed Italian Guendalina Sartori with a score of 6-2. However, she faced a humiliating 0-6 defeat in the round of 16 at the hands of Taipei's Tan Ya-ting. That marked the end of her campaign.
2017: A Determined Indian Archer Deepika Kumari has all the Focus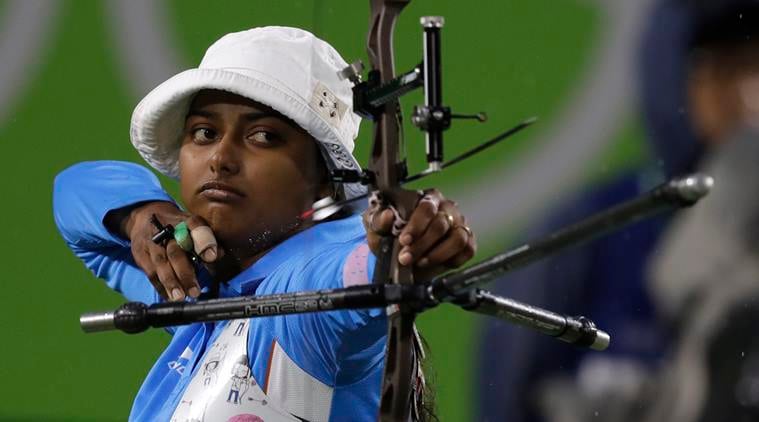 Earlier this year in June, Deepika won the Archery World Cup ranking round after scoring 672 out of a possible 720 points. She revealed that consistent training on her technique helped her improve her game and this proved to be a huge morale booster for her after she finished a disappointing eighth in the opening leg at Shanghai last year. She not only worked on her technique but also studied external factors that could affect her performance such as the weather. This shaped her practice accordingly, and her hard work brought brilliant results.
She revealed that after her tame finish at the 2016 Rio Games, questions were raised about whether she could translate her form to the big stage. She began working hard by knocking off some weight. With the help of a new trainer, she lost 7 Kgs during the winter off-season. The importance of fitness in a sport and the role it plays is evident through Kumari's transformation.
Deepika then went on to win a bronze at the 2018 World Cup.
Deepika Kumari Family
Deepika Kumari was born to Shivnarayan Mahato and Geeta Mahato in the Ratu Chatti village near Ranchi on 13th June 1994. Her father, Shivnarayan, was a rickshaw driver, whereas her mother, Geeta worked as a nurse at the Ranchi Medical Hospital.
Deepika Kumari Achievements
Silver at the 2015 Copenhagen World Championships (Women's Team)
Silver at the 2011 Torino World Championships (Women's Team)
Gold at 2012 Medellin World Cup (Individual)
2013 Antalya World Cup: Gold (Individual)
Gold at 2018 Salt Lake City World Cup (Individual)
Bronze at 2018 Turkey World Cup (Women's Recurve)
Silver at 2012 Tokyo World Cup (Individual)
2011 Istanbul World Cup: Silver (Individual)
Silver at 2013 Shanghai World Cup (Individual)
Commonwealth Games
Gold at 2010 Delhi Commonwealth Games (Recurve Individual)
Gold at 2010 Delhi Commonwealth Games (Recurve Individual)
Bronze at 2010 Guangzhou Asian Games (Recurve team)
Deepika Kumari Awards
Arjuna Award (2012)
FICCI Sportsperson of the Year Award (2014)
Padma Shri (2016)
Deepika Kumari Social Media
@archeryindia's Kumari return to form. Best #archery game of 2014 #3: [http://t.co/HheD0CmgGb] #WCWroclaw pic.twitter.com/H9Ju8mavx0

— World Archery (@worldarchery) October 24, 2014
#WisdomWednesday: You may not be there yet, but you're closer than you were yesterday. #archery pic.twitter.com/L5d9Mh1IXk

— World Archery (@worldarchery) September 3, 2014
---
For the latest updates on Indian Sports, stay tuned with KreedOn.