National Athletics Championship: Indian International and Railway's long-distance runner Parul Chaudhary won the gold in women's 3000m steeplechase on day 3 of the ongoing 60th national athletics championship at Warangal. This was her second gold in the competition.
After winning the top crown in 5000m on the opening day, Parul was yearning for more success. She repeated her feat in the 3000m steeplechase after clocking 9:51:01. Komal Jagdale of Maharashtra clinched the Silver. While compatriot Priti Lamba of Railways finished with a bronze medal. Parul scripted her new personal best en route to clinching the gold on Friday at Warangal.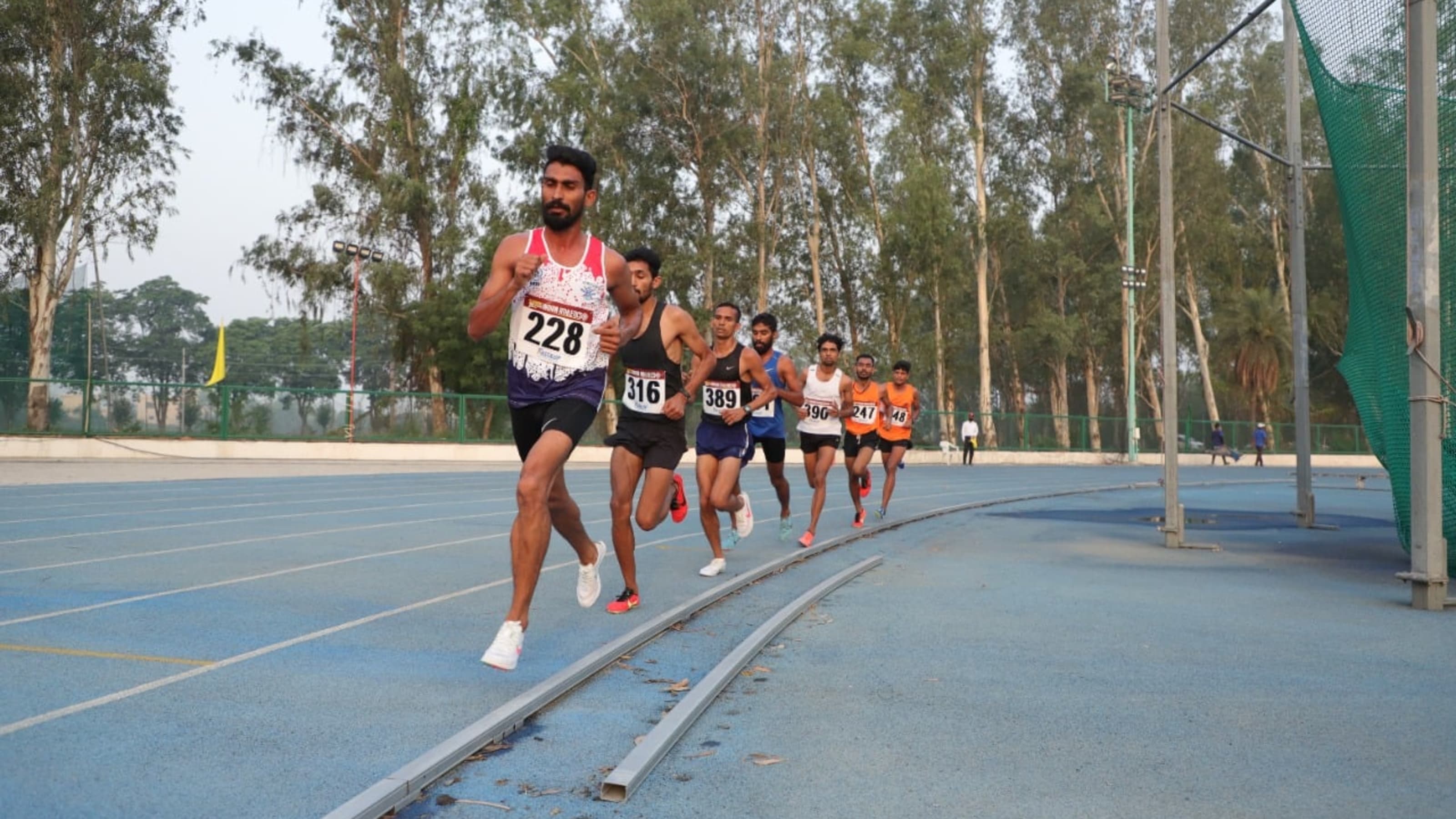 Medals galore for Railways as B Aishwarya clinched the gold in women's long jump. With a leap of 6.52m. 
Ram Baboo of Uttar Pradesh came up with national record-breaking performance. He clinched the gold in the men's 35km walk. With a walk timing of 2 hours 46 minutes and 31 seconds.
The Results
Men
3000m Steeplechase: 1. Shankar Lal Swami (Services) 8:46.05; 2. Mohammed Nur Hasan (Services) 8:50.00; 3. Balkishan (Services) 8:50.45.
110m Hurdles: 1. Tejas Ashok Shirse (Maharashtra) 14.09 seconds; 2. Sachin Binu (Services) 14.22; 3. Tarundeep Singh Bhatia (Services) 14.22.
High Jump: 1. Jesse Sandesh (Railways) 2.17m; 2. Bharathi Vishwanathan (Services) 2.17; 3. Sarvesh Anil Kushare (Services) 2.17.
Shot Put: 1. Karanveer Singh (Railways) 18.46m; 2. Devinder Singh (Punjab) 18.02; 3. Vanam Sharma (Rajasthan) 17.96.
35m Race Walk: 1. Ram Baboo (Uttar Pradesh) 2:46:31.00 (New National Record. Old: 2:49:12.00, Manish Singh Rawat, Ranchi, 2021); 2. Sagar Satishchandra Joshi (Gujarat) 2:53:43.00; 3. Surinder Singh (Punjab) 2:54:22.00.
-- Advertisement --
Women
3000m Steeplechase: 1. Parul Chaudhary (Railways) 9:51.01; 2. Komal Chandra Jagdale (Maharashtra) 9:51.03; 3. Priti Lamba (Railways) 10:22.45.
100m Hurdles: 1. C Kanimozhi (Railways) 13.54 seconds; 2. Aparna Roy (Kerala) 13.58; 3. K Nandhini (Tamil Nadu) 13.90
Long Jump: 1. B Aishwarya (Railways) 6.62m; 2. Sherin Abdul Gafoor (Tamil Nadu) 6.27; 3. Priyanka Kerketta (Railways) 6.05.
35km Race Walk: 1. Ramandeep Kaur (Punjab) 3:15.17.00; 2. Sonal Sukhwal (Rajasthan) 3:18:35.00; 3. Priyanka Patel (Uttar Pradesh) 3:27:56.00.
Mixed 4x400m Relay: 1. Tamil Nadu (T Santhosh Kumar, I Dhivya, R Vithya Ramaraj, P Abhimanyu) 3:26.22 (New Meet Record. Old: 3:27.93, Delhi team, Ranchi, 2019); 2. Punjab 3:27.49; 3. Delhi 3:28.01
---
For more latest updates and stories on Indian sports (and athletes), subscribe to the KreedOn network today-
KreedOn: The Voice of #Indiansport