Meet Chandro Tomar, her gun's held steady, head tilts just a bit to the right, she squints her eye as she aims down the line and fires. As the boom of the shot dies down, she looks towards the target board and a slight, satisfied smile spreads across her face, it's a perfect 10, yet again. This is how every day begins and ends in the life of the world's oldest female sharpshooter, Chandro Tomar.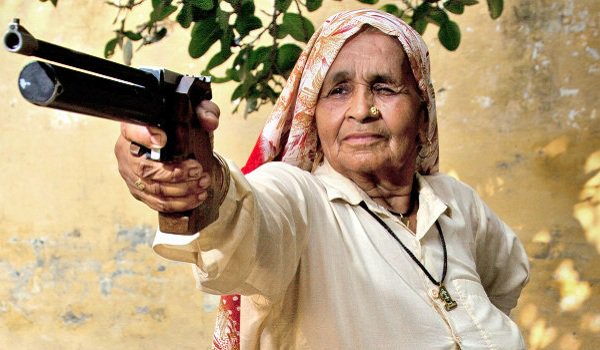 Chandro Tomar is fondly called as Shooter Dadi or Revolver Dadi
Chandro Tomar, also known as 'Shooter Dadi' or 'Revolver Dadi' as she is informally called, is an 84-year young woman who hails from Baghpat in Uttar Pradesh.   She started shooting from the age of 65 and in her 17-year long career, she has won over 25 national championships. The octogenarian laughs as she narrates how she got introduced to shooting. It was definitely a stroke of luck when her granddaughter wanted to learn how to shoot but was scared to go alone and asked her grandmother to come along. At the Johri Rifle Club, Chandro Tomar casually picked up a pistol and fired down the line and hit the center of the target leaving the club coach, Farooq Pathan in awe. He suggested her to join the club and decided to train her. Thus began the late, but unique career of Revolver Dadi. During the day, Chandro is just a regular woman in her conservative village. She goes about, doing her chores, tending to the cattle and playing with her grandchildren. But as soon as the sun sets down and dinner's wrapped up, she transforms into an efficient machine and practices in her private rifle range every day. These days, Chandro goes to the Rifle Club every weekend and trains the young girls. The girls look up to her and believe that if a woman four-times their age can shoot so well, then why can't they.
In a society where no family wants their daughters and wives to go outside the house; Chandro Tomar is a ray of change. She is the epitome of will and the 'never say never' spirit. The people who mocked her by saying "Have you looked at your age? You'll shoot?" are the same one that now proudly proclaim that they are from Revolver Dadi's village. The sharpshooter has inspired many women from her own family and village to take up sharpshooting. In her own words, "It's not the age that matters. It's the will."