Introduction
Bharat Chettri was a sensation in his time. His birthplace is Kalimpong in the hilly region of West Bengal. It was quite hard to imagine an international player from such a village would be able to enrich Indian hockey for the next 10 years. His father was army personnel and Chettri has 3 sisters. He became infatuated with hockey, especially goalkeeping during his school days at Danapur Army School. Bharat then sharpened his skill and became a professional following intensive training at the Sports Authority of India's (SAI) Bangalore center.
The reflection was vivid when in 1997 Chettri has adjudged the best goalkeeper in the junior national championship and ensured a place in the senior Indian hockey squad in 2001 for the first time in the Prime Minister's Gold Cup in Dhaka, Bangladesh. Chettri became the captain of the men's team for the London Olympics in 2012. He was also one of the key members of the men's squad that ensured a bronze medal in the Sultan Azlan Shah Championship in 2012. Chettri was also one of the key members of the Indian team that won silver and bronze medals at the Commonwealth Games and Asian Games, respectively in 2010.
Bharat Chettri & Hockey India League
In the auction of the inaugural edition of the Hockey India League, Bharat Chettri ensured his place in Punjab Warriors for 19 thousand US Dollars while his base price was 18,500 US Dollars. However, he went unsold in the first round and was purchased in the second round of the auction.
Coach & happiness about the Women's team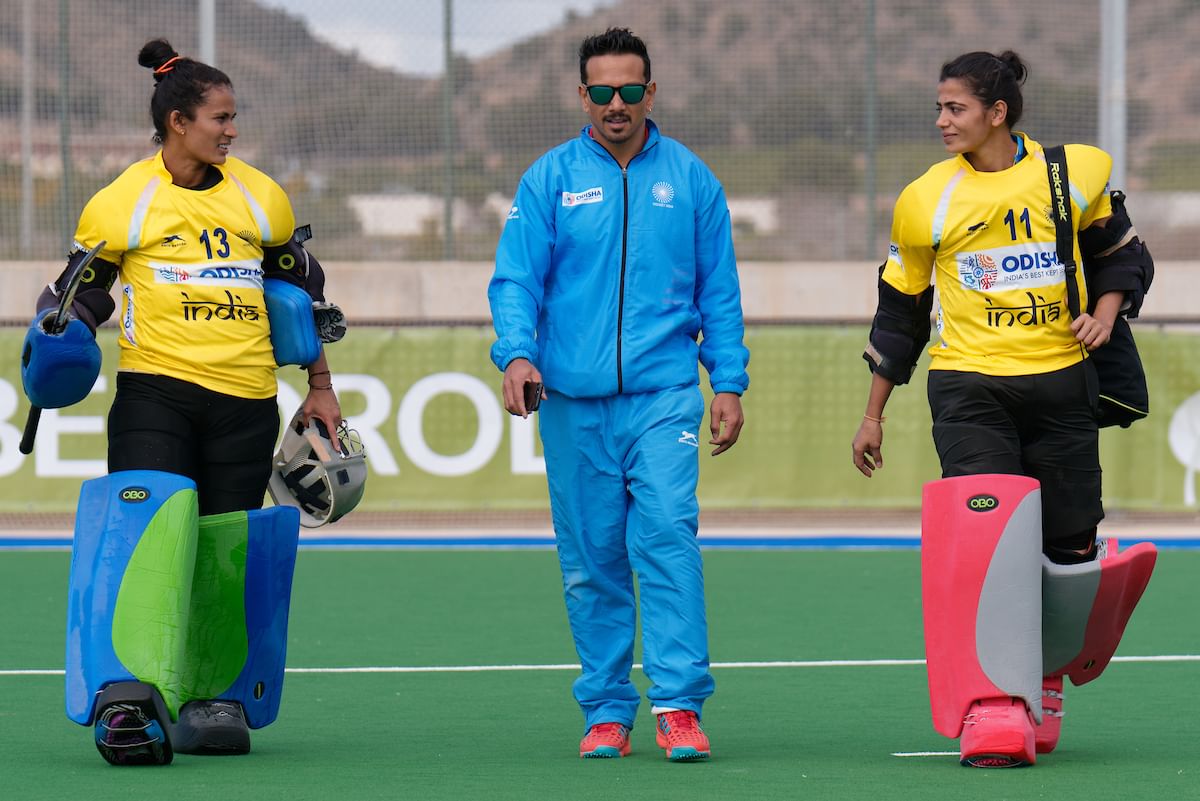 Bharat Chettri was the goalkeeping coach of the senior Indian women's team for three years. He sounded extremely happy when the Indian women's team won the inaugural edition of the Nations Cup a couple of days ago. In that match, a solitary goal was scored by the only drag-flicker of the Indian women's squad, Gurjit Kaur. Bharat commenting on the Indian women's team's success said,
"I am extremely happy to have watched the Indian women's team's consistent performance in the Nations Cup. I was the goalkeeping coach of these players between 2016 and 2018. The captain and goalkeeper Savita Punia looked more mature now. Her leadership quality has developed a lot. I hope these women players will be able to produce a much better show in the Hockey Pro-League next year"
The Mission of Bharat Chettri
Bharat Chettri is going to introduce a hockey tournament in his birthplace Kalimpong. He wants to start talent scouting by introducing the tournament in the sub-junior and junior categories where six to eight teams including girls and boys will be participating. Former legendary player Dhanraj Pillai has already given consent to attend the inauguration to be held on 28th December. In a bid to fulfill his dream of producing future stars from the hilly region, Bharat who was posted at the Bangalore office of Canara Bank has taken a transfer to the Siliguri office. He said,
"I want more players of international standard from Kalimpong, Darjeeling, and other places in hilly areas of this state. Nobody has taken initiative so far. So I have taken the initiative." 
---
Read More | Legendary Jeeva Kumar wants to wander for scouting talent
---
For more latest updates and stories on Indian sports (and athletes), subscribe to KreedOn network today – KreedOn: The Voice of #Indiansport
-- Advertisement --