Swimming is a racing sport that involves the athletes (swimmers) utilizing their bodies to move across the water bodies. It may be a team or individual sport. The sport of swimming essentially takes place in water bodies such as pools, lakes, et cetera and it involves varied techniques such as backstroke, butterfly, freestyle, and breaststroke. It is a very popular sport in the Olympics. However, swimming is not only limited to the Olympics. There also exists the Paralympics; the Olympics for the specially-abled. Swimming is an integral part of the Paralympics and there are numerous para swimmers from India who have excelled on that international stage and have shown that if one possesses the will and determination, one can overcome any hurdle. Let us go through some of them.
Top 5 Indian Para-Swimmers
| | |
| --- | --- |
| S.No | Indian Para-Swimmers |
| 1 | Sharath Gayakwad |
| 2 | Suyash Jadhav |
| 3 | Niranjan Mukundan |
| 4 | Vishwas KS |
| 5 | Murlikant Petkar |
Sharath Gayakwad
Hailing from Bangalore, Karnataka, the first name that pops to mind whenever one talks about Indian para swimmers is Sharath Gayakwad. Having numerous records and accolades to his name, at the 2014 Asian Games, Sharath broke P.T Usha's record for winning the most medals by an Indian in a multiple-event global sporting event. He went on to win 6 medals, beating Usha's record of 5. He has over 70 national and international medals to his name. Furthermore, he is the first Indian swimmer to qualify for the Paralympics, going on to represent the country at the 2012 London Paralympics.
"In 2002, I got to know about competitive para-swimming and took it professionally in 2003, when I first competed at the Nationals. It was disappointing when I missed the Beijing Paralympic Games by half a second. But I pushed myself and qualified for the 2012 London Olympics."
The athlete, who was born with a deformed hand, did face certain infrastructural and financial problems while starting out.
"Initially the government was not at all supportive; I had to participate in every competition here in India as well as abroad on my own money. Later around 2010, the government started helping and funding but it is still not enough."
He was later awarded with the Arjuna Award for his achievements.
Suyash Jadhav
Next up, we have Suyash Jadhav. Having lost both of his hands due to an electric accident in 2004, he became the first Indian para swimmer to have qualified with the 'A' qualifying mark in the 2016 Paralympics in Rio. Post the loss of his hands, he believed that he could not take part in any competition or such. However, it was only after a friend of his suggested it to him the Paralympics, that he started believing that he could do something.
"I was disappointed as I could not get a chance to participate in the Asian Games and Common Wealth Games 2014. I almost gave up swimming for 15 days in 2015. I called up Prasanta Karmakar bhaiyya to give me one chance; he talked to the Secretary of the Paralympic Committee of India to send my entry for the Paralympic qualifications held in Russia, where I finally qualified."
He has often credited his father as the driving force behind his success. Suhyas's father was a national-level swimmer which inspired him to pursue the same.
-- Advertisement --
Niranjan Mukundan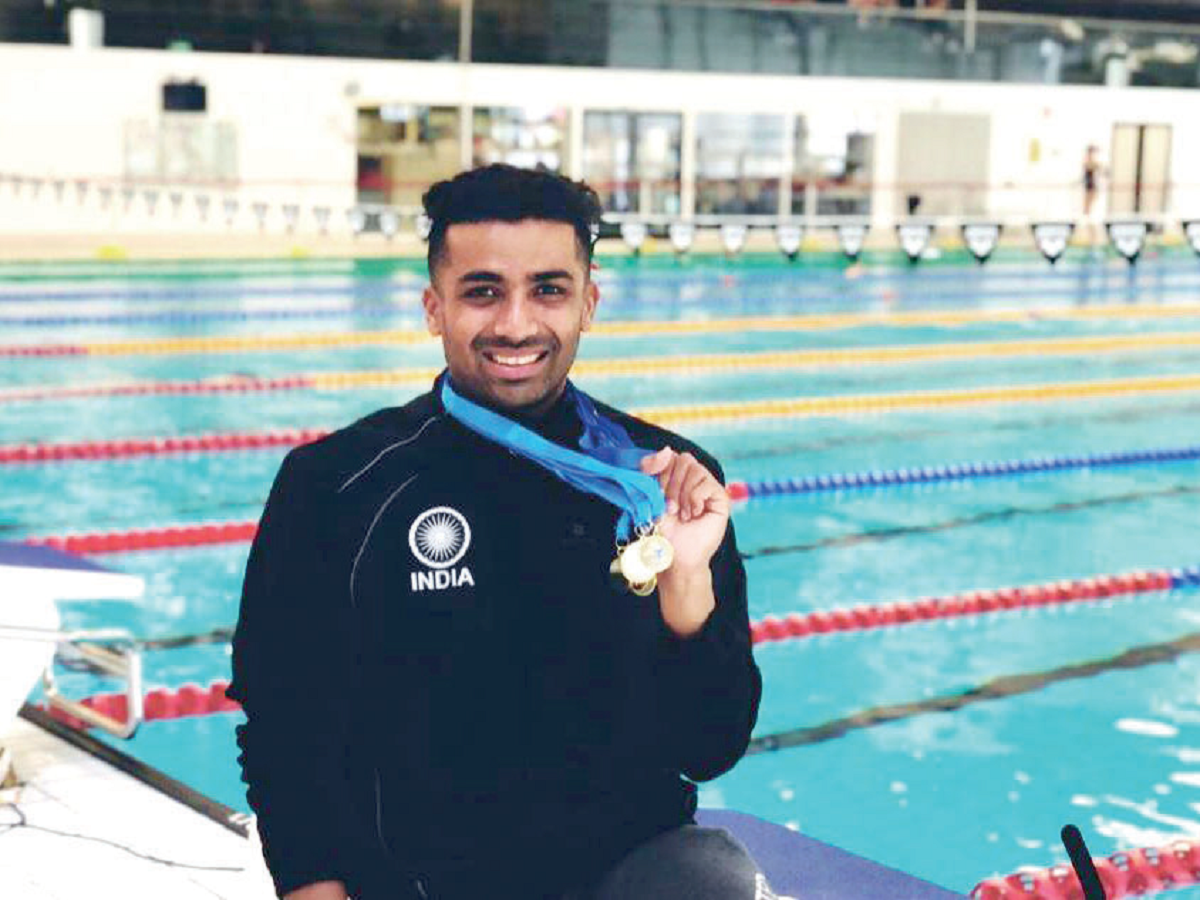 Born with spina bifida (split spine), Niranjan underwent incomplete development of the spinal cord and possessed clubbed feet.  However, he did not let this limit him. Niranjan went on to become the first para athlete to be crowned the Junior World Champion in the year 2015. He went on to conquer numerous competitions and events. At the 11th International Wheelchair and Amputee Sports World Junior Games held in 2015, he went on to win 10 medals.
"I am prone to a lot of injuries due to my medical condition. Sometimes I remain out of practice for 3 months at a stretch, that is like a setback for me, but I always used to train my mind and stayed focused and had a never give up attitude which kept me going. One of the most difficult situations was during the 2014 CommonWealth Games where I was selected but couldn't take part due to an injury."
He added more medals to his kitty when he recently won 8 medals, which included 3 gold, 2 silver and 3 bronze at the IWAS Under 23 World Games which was held in Prague.  For his outstanding performance, the Karnataka Government awarded him the Ekalavya Award (the State's highest civilian Sports award) and the Rajyotsava Award (the State's highest civilian award).
---
Also Read | TOP 10 Best Swimming Classes in India
---
Vishwas KS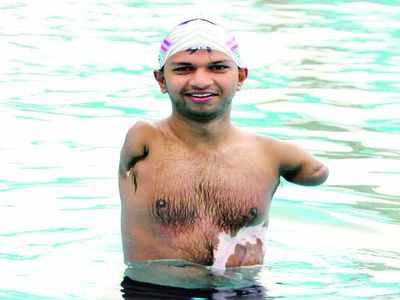 Another man who lost both hands due to an electrocution accident at the tender age of 10, Vishwas did not give up and worked hard to achieve success. From a young age, he liked to swim. However, post his accident, he had a hard time swimming and thought about giving it up altogether.
"I never thought I could swim without hands. I used to go to the swimming pool with my friends and watch them swim. But one fine day I decided to swim and from then I was determined and wanted to prove that it is possible to swim even without hands. I wanted to be a role model for those like me and inspire them to go ahead. The first challenges that I faced while learning how to swim were controlling my breath, opening my eyes and moving my legs underwater. But finally, I was able to swim properly after intensive training."
He proved his mettle by winning three medals (2 silver and 1 bronze) at the 2016 Can-Am Para-swimming competition held in Canada.
Murlikant Petkar
He was India's first Paralympic gold medallist. At the 1972 Paralympics held in Germany, he won gold. He had also managed to secure a world record in the 50-meter freestyle event.
Previously serving as a jawan (private) in the Corps of Electronics and Mechanical Engineering (EME), Murlikant sustained severe injuries during the war against Pakistan in 1965. Previously, he also used to box. However, following his injuries, he turned to swim. And ever since then, he had fared tremendously well in the sport, managing to win multiple medals.
---
Read More | Top 10 Best Swimming Glasses
---
For more latest updates and stories on Indian sports (and athletes), subscribe to KreedOn network today – KreedOn: The Voice of #Indiansport