Autobiographies are a perfect medium for fans to get a glimpse into the person behind the persona. It also allows the author to give a sneak peek into the numerous incidents which have occurred throughout his career and life, in a rather intimate manner. The main difference between a normal biography of a player or person and his autobiography is the perspective with which it is written. A biography will never be able to encapsulate a person's thought process and his emotions, key elements which help the reader understand him better. We will discuss some of the autobiographies of some phenomenal footballers, that offer raw insight into how it is to perform at the highest level. Let's take a look at the books written by footballers.
Top 12 Best Autobiographies of Footballers
| | | |
| --- | --- | --- |
| S. No. | Name of the book | Author |
| 1. | I think therefore I play | Andrea Pirlo |
| 2. | My Turn |  Johan Cryuff |
| 3. | I am Zlatan Ibrahimovich | Zlatan Ibrahimovich |
| 4. | From Nowhere, My Story | Jamie Vardy |
| 5. | Stillness and Speed | Dennis Bergkamp |
| 6. | The Second Half | Roy Keane |
| 7. | #2Sides: My Autobiography | Rio Ferdinand |
| 8. | My Story | Steven Gerrard |
| 9. | Commitment: My Autobiography | Didier Drogba |
| 10. | Red: My Autobiography | Gary Neville |
| 11. | Between the Lines: My Autobiography | Michael Carrick |
| 12. | Reboot: My Life, My Time | Michael Owen |
I Think, Therefore I Play- Andrea Pirlo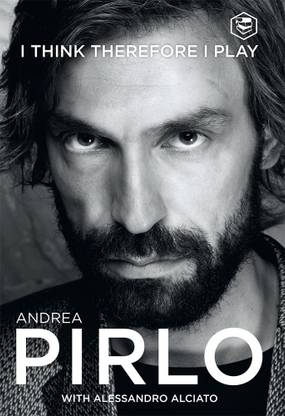 Through his book, the former Italian legend gives a beautiful and insightful sneak peek into his life and all the challenges that he conquered. The World Cup-winning and Champions Trophy-winning midfielder also give several anecdotes of his time with the national team, as well as with Juventus and AC Milan. Paulo Maldini, Marcelo Lippi, Mario Balotelli, Gianluigi Buffon, Clarence Seedorf, Carlo Ancelotti, Antonio Conte, and Ronaldo (R9) all feature in his humorous take on his career.
My Turn- Johan Cryuff
One of the most recognized players, he is widely regarded as one of the best of all time. He is often associated with Total Football, a style in which a player could play in any position on the field. His book tells his story which began in Ajax, and him going to Barcelona where he won La Liga in his first season, and also him winning the European Footballer of the Year. The 3-time Ballon d'Or winner also mentions his life outside the pitch, wherein he survived a kidnapping attempt as well as him dealing with bankruptcy.
I Am Zlatan Ibrahimovich- Zlatan Ibrahimovich
The Swedish superstar is one of the most iconic players of modern football and is held in high regard. One of the most imposing, talented, and outspoken players out there, through his book, Zlatan recalls his time at some of the biggest clubs in Europe as well as his fascinating journey to becoming who he is today. This book is one of the best autobiographies of footballers.
---
Also Read | Top 10 biggest transfers in football history
---
From Nowhere, My Story- Jamie Vardy
The fantastic English forward was one of the most dominating players out there, not to mention that any list of footballer autobiographies would be incomplete without his inclusion. His journey from a factory worker to a world-class forward is truly enlightening and inspiring. The rags-to-riches story of the highest order encapsulates his journey from the bottom to the top.
Stillness and Speed- Dennis Bergkamp
The former Dutch star through his book mentions his life as well his football career in great detail. He also recounts his time as a student of the great Johan Cryuff. Learning from one of the greatest of the game, he was able to bring that all to the table when he played for Arsenal and played a pivotal role in his team's resounding success.
The Second Half- Roy Keane
One of the most disciplined and fierce leaders to have ever led a team, Keane was one of the best to have ever captained the team of Manchester United. His book often brings out the contrast between the players of his time as well the players now who lead quite an extravagant life. He mentions how difficult it is to lead and the repercussions associated with it.
---
Also Read | Top 10 Best Women Footballers In The World
-- Advertisement --
---
#2Sides: My Autobiography- Rio Ferdinand
This book perfectly mentions Ferdinand's early days on the streets of Peckham to his going on to win the Champion's Trophy. He also recounts his relationship with various players and managers and is an overall interesting read.
My Story- Steven Gerrard
There exists no player who encapsulates Liverpool Football Club better than the legendary Steven Gerrard. He is a perfect example of how hard work, discipline, and sheer determination reap good fruit. He mentions through his book his entry into the Liverpool team at the age of 18, becoming the captain at 23 and going on to have about 700 appearances for the team.
Commitment: My Autobiography- Didier Drogba
Didier Drogba was undoubtedly one of the most dominating players out there, who always managed to stay at the top of his game. He led Chelsea to their first-ever UEFA Champions League trophy. Through his book, he mentions the struggles he had to face as an immigrant and how football shaped him into what he is today.
---
Also Read | Red & Yellow Card in Football 
---
Red: My Autobiography- Gary Neville
In one of the mainstays of the Manchester united lineup, fans were left disappointed when he finally decided to retire from the game. He was a key part of the golden phase of the team and uses his book as a medium to elaborate on what went on in the dressing room. Furthermore, his stories regarding the English Team are also quite captivating. It is one of the best autobiographies for footballers.
Reboot: My Life, My Time- Michael Owen
Few have managed to make an impression at the highest level as much as Michael Owen. Making his debut at the young age of 17, he quickly went on to become the top scorer in the league and became England's youngest goal scorer at the World Cup. One of the most talented players ever, he also went on to win the Ballon d'Or at the age of 22.
Between the Lines: My Autobiography- Michael Carrick
The former Tottenham and Manchester United midfielder played a pivotal role in the squad. Calm and collected, he was effective with the ball and could pass the ball with high efficiency and precision. Under the aegis of Sir Alex Ferguson, he had a fantastic career, and in his book, he recounts memories and incidents of that.
---
Read More | Top 10 Best Fitness Bands to track your daily fitness goals & get in shape today
---
For more latest updates and stories on Indian sports (and athletes), subscribe to KreedOn network today – KreedOn: The Voice of #Indiansport