Who is Ayesha Mukherjee? Ayesha Mukherjee is a Melbourne-based Kickboxer, who was born in India but lives in Australia. She got married to Indian left-hand batsman, Shikhar Dhawan in 2012. The couple got divorced in 2021.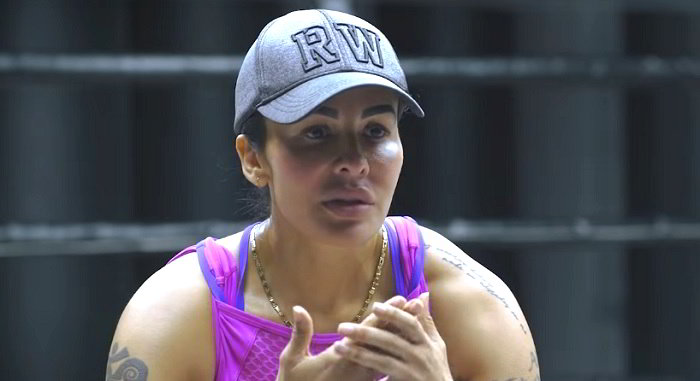 Ayesha Mukherjee Bio
Name

Ayesha Mukherjee

Profession

Former Kickboxer

Ayesha Mukherjee Age

47 

Gender

Female

Ayesha Mukherjee Date of Birth

27 August 1975

Birth Town

Not Known

Ayesha Mukherjee Height

5 ft 5 inches

Ayesha Mukherjee Weight

60 kg

Ayesha Mukherjee Spouse

First Husband (Name not Known) (Divorced)

Second Husband (Shikhar Dhawan) (Married. 2012, Divorced. 2021)

Children

Son- Zoravar (with Shikhar Dhawan, born in 2014)

Daughter- Rhea (First husband)

Aliyah (First Husband)

Net Worth

$ 2.5 Million (2022)

Nationality

Indian

Religion

Hinduism
Personal Life of Aesha Mukerji
Born to a middle-class family in India on 27th August 1975, Ayesha Mukherjee completed her schooling and graduated in Australia.
Ayesha was born to a Bengali father, and mother of British descent. Both her parents used to work in an industrial plant and decided to shift to Australia after Ayesha's birth.
Ayesha Mukherjee has strong religious beliefs and also loves cooking Indian dishes as a hobby.
Ayesha, a trained kickboxer, is obsessed with sports and fitness. She also has a clear love for tattoos. 
Ayesha has a tattoo of 'Om' on her right bicep, a decorative tattoo on her left bicep. She has her daughter's name written on the tattoo on her left bicep.
---
READ | Umran Malik Biography: The rise of fastest Indian bowler from the streets of J&K
---
Ayesha Mukherjee First Husband
Ayesha married an Australian Businessman in around 1998-99. They had two daughters together before parting their ways in 2012.
-- Advertisement --
The first daughter, Rhea was born in 2000 in the Melbourne suburb of Narre Warren, Australia. She was named Aliyah by the couple. The second daughter Rhea was born almost five years later in 2005.
Ayesha and her husband went through a rough patch years later and ended up mutually divorcing each other in 2012. 
Marriage with Shikhar Dhawan
Shikhar Dhawan met Ayesha through Facebook. The Left-handed Indian Opener was introduced to Ayesha by famous Indian Cricketer Harbhajan Singh.
Ayesha had been acquainted with Harbhajan Sign due to her love for cricket and sports. Their common interests, whether it was sports or tattoos, brought them closer.
In 2009, both got engaged despite Ayesha being 12 years older than Shikhar. Shikhar has admitted that it had been hard to convince his parents, especially his father, Mahendra Pal Dhawan for the marriage.
But with some help from his mother, Sunaina Dhawan, Shikhar finally managed to convince his father. However, the marriage had to be delayed for a while as Shikhar chose to focus on his dream of becoming India's prime opener his priority. Ayesha too had agreed on the sentiment, giving Shikhar time to create a comfortable bond with her daughters.
The couple eventually got married on 30th October 2012. They had a low-key traditional Sikh marriage. However, their wedding reception was attended by many cricketers and celebrities.
Shikhar's career took its highest rise after 2013, as he scored five hundreds in 28 matches. He also ended the 2013 champions trophy with the 'Man of the Tournament award. The couple had a son in 2014. The kid was named Zoravar.
---
READ | The untold story of India's Rising Boxing Star – Nikhat Zareen Biography
---
Shikhar Dhawan – Ayesha Mukherjee Divorce
In 2021, Ayesha confirmed divorce with Indian Opener Shikhar Dhawan through a lengthy social media Instagram. The couple had parted ways after 8 years of Marriage. They had a seven-year-old kid named Zoravar.
Apart from Instagram posts from both Shikhar and Ayesha, there has not been much information regarding the divorce. The couple has decided to keep their reasons private regarding the matter.
Ayesha Mukherjee: Skills and Interests
Despite living in Australia since she was only 8 years old, Ayesha Mukherjee can still speak fluent Bengali. 
Ayesha has a deep love for sports and is a fitness freak. She follows her daily routine and workout regime religiously and keeps hitting the ring too. 
Ayesha is also really fond of tattoos. She herself has a few, and also got her 18-year-old daughter to tattoo along with her. 
FAQ'S
Ayesha Mukherjee Controversy
While traveling to Cape Town with husband Shikhar Dhawan and kids for Shikhar's match against South Africa, they were stopped from boarding the flight. 
The reason had been due to not having birth certificates for kids. They were going for Shikhar's match against South Africa, and the date was 29 December 2017.
Ayesha Mukherjee Profession
She is a former Kickboxer.
Ayesha Mukherjee Nationality
Ayesha Mukherjee holds dual Nationality. She was born in Bengal but shifted to Australia at the age of eight.
Ayesha Dhawan or Ayesha Mukherjee was born on on 27 August 1975 into a middle-class Indian family in West Bengal, India. Her mother was reportedly a nursing graduate in the British Associate. Her parents fell in love and moved to Australia.
There is a gap of 12 years between Ayesha & Shikhar.

Shikhar Dhawan met Ayesha through Facebook. The Left-handed Indian Opener was introduced to Ayesha by famous Indian Cricketer Harbhajan Singh.
---
Social Media
Ayesha Mukherjee Instagram
View this post on Instagram
View this post on Instagram
View this post on Instagram
---
READ | Top 10 Cricket Bowling Machine | Buy Today to Upscale Your Batting Skills
---
For more latest updates and stories on Indian sports (and athletes), subscribe to KreedOn network today – KreedOn: The Voice of #Indiansport