Atanu Das showed off his two rings: his wedding ring on the right hand and the Olympics emblem on the left, only moments after breaching the shroud of invincibility that South Korea's ace archers wear at the Olympics.
He seems to indicate that the rings were the driving force behind his victory over previous Olympic champion Oh Jin-hyek in the elimination stages of the men's archery competition at the Tokyo Games. This is the story of India's finest Archer: Atanu Das
Atanu Das Information
Details

Full Name

Age

Gender

Sport Category

Event

Recurve men's individual and team events

Date of Birth

Hometown

Height

Weight

Coach

Ranking

Achievement

Won bronze medal, with Deepika Kumari, in the 2013 World Cup mixed team event organized in Colombia.

Networth

$1 million- $4 million USD

Spouse

Parent

Father: Amit Das. Mother: Arti Das

Teams Played for

Indian National Archery Team

Alma Mater

Baranagar Narendranath Vidyamandir, Kolkata. College: Vinayaka missions University, Salem, Tamil Nadu
Atanu Das Family
In Kolkata, Atanu Das was born to Amit and Arati Das. Das attended Baranagar Narendranathn Vidyamandir in Kolkata for his education. He later graduated from Vinayaka Mission University in Salem, Tamil Nadu, with a BA (Hons) degree.
At the age of 14, Atanu Das developed an interest in archery and enrolled in an archery institution in Kolkata to further his training. He was enthusiastic about archery and predicted that he would be a success in the sport.
Bharat Petroleum Sports Promotion Board is where Atanu Das now works.
Atanu Das & Deepika Kumari
Deepika Kumari, a fellow archery competitor and former world number one, is his wife.
Early Life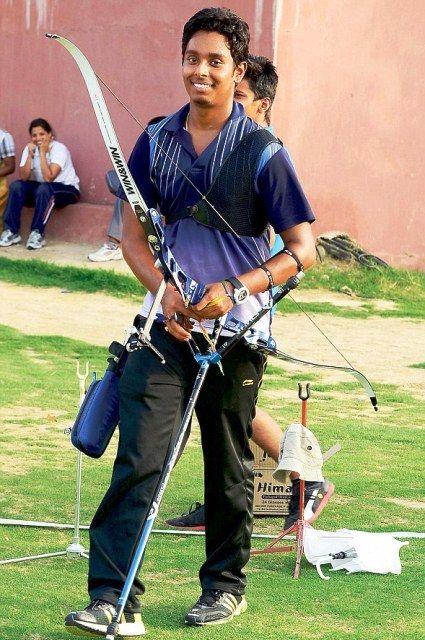 In 2010, Atanu Das earned a Gold medal in the 33rd Junior National Archery Championships, which marked the start of his archery career. He began representing India internationally in 2008, beginning with the World Youth Championships.
He earned his first international medal, Bronze, at the 2008 World Youth Championships. Atanu also earned a Silver medal in the Recurve Junior men's team at the 2011 World Youth Championships, which he considers a major accomplishment in his archery career.
At the Sahara Senior National Archery Championships in Vijayawada and the 34th National Games in Jamshedpur in 2011, Atanu Das won Bronze and Gold, respectively. In the Recurve men's team, he won both gold. Das earned Gold at the 3rd Asian Grand Prix in Dhaka in 2011 for his first international solo gold. He also won a Bronze and a Gold in Recurve Men's Team and Recurve Mixed Team, respectively, at the same event.
-- Advertisement --
Das earned three bronze medals in the 2013 Asian Archery Grand Prix in Thailand, two years later. One bronze medal in the recurve men's solo event, and two bronze medals in the recurve mixed team and recurve men's team events. Atanu Das earned a Silver medal in 2014. 
Das earned Silver in the World University Championships in the same year.
Atanu Das – Achievements
At the 2013 Archery World Cup, Atanu Das took bronze in the Recurve Mixed Team. Das earned Silver and Bronze in the Recurve Men's Team and Mixed Team events at the 2014 Archery World Cup in Medellin, and Silver in the Recurve Men's Team event in Wroclaw a year later.
Das earned bronze medals in three events at the 2019 Asian Archery Championships: recurve individual, recurve men's team, and recurve mixed team.
Shantanu Das aspired to compete in the Olympics as an archer for India. His ambition came true when he was selected to represent India in the 2016 Rio Olympics. He was the sole male archer in the competition since India only had one male quota slot, which he had won through trials. He didn't win any medals at the Rio Olympics, unfortunately.
Das will be representing India in the Tokyo Olympics this year, which he was able to secure after winning a Silver Medal at the 2019 World Archery Championships in the Netherlands.
Other Achievements
 Individual Recurve Men's Senior National Archery Championships, India 2014

 Asian Archery Grand Prix, Thailand, 2013. Recurve Men's Team [with Binod Swansi and Rahul Banerjee]

 Asian Archery Grand Prix, Thailand, 2013 [with Bombayla Devi Laishram]. 

 Asian Archery Grand Prix, Recurve Men's Individual, Thailand, 2013.

 3rd Asian Grand Prix, Recurve Mixed Team, Dhaka, Bangladesh, 2011 [with Rimil Buriuly]. 

 Recurve Men's Team Bronze Medalist, 3rd Asian Grand Prix, Dhaka, Bangladesh, 2011.

 3rd Asian Grand Prix, Dhaka, Bangladesh, Recurve Men's Individual, 2011.

 Jamshedpur, India 2011: Recurve Men's Team, 34th National Games

 Recurve Men's Team, Vijaywada, India 2011, 31st Sahara Senior National Archery Championships

 Youth World Championship, Recurve Junior Men's Team, Poland 2011

 New Delhi, India 2010: Recurve Boys' Team, 33rd Junior National Archery Championships
Atanu Das Twitter
With his Passion, Perseverance, and Dedication, our Indian Archer @ArcherAtanu is all set to make the second innings of his Olympic journey count

Watch & celebrate his journey to #Tokyo2020 #Cheer4India@PMOIndia @ianuragthakur @NisithPramanik @WeAreTeamIndia @indian_archery pic.twitter.com/k4KguTrShZ

— SAIMedia (@Media_SAI) July 18, 2021
Deepika and Atanu make a great team. ❤️#ArcheryatTokyo pic.twitter.com/5m895VsizA

— World Archery (@worldarchery) July 2, 2021
Atanu Das on #OlympicsKiAasha

Arjuna awardee @ArcherAtanu is well prepared to strike the bulls-eye at the Tokyo Olympics. He is confident that the lessons he learned in the last Olympics and his training will help him strike Gold.#TokyoOlympics @SonySportsIndia @KirenRijiju pic.twitter.com/qxklsaQeF6

— SAIMedia (@Media_SAI) June 7, 2021
---
[For more latest updates and stories on Indian sports (and athletes), subscribe to the KreedOn network today-
KreedOn: The Voice of #Indiansport]