Failure is not when we fall short of achieving our goals. It is when we don't have goals worthy enough.
There are inspiring stories and then, there are stories that shook you to the very core. These aren't just life stories, these are tales of valour, determination, and perseverance. These stories celebrate a spirit that is so rare in this world, where everyone wants to opt for the easy way.
Today, we got an opportunity to tell you such a story. Arunima Sinha, the first amputee in the world to climb Mount Everest, has a had a tough life. No wonder that this woman has achieved feats that no one would have even imagined!
Arunima Sinha – Biography
Source: PHYSIOTIMES
Arunima Sinha Family Background
Arunima grew up in Ambedkar Nagar, a small district near Lucknow. Her father worked for the Indian Army as an engineer. Her mother was a supervisor with the health department. Arunima has two siblings, an elder sister and a little brother. Arunima was bereaved at the age of 3 when her father passed away. Her sister's husband took responsibility for the family.
Early Life
Source: Forbes India
Everyone in Arunima Sinha's family was into sports. Arunima, herself used to cycle a lot, loved playing football, and was a national level volleyball player. Though she was extremely talented, she never really thought of a sporting career. Arunima wanted to join the Paramilitary Force. Unfortunately, she couldn't get through.
-- Advertisement --
At last in 2011, she got a call letter from CSIF. Arunima was over the moon. However, in a weird twist of fate, her birth date was wrongly mentioned in the letter.
The Turning Point
Arunima left for Delhi to get the incorrect date on her call letter rectified. She was travelling in the general coach of the train- Padmavat Express. Soon, some goons entered the coach. They tried to pull Arunima's gold chain. Arunima resisted their attempts, so they started attacking her. All this was happening in front of other passengers, but they didn't bother to help her. The goons picked up Arunima and threw her out of the train. She collided with an oncoming train and fell on a train track. Before she could move, another train passed over her leg. The accident is a blot on humanity. What followed was even worse.
Arunima lay there on the train tracks all night, bleeding. Later, it was found that 49 trains passed the spot that night. Not a single person helped her. In the morning she was taken to the hospital by some local boys. Her leg had to be amputated. Since, there was no anesthesia, Arunima felt every bit of the surgery. The hospital lacked the most basic facilities. A stray dog entered Arunima's room and started eating her amputated leg.
The Aftermath
When Arunima was fighting for life in the hospital, the train accident reached the media. The whole incident was used by different factions of the society for their own publicity. Some people even labelled it as a failed suicide attempt. After an inquiry, Indian Railways were ordered to pay her 5,00,000 rupees as compensation. She was offered compensation by the Sports Ministry and taken to All India Institute of Medical Sciences for further treatment.
"I have preserved the ticket to this day. And I am not a weak person that I shall think of committing suicide. But anyway, I gave up on the police the moment they came out with so many falsehoods," Sinha told The Telegraph.
We cannot even imagine how traumatic the entire episode was for Arunima. Any normal person would have lost his or her spirit in front of such adversity. However, Arunima isn't a normal soul. She should unimaginable courage and decided to bounce back so much stronger. When she was lying on the hospital bed, she gave herself a dream. After recovering, she started chasing this one dream that gave her the strength to live.
Unwavering Spirit
Source: The Optimist Citizen
It is perhaps at the lowest point of our life that we realize our greatest strength. Emboldened with her determination, Arunima became comfortable with her prosthetic limb in just a couple of days. Soon, she went to meet Bachendri Pal, the first Indian woman to climb Mount Everest.
Arunima spoke to Your Story about what message Pal gave her. She said, " Arunima in this condition you made such a huge decision. Know that you have already conquered your inner Everest. Now you need to climb the mountain only to show the world what you are made of."
The Journey That Changed Her Life
Heartiest congratulations and lots of blessings to Arunima Sinha just daughter of my constituency Ambedkarnagar UP. ???@sinha_arunima https://t.co/ktFKpmxwcL

— Hariom Pandey (@hariompandeyMP) December 12, 2018
The next step was an 18-months course from Nehru Institute of Mountaineering. Arunima started with smaller peaks and had some near-death experiences. She didn't let these obstacles stop her. She received a grant from Nehru Institute of Mountaineering and was later sponsored by Tata Steel.
Climbing the Mount Everest with two able legs is extremely difficult, so we can imagine how challenging it would have been with a prosthetic leg. It was difficult to even find a Sherpa who would understand and support Arunima in this mad endeavour!
Finally, everything fell in place and Arunima set on the most important journey of her life. There were challenges at every turn, literally. Overcoming these, she conquered the Everest on 21st May 2013. Arunima has never believed in fate or destiny. She believes that we chart our own paths in life. She scripted her life story on that hospital bed itself and followed it to the tee!
Scalings Peak by Peak of Determination
After Mount Everest, Arunima continued scaling other peaks as well. She has conquered the highest peaks in all seven continents. She has climbed Mt Kilimanjaro in South Africa, Mt Elbrus in Russia, and Mt Kosciusko in Australia by 2014. In January 2019, Arunima added another feather on her illustrious cap. She became the first female amputee to climb Mount Vinson, the highest peak of Antarctica.
We're delighted to make the inspirational & courageous @sinha_arunima an Honorary Doctor of @UniStrathclyde today pic.twitter.com/t5rVAW6h5E

— UniStrathclydeNews (@UniStrathNews) November 6, 2018
Arunima's achievements and more importantly her spirit was honoured by the University of Strathclyde, a prestigious UK university in November 2018. She was conferred with the honorary doctorate at their graduation ceremony.
"Arunima is an inspiration to amputees around the world. Not only has she shown real spirit, courage and determination in overcoming adversity, but she is also using her compassion and positivity to help other people. Arunima embodies the values of Strathclyde and we are delighted to recognise her achievements by making her an Honorary Doctor of the University," said Professor Jim McDonald, Principal and Vice-Chancellor of the University of Strathclyde to India Times.
It was truly an overwhelming moment for Arunima.
Interesting Facts About Arunima Sinha
Arunima has penned down her memoirs in a book aptly titled 'Born again on the mountain: A story of losing everything and finding it back'. The book was launched at the hands of Prime Minister Modi in 2014.
It was a delight to interact with @sinha_arunima.

Handed over the Tricolour and wished her the very best as she embarks on an expedition to Mount Vinson, Antarctica.

India is proud of Arunima's accomplishments and her fortitude inspires us all. pic.twitter.com/sj39QvHvH7

— Narendra Modi (@narendramodi) December 12, 2018
A biopic on Arunima is being planned and actress Kangana Ranaut has been roped in to play her character. The rights of her book have been bought by Vivek Rangachari.
Arunima has started a sports academy, Shaheed Chandra Shekhar Azad Viklang Khel Academy. The academy will give a platform to more Arunima's!
"I had bought some land in Unnao with the money I got after the accident. I plan to build a sports academy for the disabled there. I hope to inspire many more handicapped people to dream like me and achieve their goals," she told The Telegraph.
Yuvraj Singh's fight against cancer turned out to be a huge motivation for Arunima.
Arunima Sinha Awards
Tenzing Norgay Highest Mountaineering Award
Arjuna Award
Padma Shri, 2015
First Lady Award, 2016
People of the Year, Limca Book of Records, 2016
Peaks Conquered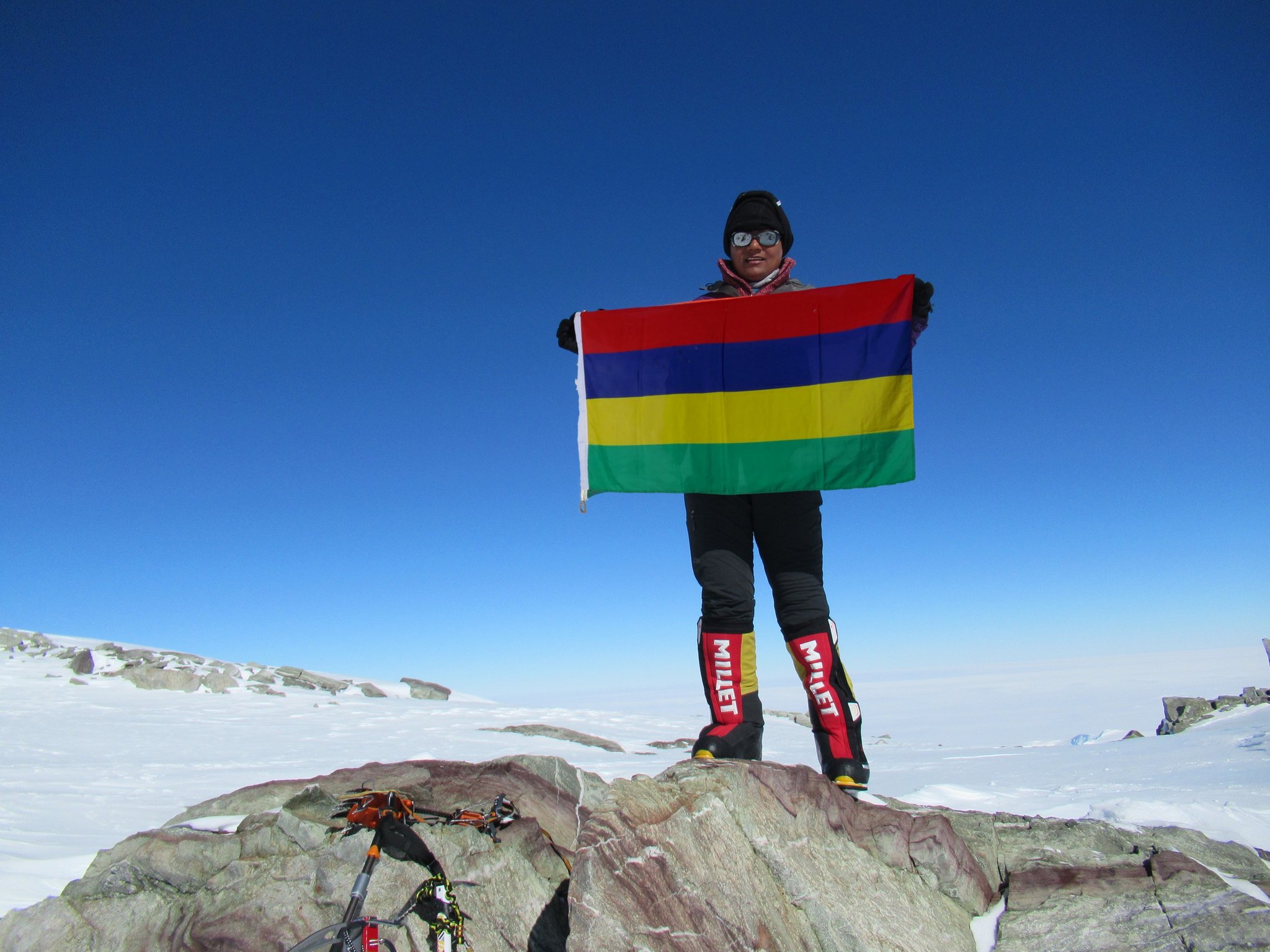 Mount Everest
Sagarmatha National Park, Rikaze, Nepal
Elevation :8,848 m
Start Date :2013-04-02
End Date :2013-05-21
Mount Kilimanjaro
Mt.Kilimanjaro National Park, Tanzania
Elevation :5,895 m
Start Date :2014-05-01
End Date :2014-05-11
Mount Elbrus
Kabardino-Balkaria, Russia
Elevation :5,642 m
Start Date :2014-07-15
End Date :2014-07-25
Mount Kosciuszko
Kosciuszko National Park, NSW 2642, Australia
Elevation :2,228 m
Start Date :2015-04-12
End Date :2015-04-20
Mendoza Province, Argentina
Elevation :6,962 m
Start Date :2015-12-12
End Date :2015-12-25
Mount Carstensz Pyramid
Indonesia
Elevation :4,884 m
Start Date :2016-07-07
End Date :2016-07-08
Mount Vinson Massif
Vinson Massif, Antarctica
Elevation :4,892 m
Arunima Sinha Social media
Thanks to @Google @GoogleIndia to again give me a chance to be part of Google's wonderful team, as always we enjoyed lots, and nice to meet @Neeraj_chopra1, thanks Shidharth for your wonderful hosting. जय हिंद pic.twitter.com/h0DoHI0Px9

— Dr. Arunima Sinha (@sinha_arunima) November 30, 2018
Ms. Arunima Sinha, the first specially-abled female to climb Mount Everest interacted with #CISF personnel during motivational talk held @ CISF Unit ASG Lucknow. Personnel enriched with her inspirational talk on her struggle, hardship & determination. pic.twitter.com/Mx4WjNg1yQ

— CISF (@CISFHQrs) July 21, 2018
Last evening witnessed wedding of Padam Shri Arunima Sinha @sinha_arunima, the 1st female amputee who climbed Mount Everest….Arunima ji got married to Shooter Shri Gaurav Singh.

UP's governer Shri Ram Naik ji was there to bless the couple.

Wishing her happy married life.. pic.twitter.com/rasGu00OUB

— Kunal Vimal Srivastava ?? (@kvQuote) June 22, 2018
Sharing some memories
Base Camp, Union Glacier, Antarctica.

Jai Hind. pic.twitter.com/1zvILMHHF3

— Dr. Arunima Sinha (@sinha_arunima) January 8, 2019
Arunima's story is a story of immense courage at the face of difficulty. Even if we get 10% of her courage, we will be ready to face any situation in life. The lack of apathy from her fellow passengers, the blame game by the police, the hype by media, numerous factors that could have killed her spirit. However, all these factors propelled her to prove her worth and so she did!
Kudos to your spirit Arunima, may you climb many more mountains!
For more of such interesting content, stay tuned with KreedOn.